Top 10 Film Industry Stories of 2006 #8: Snakes on a Plane Fails to Meet Internet Hype
By Kim Hollis
December 28, 2006
BoxOfficeProphets.com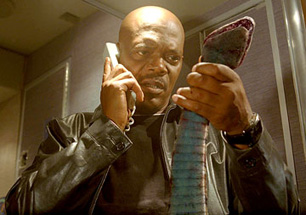 ---
Months and months in advance of its release, people knew the movie's title. There were t-shirts, YouTube videos, blogs, amateur posters, theme songs and even a Sudoku-related game that all centered themselves around four campy words. In the week or two before the movie's release, The Daily Show with Jon Stewart, The Colbert Report and Countdown with Keith Olbermann had references to the movie and its title. Samuel L. Jackson made "personal" phone calls to people inviting them to his new film (the official site had a spot where visitors could fill in a few blanks and an automated call would follow). The buzz was practically deafening.

In the end, though, America decided to celebrate Whacking Day rather than bother to celebrate or attend the heavily hyped Snakes on a Plane. In its debut weekend beginning on August 18, 2006, Snakes on a Plane brought in a mere $15.3 million. In subsequent weeks, it quickly fell down the charts and earned only $34 million throughout its entire domestic run - barely more than its reported $33 million budget.

So what, precisely, went wrong? The truth of the matter is that while SoaP was indeed an Internet darling and generated plenty of attention thanks to its straightforward title and silly premise, people were laughing at the movie more than with it. Early in the production, New Line considered changing the title to Pacific Air Flight 121, but ultimately had to change it back as Jackson mentioned that the only reason he took the starring role in the film was the deliciousness of the title. And to be fair, it's highly likely that had it not leveraged the title to tons of free buzz and marketing, SoaP would have been a massive failure and a vague memory.

It's not all over for Snakes on a Plane just yet, though. Its DVD release is coming up in just a few days on January 2nd, where it has every chance of cultivating a long-term cult fanbase. If so, maybe there's a chance in the future that we'll see the sequel that Jackson envisioned - More Motherf*cking Snakes on More Motherf*cking Planes.