Top 10 Film Industry Stories of 2006 #10:
Two major films explore 9/11
By Kim Hollis
December 27, 2006
BoxOfficeProphets.com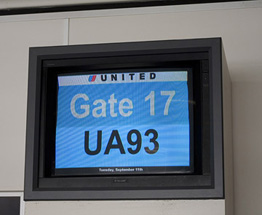 ---
Though the subject had been broached previously in some independent film projects, 2006 was the first year that major studios released movies that dealt specifically with the subject of 9/11. Some voiced opinions that the wound was too fresh, too raw. Would patriotism and curiosity fuel enough interest that these films could be considered a success?

The first of the two films to see theatrical release was United 93, which followed a couple of months after a movie of the same title aired on the A&E Network. A unique project, United 93 was directed by Paul Greengrass and is a docudrama that attempts to be as true as possible to the events that occurred aboard the ill-fated United Airlines Flight 93. This is the plane that crashed in Pennsylvania after the heroic passengers onboard took over and prevented hijackers from crashing the plane into a significant monument as planned. Events were primarily filmed in real-time, and dialogue is mostly improvised. The actors in the film are professionals, though not huge names (Christian Clemenson, currently appearing on Boston Legal as Jerry "Hands" Espenson, is perhaps the most familiar face). The performers who played the hijackers were even kept separate from the other cast members to keep tension higher.

Despite fantastic reviews (the movie is 90% fresh at RottenTomatoes as of this writing), United 93 opened to only $11.5 million on April 28, 2006. The final domestic tally was $31.5 million, while the worldwide total was $71.3 million. Given the cast, the tough subject matter and the slight $15 million budget, Universal was almost assuredly pleased with the result.

The higher profile of the two projects turned out to be Oliver Stone's World Trade Center. Not only did the movie have a better known director, it also had a big star in Nicolas Cage to bolster its awareness factor. Where United 93 stuck to real events as closely as possible, World Trade Center fictionalized its story. Cage and Michael Cena portray two Port Authority Police officers who become stuck in the collapsing buildings when they go to assist in the rescue efforts. They are trapped in an elevator shaft and must attempt to save themselves even as Marines are making an effort to assist them.

World Trade Center had a much larger budget than that of United 93. It cost $65 million to make, but it was also made more than two times as much as its predecessor. World Trade Center opened to $18.7 million, earned $70.2 million domestically and $157.9 worldwide.

It's likely United 93 that is remembered as the true triumph, though. So far, it has been nominated for a number of critical awards, including AFI Most Outstanding Films of the Year, Broadcast Film Critics Association, Boston Society of Film Critics, Chicago Film Critics, London Film Critics, Southeastern Film Critics, and Toronto Film Critics. It won Best Picture from the Dallas-Ft. Worth Association, Empire Magazine, Los Angeles Film Critics, New York Film Critics and San Francisco Film Critics. Despite being released early in the year, it is emerging as a possible contender for a Best Picture Oscar at the Academy Awards.