Twelve Days of Christmas: Day Four
Weekend Wrap-Up for December 22-24, 2006
By John Hamann
December 24, 2006
BoxOfficeProphets.com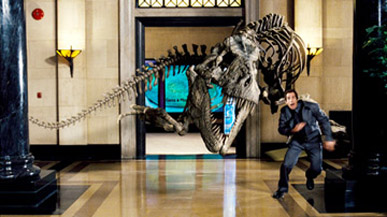 ---
There were many new offerings under the Christmas Tree this weekend for moviegoers, as four new releases hit the top ten. It wasn't as busy as exhibitors would have liked it to be, but with Christmas Eve falling on a Sunday this year, the writing was on the wall. New openers this weekend included Night at the Museum with Ben Stiller, Rocky Balboa which opened nicely on Wednesday, Universal's The Good Shepherd and We Are Marshall from Warner Bros. What worked and didn't work? Read on to find out (and have a happy holiday!).

The number one film over the December 22-24, 2006 weekend is Night at the Museum, Ben Stiller's new family-friendly action comedy. After a huge Friday and Saturday, Sunday was expectedly quiet given Christmas Eve, and the weekend estimate came in at $30.8 million. Night at the Museum is distributed by 20th Century Fox, and the studio released this odd flick to a large 3,685 venues. It finished with a venue average of $8,358 – not bad considering that most theatres would have been closed on Sunday night, at least for later showings. In 2000, when Christmas also fell on a Monday, the top film was Tom Hank's Cast Away. The film that made Wilson famous earned $28.9 million over the three days leading up to Christmas from only 2,774 venues, giving it a weekend average of $10,412. Ben Stiller in 2006, as popular as he is, is no Tom Hanks in 2000, so 20th Century Fox should be happy with Museum's first weekend. They will soon be even happier, as Christmas and Boxing Day will play like Fridays and Saturdays for Museum, so this one could easily have a domestic total of $50 million by the time Tuesday night rolls around. It could even see $100 million by the end of the first day of 2007.

Is $100 million over ten days possible for a film like this? Absolutely. With school out for the holiday break, and parents spending time with kids, this is the type of movie that literally works for the whole family. The other good news for the studio is that critics didn't crush Night at the Museum. At RottenTomatoes, 71 reviewers chimed in, and 35 gave it a thumbs up. That leaves it with a rotten rating of 49%, but mixed reviews are all this one needs to find success over the holidays. With Charlotte's Web, Eragon and Happy Feet closer to the back of the pack, Night at the Museum should have enough of the family audience to turn it into a real hit over the next two weekends. Some have estimated the budget for Night at the Museum above $100 million, so it will have to dominate if it hopes to recoup that amount domestically.

Second spot goes to last weekend's champ, The Pursuit of Happyness. The Will Smith feel-good movie earned $15.0 million over the Christmas lead-up, and was off 43% compared to last weekend. Don't put too much stock in that weekend-to-weekend drop percentage. Again, with Christmas Eve falling on Sunday, returning films are kneecapped, and they appear to be doing worse than they are. Remember that Happyness will gross as much tomorrow and Tuesday as it did on Friday ($5.4 million), followed by an increase over this weekend in the next frame, so Pursuit is on the road to a big success. Currently, The Pursuit of Happyness has earned $53.3 million, and should finish with more than $100 million.

Finishing third is Rocky Balboa, a film that I didn't think would open at all, let alone on top on Wednesday. Yes, after a stellar Wednesday and Thursday, Rocky didn't fall off completely, and finished this round with a three-day gross of $12.5 million, bringing its five day total up to a surprising $22.2 million. Out to 2,752 venues, Balboa had a venue average of $4,143 – surprisingly solid for a supposedly dead franchise. Will this one dissipate as quickly as Rocky V did? Rocky V opened to $14.1 million in 1990, and then slipped away quickly, finishing with only $41 million. Another surprise was that critics actually liked this version of Rocky, as it finished with a fresh rating of 77%, and was the best reviewed film opening this weekend. Will this mean a comeback for Stallone? I've been surprised so many times with this sequel, I don't dare answer that question.

Robert DeNiro's The Good Shepherd finishes fourth over the pre-Christmas frame, and has a decent debut for a film with such dark subject matter for the time of year. The Good Shepherd earned $10.0 million over its first three days from a slight 2,218 venues. It had an excellent average of $4,515. Critics didn't fall for this one as much as I expected they would (the writing was on the wall when the Golden Globe noms came out). Reviews were mixed, with the Matt Damon flick finding a 55% fresh rating at RottenTomatoes. This one is going to have a long haul upward, as I wonder how many people are going to want a history lesson about the CIA on Christmas Day.

Charlotte's Web finishes fifth, as Night at the Museum steals some punch from this barnyard pic aimed at the toddler set. Charlotte's Web grossed $8.0 million from a ridiculously large 3,728 venues, giving it a second weekend average of $2,145. The hold here, considering Christmas Eve, is quite excellent, but I'll be curious to see if it has strength over the rest of the holidays as well. Currently, the Dakota Fanning pig flick has earned $26.8 million.

Falling from second last weekend to sixth this weekend is Eragon, the dragon movie from Fox. In its second frame, Eragon grossed $7.2 million from 3,030 venues. It was off 69% from last weekend, but again, don't gamble on a film's future by this drop-off. I find it odd, or telling, that Fox decided to put two $100 million films back-to-back over consecutive weekends (the other being Night at the Museum). Did Fox figure that Eragon would be a one weekend event film, and not impact Night at the Museum? Alternatively, were they thinking that Eragon was going to tank, and have no impact on the Ben Stiller film? Either way, Eragon is going to be left holding the bag, as Night at the Museum is going to steal its thunder over the rest of the holiday. Currently, Eragon sits with $37.7 million, and will soon be flailing.

Finishing a disappointing seventh is We Are Marshall, the football film starring Mathew McConaughey. Marshall finished its debut weekend with a gross of $6.6 million, which it earned from 2,606 venues. It had a venue average of $2,533. Are there too many upbeat, feel-good movies in release? With Rocky Balboa and to an extent The Pursuit of Happyness all vying for the same formulaic dollar, there wasn't much room left for We Are Marshall, and it finishes well back of the pack. Critics were mixed on Marshall, and that couldn't have helped, either. It finished with a 49% fresh rating at RottenTomatoes (I think reviewers were caught up in the Christmas spirit this week), and could even disappear once Black Christmas opens on Monday and Dreamgirls expands to over 850 venues.

Happy Feet finishes in eighth, as too many weeks have passed since opening, and it begins to drown in competition it can't shrug off. Happy Feet earned another $5.1 million in its sixth weekend of release. This Warner Bros. release has become absolutely huge since opening to $41.5 million back in November, and has held long enough to gain even more dollars from this lucrative Christmas season. Currently it sits with $159.1 million, and could be at $175 million by the end of next weekend.

Finishing in ninth place is The Holiday, as moviegoers are too busy chasing other shiny objects than going to see this one. The Holiday earned $5.0 million from 2,617 venues, and was off 37% from the previous frame. Currently the star-studded holiday flick has earned $35.1 million.

The Nativity Story finishes tenth, as the New Line Christmas film manages to hang on to a top ten spot (barely) over what potentially could have been its biggest weekend. The Nativity Story earned $4.7 million this weekend from 1,824 venues. It has now earned $31.3 million.

Because of Christmas Eve, comparing this year to last year just doesn't work. If we roll the calendar back to 2000, when Castaway was on top, we get a clearer picture. In 2000, the top ten films pulled in an estimated $102.8 million. This year, the top ten films earned a similar $104.9 million. That's not a very good sign for the box office, as ticket prices have increased dramatically since 2000.

Remember to tune back in over the Christmas week, as BOP continues its Twelve Days of Box Office holiday feature.