Twelve Days of Christmas: Day Three
Friday Box Office Analysis
By David Mumpower
December 23, 2006
BoxOfficeProphets.com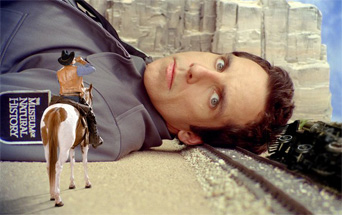 ---
It's beginning to look a lot like Christmas at the box office. While the biggest holiday on the calendar does not technically arrive until Monday, the period from Friday-to-Sunday represents the second to last weekend of the box office calendar as well as the start of the most lucrative ten-day period for the industry. While we continue to see a December void in the absence of Lord of the Rings releases, there were three new entrants into the box office derby yesterday. One was a success while the others are going to have to take a wait-and-see approach.

The mega-opening for Friday was the Ben Stiller comedy, Night at the Museum. A virtual Who's Who of comedy icons, this project has been assumed to be one of the heavyweights of December for some time now. Its debut justifies the buzz to a large extent. $12.3 million from 3,685 venues means that Fox is going to win the weekend. The question is by how much, and that is where the speculation gets tricky. Sunday is Christmas Eve, a holiday that is generally negative for box office receipts. People are more inclined to spend that day with their families and as such, there is a stiff drop in business at the local cineplex.

Don't believe me? Have a look at the numbers. Last year, Christmas Eve came on a Saturday. On that day, top ten box office receipts added up to $20.1 million. Saturday is supposed to be the biggest day of the week for movie business. Due to the holiday's impact, however, Saturday was actually a decline of $16.3 million from Friday's tally of $36.4 million. When Friday business almost doubles Saturday business, you know something strange is at work. More telling is the fact that Sunday was the biggest day of this weekend last year with $41.5 million. So, if you are keeping score at home (which is weird, by the way), business revenue for the top ten fell 81% from Friday to Saturday then grew 107% on Sunday. Obviously, that is not normal box office behavior.

As you can see, Christmas Eve creates a negative stigma with regards to box office...or at least it does most years. The trick is that since December 24th and 25th are not locked to a certain day of the week as Martin Luther King Jr. Day and President's Day are, there is variation in the behavioral pattern. Rather than look at last year and say with confidence how movies will behave the same weekend this year, we have to find the most recent calendar configuration that matches the current one. As it happens, that year is 2000.

Cast Away, How the Grinch Stole Christmas and What Women Want were the dominant titles in release six years ago. The rest of the top ten included some winners such as Miss Congeniality and The Emperor's New Groove (which I highly recommend, by the way) as well as some comically forgettable dogs such as Dracula 2000 (God help me, I paid money to see this) and Vertical Limit (a $68 million earner that nobody liked). If we take a look at the top ten's daily box office behavior in the same way for 2000 that we did for 2005, we see that Friday, December 22, 2000 had $39.1 million worth of receipts. On Saturday, there was the expected growth to $43.4 million. On Sunday - Christmas Eve - there was the expected precipitous decline. Receipts fell all the way down to $20.1 million. Sunday box office is expected to fall from Saturday, but it shouldn't be by that much.

What this means is obvious. Internal multipliers are terrible when they involve Christmas Eve. 2005's average internal multiplier was 2.69 while 2000's was 2.62. Factoring in the trending that internal multipliers have only gotten smaller over the past six years, we know that a lot of films are going to see lousy weekend holdovers. Studios won't worry about it any, of course, since once we hit Christmas Day, box office for the week afterward will behave like a series of eight or nine straight Fridays. They are about to ride on the money train, but Sunday's numbers will be the sole troublesome blip on the radar until New Year's Eve...but I'm getting ahead of myself. You have to tune back in next weekend to read those details. For now, all that matters is how this weekend will play out.

This brings us back to...A Night at the Museum. The largest opener for this weekend has started off well and it should have a strong Saturday. It will fall apart on Sunday but then recover marvelously on Monday. What this means is a 2.55 multiplier will lead to a $31.3 million weekend with Stiller's movie crossing $50 million on Tuesday.

The other three openers this weekend were less fortunate. We already have discussed Rocky Balboa in the first two installments of the column. Yesterday's recovery of just under $5 million isn't phenomenal, but it does address the fears of heavy frontloading. A $12.5 million weekend would take the Stallone project up to $22 million over five days. I would describe that as a success.

The Good Shepherd does not get the same positivity. Matt Damon's latest film debuts with $3.6 million, a respectable but unsexy performance. Total weekend business should fall just under $10 million at $9.9 million, but some moderate studio enhancement of the numbers wouldn't be surprising to get it out of single digits on the weekend.

Meanwhile, We Are Marshall looks to be a financial disappointment. $2.6 million on Friday puts it in line for a $7 million opening weekend. McG has spent more on birthday parties than this film will make over the holiday. And the Oscar buzz feels like forever ago now as well. This is a great story, but when critics say the Wikipedia entry about the real life events is more engaging than the movie, that's a tell-tale sign.

Remember to keep checking back this week as we continue the Twelve Days of Holiday Box Office here at BOP.