Weekend Forecast for December 22-25, 2006
by Reagen Sulewski
December 22, 2006
BoxOfficeProphets.com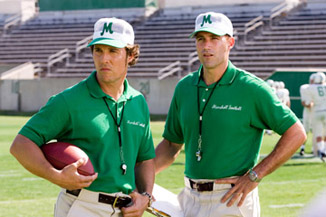 ---
Although two weeks remain in the year, only one weekend remains for new wide releases. Six new films go wide between the 20th and the 25th, all of them hoping for a piece of one of the most lucrative weeks of box office in the year.

Christmas Day is one the biggest days for families at the box office, which will be served by Night At the Museum, starring Ben Stiller. A CG-filled comedy action fest, Night At the Museum hopes to be all things to all people, which is a pretty good strategy at Christmas time. Stiller stars as a new security guard at the New York Museum of Natural History, who discovers the exhibits there are a little less inanimate than is typical for a museum. From a rambunctious monkey to Teddy Roosevelt to a miniature cowboy to a rampaging T-Rex, the museum comes alive at night, and it's up to him to keep it all under control.

This could be a giant mess, or tons of PG-rated fun, though which is which may depend on your opinion of Stiller. However, although he's the lead, he's got plenty of supporting help, including Robin Williams, Owen Wilson and Ricky Gervais and Steve Coogan, among others. This looks nothing like high art, but recent ads have emphasized the slapstick comedy and relatively safe for families action sequences, and this should be enough to make it a strong performer. The director is Shawn Levy, who's had unexpected hits at Christmas before with family films, notably the Cheaper By the Dozen remake. Night at the Museum is a stronger film and should outpace that film's $27 million opening, with about $36 million over four days, to win the weekend.

Back in 1982, Airplane II's future setting included a joke about a Rocky sequel. Rocky VIII or Rocky XVI, I'm not quite sure at this point. It was a high Roman numeral, and featured a geriatric and emaciated Rocky in a fighting pose. Oh, if they'd only known. Rocky Balboa may not include the traditional Roman numeral title, but it is the sixth film in the increasingly ridiculous series that most people thought was dead. But, in this era of reboots and relaunches, anything's possible.

Rocky Balboa leaves behind the bombast and grandiose plots of the last couple of entries, getting back to how the series started, just a man and the boxing ring. Approaching 60, Rocky is just living out an existence in Philadelphia, when a computer generated fight has him, in his prime, beating current champ Mason Dixon (played by former light heavyweight champ Antonio Tarver). This, apparently, is enough to spark interest in an exhibition fight, despite how ridiculous this idea would be. Like the first film, the film is largely concerned with Rocky getting himself into shape to fight the champ, but with the complications of old age.

Although this movie could have been the biggest joke ever, it has surprisingly been pretty well received, with Sylvester Stallone getting praise for acknowledging the insanity of the idea, but getting back to basics at the same time. It's started off with a pretty impressive $6.4 million on Wednesday, which is a lot more than many might have expected at the outset. I expect a lot of that was due to nostalgia and curiosity, and we'll see that fall off a bit once the weekend comes. However, that should still bring in something to the tune of about $19 million over four days.

We Are Marshall is the second sports-themed film of the weekend, dealing with the 1970 plane crash that killed the entire Marshall University football team. Matthew McConaughey stars as the coach charged with rebuilding the team from scratch, a less than simple task.

Directed by veteran video director and the man responsible for the Charlie's Angels films, McG, We Are Marshall aims to be a heartwarming and inspirational story about the potential positive effect of sports for community. It's somewhat similar to Remember the Titans, though without the racial baggage of that film. Crucially, the film comes out at a time when college football is near a height of interest, but during a period when almost no games are going on.

McConaughey is a hit and miss box office draw, with his hits mostly coming in romantic comedies. Ominously, his most recent miss was in a sports themed film, Two For the Money. However, this is a much more sympathetic story, and should have much more of a built-in audience. Look for this to come in with about $14 million in four days.

The Good Shepherd stars Matt Damon in a Cold War spy thriller that looks at the early days of the CIA when it was starting after World War II. Directed by Robert DeNiro, it follows Damon as an idealistic young covert agent as he is gradually affected by the paranoia of the Cold War and the difficulty in being a spy and keeping a family life.

It also stars Angelina Jolie as Damon's wife, with other supporting roles going to Alec Baldwin, Billy Crudup, Joe Pesci, Timothy Hutton and others. A three hour epic, it feels for all the world like a pet project, which it is for DeNiro. That rarely turns out well, and critics have been taking it to task as a bloated film, but at least one that tries hard. It's not the most dynamic looking film, either, and the extended running time and relatively small screen count are going to work against this one. I look for a weekend of about $12 million.

Dreamgirls expands on Christmas Day to 852 theaters, after a tremendous limited run, earning over $100,000 per theater in three locations. Based on a Broadway musical about a fictional girl group in the 1960s that is totally not based on the Supremes - just ask DreamWorks' lawyers - this film boasts a stellar cast and has garnered a tremendous amount of early Oscar buzz. It only has one day in the reporting period for this weekend and just a few screens, but even at that should be able to bring in about $4 million on Christmas Day.

There is also a horror film opening Christmas Day, much to the consternation of some. Black Christmas is a remake of the 1974 'classic', updated here by Final Destination's Glen Morgan. The plot is simple - nubile young sorority sisters are terrorized by a cannibalistic psycho bent on killing them all in elaborate ways. Two of the potential victims are people you've possibly heard of, Michelle Trachtenberg and Lacey Chabert, but the rest are relative unknowns.

Christmas may not seem like the idea time to launch a horror film, but always remember that this is about the time Scream started and launched a phenomenon. Black Christmas will be nothing of the sort, I'm thinking, but there's always that possibility. Opening on only 1,278 screens, Dimension seems to have a realistic expectation for the film, i.e. not much. Look for just around $2 million on its Christmas Day bow.

Finally we get to the returning films. The Pursuit of Happyness was a surprise winner on the weekend, earning $26 million and upsetting a family film adaptation and a CGI extravaganza. Will Smith proved to be an even stronger box office draw than expected outside what might be considered his natural element. This should hold up strongly as a family option over the holidays, and should see another $20 million over the next four days.

Eragon, the $100 million fantasy project, started off a bit poorly for the size of its budget with a $23 million opening weekend, but a lot better than it probably deserved, based on the reviews. Positioning itself as this year's Narnia or Lord of the Rings, it was clearly not up to that lofty task. Look for a pretty steep decline for this one, with about $12 million coming in through Christmas Day.

Charlotte's Web has a shot at Christmas-week success, though the $11 million it started off with has to be considered a disappointment based on the source material and voice casting. People just don't care for Julia Roberts without Julia Roberts on screen, apparently. Aside from Thanksgiving, this is the best weekend for multiple family films to survive, but I'll give this one about $9 million through the 25th.