Twelve Days of Box Office: Day One
By David Mumpower
December 21, 2006
BoxOfficeProphets.com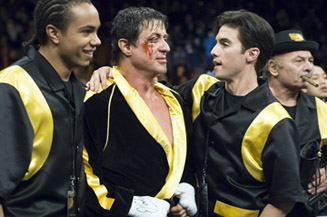 ---
Box Office Prophets is proud to present our sixth annual Twelve Days of Christmas Box Office analysis. As we have stressed every December around this time, the period between December 20th and January 2nd is historically the most lucrative on the box office calendar.

Since BOP is chiefly comprised of a freakish number of numbers wonks, we live for this time frame. We cannot wait to get into the minutiae of daily numbers, but the focus for today will be on a different topic. There was an opener on Wednesday, so that's the topic of Day One of the Twelve Days.

The movie in question is Rocky Balboa, the final installment in a series that seriously regrets ever casting Tommy Morrison or - *gulp* - Sage Stallone. When the project was announced, it was universally derided as the desperate act of a long faded star in Sylvester Stallone. The 1980s A-List actor has the last laugh, however, as the sixth installment of Philadelphia pugilism has been shockingly well received by critics (currently 78% at Rotten Tomatoes as I type this).

In addition, he has earned major bragging for opening the film to the number one spot at the box office. Rocky's total of $6.2 million on Wednesday must make Stallone feel like it's 1985 all over again. Nobody remembers this now, but the film that spawned the deadly Living in America ear worm was a record shattering success upon its debut. With $127.8 million in domestic receipts, that production still stands as the most successful title in the franchise, edging out Rocky III by $2.8 million. Considering all of this, $6.2 million probably isn't going to buy Stallone that shiny new Van Gogh he's had his eye on (the actor's art collection is world class if you didn't know), but it does buy him back no small amount of credibility. This project could have been a joke but it has instead proven to be an early success story.

Before we get too excited, however, let's flash back five years. On Christmas Day of 2001, another heavily hyped boxing project made an impressive debut with $10.2 million in receipts. That title, Ali, appeared to be a major box office factor and a likely Academy Awards dominator. After the dust had settled, the Michael Mann project had proven itself to be pyrite. It wound up with only $58.1 million in domestic receipts, meaning that almost 20% of its total box office was accrued on opening day. The fallout was that the movie managed only two Oscar nominations and was shut out in the wins department. Rocky Balboa clearly has no aspirations in the latter regard, but it does bear noting that a brilliant first day performance by no means guarantees long term success for a holiday release...particularly not a late-December boxing title.

The other four noteworthy films from Wednesday are the three openers from last weekend as well as a chick flick that will be a factor throughout the 12 days of Christmas. Will Smith's new awards contending project, The Pursuit of Happyness, earned $2.9 million, bringing its grand total to $35.2 million. Mr. Smith's career is in much better shape than it was with Ali, innit? An argument could be made that he's the most consistent A-list talent working in Hollywood today.

Finishing in third place is Charlotte's Web. The $2.0 million the movie adaptation earned on Wednesday allows it to surpass Eragon for the first time during their release. Charlotte's Web's paltry box office to date of $16.5 million is nothing to gloat about, though. Meanwhile, the horribly reviewed dragon-fire tale manages just under $1.8 million, and there is definite cause for concern about its staying power within the top ten.

Conversely, the title that rounds out the top five, The Holiday, will run like a fine German automobile throughout the Twelve Days of Box Office. Another $1.2 million today gives the project $28.7 million, putting it just ahead of Eragon's $28.5 million. Bet on Kate Winslet long term. A good example of why this time frame is so important to Hollywood may be explained in one simple statement about The Holiday. The project is up 15% from the prior Wednesday. The late December box office tide lifts all boats. I'll offer anecdotal as well as data-specific demonstrations of this in the coming days, so keep coming back to BOP over the next two weeks. While other sites are taking the holidays off, our content will be better than ever.