Happyness Back at Movie Theatres
Weekend Wrap-Up for December 15-17, 2006
By John Hamann
December 17, 2006
BoxOfficeProphets.com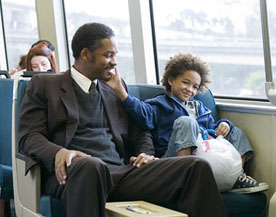 ---
After a dismal weekend in the last frame, the box office bounced back this weekend, despite a less than stellar debut of Charlotte's Web. Three new films brought some spark to the box office: the aforementioned Charlotte's Web, Will Smith and son in The Pursuit of Happyness, and Eragon, the $100 million gamble from 20th Century Fox. While the December box office is still not up to par with last year, this weekend does give some hope now for a decent holiday season.

The number one film, to the surprise of some, is Will Smith's The Pursuit of Happyness. Audiences were looking for something to feel good about, and they chose this Sony product in waves, resulting in a solid opening weekend gross of $27.0 million. Released to a moderate 2,852 venues, Happyness scored an average of $9,467. Audiences seem to like this Will Smith effort, even if critical notices were mixed. It had a solid weekend multiplier of 2.93, which means audiences didn't abandon this Pursuit after opening night, and it's playing as more than a date movie. Critics weren't as happy. At RottenTomatoes, 107 reviews were counted, and a fair 72 were positive, leaving this one with a fresh rating at 67%. These types of feel-good movies are usually followed by excellent word-of-mouth, especially around the holiday season. I expect this one to easily be a $125 million winner and a big Christmas present for Will Smith and Sony.

Will Smith has become sort of a quiet superstar. His last five above-the-title films have opened between $43 and $52 million; however, to be fair to Happyness, two were sequels (Bad Boys II, MIIB), one was summer sci-fi (I, Robot), and one was DreamWorks Animation (Shark Tale). Is this a disappointment for Smith? Not at all. First off, this is more of a drama than a comedy, and dramas are tough to open big. The only dramas in the top ten biggest weekends ever are The Da Vinci Code and The Passion of the Christ, and this just isn't an event film. Secondly, I wouldn't say Sony was 'shooting for the moon' over opening weekend with this one. Christmas is coming, and The Pursuit of Happyness will have $1 million plus days from opening day until after New Year's Day. Despite a busy frame coming next weekend, expect a good hold from Happyness.

For me, a bit of a surprise lands in second spot, as Fox's Eragon manages to beat Charlotte's Web. Eragon, via some ambush marketing, earned a somewhat surprising $23.5 million. Eragon opened on 3,020 venues and scored a decent venue average of $7,765. To me, this one looked more like Dungeons and Dragons - for more reasons than just a repeat appearance by Jeremy Irons. It was also the effects and look of this picture, as well as the reviews. Those reviews were hideous – of the 70 reviewers that voted at RottenTomatoes, only ten liked it enough to give it a thumbs-up, giving Eragon a rather rotten rating of 14%. The biggest impact Eragon may have had was taking away the drawing power of Charlotte's Web over its opening frame. Fox spent $100 million making Eragon, but despite that, I expect Eragon to fade quickly next weekend.

Well back in third is Charlotte's Web, and I imagine that the people at Paramount are shaking their collective heads at this one. Charlotte's Web grossed a dismal $12.0 million from a huge 3,566 venues, leaving it with an awful average of $3,364. Critically, Charlotte was the best received film of the weekend; however, it didn't pay off for the studio. At RottenTomatoes, 93 chimed in on Charlotte's Web, with 74 on the good side, and only 19 on the bad. That leaves the Dakota Fanning picture with a very fresh rating of 80%, but little to show for it. The good news for Paramount is that this is a very healthy moviegoing time of the year. Last year, a lame movie like The Family Stone opened to $12 million over the same weekend, and was able to turn that opening into a domestic gross of over $60 million. Moviegoing from December 22nd until after the New Year will be extremely healthy, and there is little family competition upcoming. An arguable point is Night at the Museum with Ben Stiller, which is rated PG, and with a Dinosaur in the TV ad, could upset some things next weekend. I'm still looking for Charlotte's Web to be a winner - the question now is how big.

Even with Charlotte's Web and Eragon, Happy Feet was still able to hold up well. The Warner Bros. flick from Village Roadshow grossed a solid $8.5 million in its fifth weekend, and dropped a not bad 34%. With this weekend's gross and the Yuletide season upon us, Happy Feet is now in a position to become a phenomenon. The animated penguin movie could finish with as much as $180 million or more domestically, before being huge again on home video.

Fifth spot goes to The Holiday, which has the best ranking but not the best legs out of last weekend's crop of openers. The Holiday grossed $8.2 million over its second frame, and was off 36% from last weekend. The Holiday is like the aforementioned Family Stone – it opened in the $12-$13 million range, and will most likely finish with an okay $60 million. It's not What Women Want, but won't be a disaster either. Currently, The Holiday has $25.3 million in the box office kitty.

Apocalypto didn't have the great word-of-mouth that Buena Vista was hoping for, and sees a nasty slide this weekend. Apocalypto grossed $7.7 million, off a larger-than-expected 49% from last weekend, when it was the number one film. Is the film a victim of Mel Gibson's drunken rage a few months ago? No. People simply don't flock to movies without a lick of English, unless it stars Jesus Christ. Apocalypto has now earned $27.9 million.

Blood Diamond sees a decent gross in its second frame, thanks mostly to Leo DiCaprio's double Best Actor nomination from the Golden Globes. This may have helped Blood Diamond earn $6.3 million and drop only 27% from the previous frame. Also helping this Warner Bros. release is the news coverage that this release is generating, due to its take on the diamond industry in Africa. So far, Blood Diamond has earned $18.4 million.

Casino Royale finishes eighth, as the latest James Bond flick is beginning to run out of steam. Casino Royale grossed $5.7x million, off 36% from last weekend. It's not dead yet with a current total of $137.6 million. The Christmas season should see it earning another $20 million before the month is out, but still leaving it short of Die Another Day, which finished with $161 million.

Still hanging on to a top ten spot is The Nativity Story, which had the best hold in the top ten this weekend. The Nativity earned $4.7 million, off a slight 18% from the previous frame. This one has now earned $23.1 million, which isn't bad considering the opening weekend of only $7.8 million. Look for The Nativity Story to increase on this weekend's gross in the next frame.

Tenth spot goes to Unaccompanied Minors, this year's shot at being the next Home Alone (it missed). The Warner Bros. release grossed $3.7 million in its second frame, off a decent 37% from the previous weekend. I sense the kids like this one; however, it's too little, too late. Currently it sits with $10.2 million.

Overall, things are much better than the last frame, but still lagging behind last year. The top ten films earned $107.3 million, thanks to the strength of the top two films. Last year, with King Kong on top and The Lion, The Witch and The Wardrobe in second, the top ten films earned $119.7 million. This year did improve on the 2004 tally, when the top ten films earned about $97 million.