Weekend Forecast for December 15-17, 2006
by Reagen Sulewski
December 15, 2006
BoxOfficeProphets.com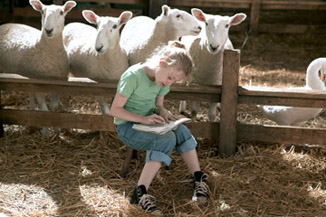 ---
Loading up for the Christmas holidays, three new films to which the term "family" applies, to varying degrees, hit theaters.

Charlotte's Web is a big-screen adaptation of the beloved E.B. White children's classic, about a simple pig named Wilbur, born the runt of the litter. Saved from the axe by the farmer's daugher Fern, he attempts to avoid the ultimate fate of a pig (i.e. Christmas dinner), with the help of a friendly spider and the rest of the farm. If it seems a bit similar to Babe, well, you're not wrong, except that Charlotte's Web was there first.

Produced by Walden Media, the family-friendly operation that finally struck gold with the first film in the Narnia series last Christmas, the film has lined up an impressive group of voice actors to bring in the adults (since kids who've read this book or had it read to them are pre-sold), including Julia Roberts (for as much as she helped The Ant Bully this year), Cedric the Entertainer, Steve Buscemi, Robert Redford, Oprah Winfrey, and many more. Future ruler of the world Dakota Fanning plays the farmer's daughter.

The biggest selling point here is really the source material, which is hard to underestimate as far as kid's lit and family entertainment goes. Charlotte's Web also carries a G rating, which opens it up to everyone, but also pegs it as potentially a bit too kiddy for some. That should be offset by the larger adult crowd, including a high "borrow a kid" factor. Opening on an extremely wide 3,566 venue count, I look for this to start off very strong, with about $22 million.

The tweens and teens that don't want to be seen at Charlotte's Web will have Eragon to satisfy them. A fantasy series set in a mystical world of dragons and warriors, and heavily influenced by the Lord of the Rings. It's a cross-media project, based on a series of novels and has already been turned into a video game. If you haven't heard of this series before, you must live in a world without advertising.

Fantasy can be a tough sell for audiences outside extremely well-loved projects. Eragon isn't really there yet, but a lot of energy and money has been spent to try. With a $100 million budget, a lot is riding on this film for Fox, though international prospects are quite good. The lead character, a young dragon rider, is a newcomer, but the film is backed by several veteran and respected character actors (who are in no way just taking a paycheck. Why would you even suggest that?) like John Malkovich and Jeremy Irons.

Reviews have been pretty brutal, and you wonder if it'll even throw above Dungeons & Dragons in quality. The best hope this film has is its effects, which are pretty strong for a project this size. The big screen count of 3,020 is no guarantee of anything, but I see a weekend of about $17 million in store, followed by a steep decline.


Will Smith heads up the grammatically irritatingly titled film The Pursuit of Happyness, a based-on-a-true-story film about a broke single father who makes a stab at becoming a stockbroker, even while being evicted from his home and struggling to raise his young son.

The film was a handpicked star vehicle for Smith (complete with the uglification process for a young male actor � graying hair), and is also notable for featuring his own son Jaden in the film. Smith has already received a ton of acclaim for his performance, including a Golden Globe nomination, and is a strong contender for an Oscar nomination (his second). The film itself doesn't look that remarkable, though it attempts to tug at a lot of heartstrings, which is something that can play well at this time of year.

This is Smith's first film in almost two years, since 2005's Hitch, which opened to a massive $43 million, a terrific number for a romantic comedy. The Pursuit of Happyness is a departure from that, though Smith's notable star power (he hasn't really had a flop in several years) should give this one a fighting chance. Look for an opening weekend of about $15 million.

Last weekend, Apocalypto was one of the most unlikely films to top the box office since, well, The Passion of the Christ (Okay, Borat is the more recent unlikely chart topper, but isn't as relevant a comparison). The Mayan-language action film directed by Mel Gibson took advantage of a weak field to hit top spot with just over $15 million. Gibson's name is pretty much the sole reason anyone paid attention to this film, with the controversy surrounding him both hurting and helping. I would not be surprised to see a steep drop in its box office this weekend, with a lot of the first weekend business being due to simply curiosity. Give it $8 million for the second weekend.

Among the handful of films it beat out for top spot were Happy Feet, which is set to cross the $150 million mark, and is starting to get the benefit of end-of-year awards, as well as The Holiday, the biggest romantic comedy offering out there. Starring Cameron Diaz, Kate Winslet, Jude Law and Jack Black, its $13 million opening and third place finish could be seen as a tad disappointing, though I believe it'll carry over well, with close to $8 million. Look for Blood Diamond to fare decently in its second weekend, though an $8 million opening start for Leo's second big film this year is definitely an under-performance.

As we near the end of the year, a lot of Oscar contenders are making their debut in limited release. Most notable is Dreamgirls, an adaptation of a Broadway musical about a fictional 1960s female pop trio. Starring Beyonce Knowles, Eddie Murphy, Jamie Foxx and Jennifer Hudson, the film is attracting a lot of attention, including Golden Globe nominations for the film and for American Idol's Hudson. This will certainly see a wider debut in the coming weeks but for now starts on just three screens.

The Good German starts in just five locations itself. A black-and-white World War II drama, it stars George Clooney, Cate Blanchett and Elijah Wood in a noir that evokes Casablanca and The Third Man. Directed by Steven Soderbergh, The Good German was filmed with 1945 cinema techniques, though that gimmick may prove more notable than the movie itself. One more notable film this weekend is Anthony Minghella's Breaking and Entering, starring Jude Law and The Departed's Vera Farmiga.