Star Power Can't Lift Box Office
Weekend Wrap-Up for December 8-10, 2006
By John Hamann
December 10, 2006
BoxOfficeProphets.com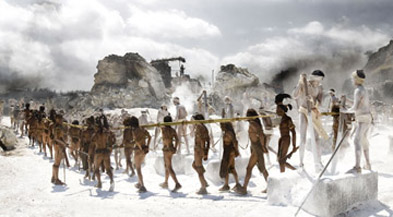 ---
The big box office guns were out in force, but failed to breathe any life into a slumping box office. Names like Mel Gibson, Leonardo DiCaprio, Cameron Diaz, Jude Law and Jack Black all brought new product to the box office, and all failed to produce an opening above $15 million. With no serious entries since Casino Royale and Happy Feet debuted a month ago, the box office is left sagging, with next weekend looking like it could be the turnaround.

The number one film of the weekend is Mel Gibson's Apocalypto. The Icon Productions, Touchstone Pictures production earned a slow $14.2 million this weekend from a tight venue count of 2,465. The film earned a venue average of $5,761. For a film told in the Mayan language, the debut is not all that bad; however, would this have been more embraced had Mel not lost it in a drunken rage a few months ago? Mel's last movie done in a foreign language did a little bit better, but he did have the church behind him for The Passion of the Christ, which opened to almost $84 million in February 2004. Apocalypto is more like Gibson's Braveheart, which opened to $12.5 million way back in 1995. I use Braveheart as a comparison as it opened on only 2,035 venues, and showed some decent legs before finishing with about $75 million and a Best Picture Oscar.

Legs for Apocalypto may be somewhat harder to come by than for Braveheart and The Passion. Apocalypto started with some fantastic buzz, but much of that buzz waned leading up to Apocalypto's release date. It finished the week with 122 reviews counted at RottenTomatoes, and 79 reviewers liked it enough to give it a thumbs up. That's only 65% fresh, although users are finding something more to get excited about at 78% fresh. The "Cream of the Crop" at RT, or the top reviewers in North America, liked it the least, giving it a 59% fresh rating. Like many of Gibson's films, critics can't get by the violence in the movie, which is turning some people off. The weekend multiplier (weekend gross divided by Friday gross) indicates that audiences like what they see, and are sending out some good word-of-mouth. After opening on Friday to about $4.9 million, Apocalypto finishes the weekend with a multiplier of 2.9, which means that Saturday and Sunday were quite healthy in comparison to Friday. We'll have to wait until next weekend to see if audiences are going to catch on to Apocalypto.

Finishing in second is The Holiday, the seasonal rom-com starring Cameron Diaz, Jude Law, Kate Winslet, and Jack Black. The Nancy Myers flick opened to $13.5 million, off the $16 million that Meyer's Something's Gotta Give found over the same period in 2003. The Holiday, a Sony release, opened at 2,610 venues, and found an okay average of $5,172. This was a safe choice for the movie's stars, and that choice led to some not-so-great reviews. The Holiday found more bad than good reviews at RottenTomatoes as 95 critics weighed in, and only 45 liked it. That gives this one a rotten 47% rating, which is off the 69% fresh rating that Something's Gotta Give had. Something's Gotta Give gave Sony a domestic total of over $124 million – can The Holiday do the same? It has no direct rom-com competition heading towards Christmas; however Charlotte's Web and Will Smith's The Pursuit of Happyness may cut into its demographic somewhat. Is this a $100 million dollar picture? Probably. Are we happy with that? I'll leave that one up to you.

Pulling up in third is Happy Feet, the animated Warner Bros. flick that spent three consecutive weekends at number one. Happy Feet caught the slide this weekend, pulling in $12.7 million, which gives it a percentage drop compared to last weekend of 28%. This is a huge improvement on last weekend's plunge of 53%. Currently, Happy Feet has earned a serious $137.7 million at the domestic box office, and could still find a domestic total as high as $160 million. That's not bad for a distributor who has shied away from animation and a production company (Village Roadshow) that has never produced an animated feature.


Fourth place goes to Bond, James Bond, and his Casino Royale. Sony's Bond re-invention slipped below $10 million for the first time in its run, as the Daniel Craig style Bond earned $8.8 million, still a serious amount for a Bond flick in its fourth weekend of release. The burning question remains – can it beat Die Another Day's domestic total – and record for Bond – of $160 million? The answer is starting to look like Dr. No; however, it will get a lift over Christmas and New Year's so all bets are still off. It did beat the totals of the former runner-ups in the Bond race, Tomorrow Never Dies and The World Is Not Enough, which finished with $125 and $127 million respectively, as its domestic total has reached $128.9 million.

Leonardo DiCaprio's Blood Diamond fails to attract much attention this weekend as this Warner Bros. entry sputters in its opening frame. Blood Diamond earned $8.5 million this weekend, albeit from a slim venue count of only 1,910 venues. It did have the third biggest venue count at $4,461, but when this one finishes eighth next weekend, I think DiCaprio and Warner Bros. will be sweating. In this case, Warner Bros. needed to go wider with this one in its first weekend or wait until Christmas to release it. Did audiences not care that this was Leo's message film? Was it the 60% fresh rating at RottenTomatoes with the decidedly mixed reviews? Can Leo not open a film on his own? His string of hits have come with exceptional co-stars: The Departed, with Jack Nicholson and Matt Damon; The Aviator with Cate Blanchett and Marty Scorsese; Catch Me If You Can with Tom Hanks and Steven Spielberg; and the list goes on. Much will be riding on what happens next weekend.

Our last opener of the weekend, Unaccompanied Minors, finishes sixth. Often, these Christmas comedies for kids do not too badly, but Steve Martin isn't in this one, so Warner Bros. has to settle for an opening of only $6.2 million. Out to 2,774 venues, this one settled for an average of $2,239..

Finishing seventh is Denzel Washington and Déjà Vu, now in its third weekend and also sputtering. The Buena Vista film earned $6.1 million, off a dramatic 45% from last weekend. Competition in the form of Apocalypto and Blood Diamond would have hurt Déjà Vu, which may recover somewhat next weekend (a weekend too late). Currently, Déjà Vu sits with $53.0 million. Look for it to finish with about $65 million.

Eighth spot goes to The Nativity Story, which is in a large amount of danger of not being a top ten film as early as next weekend. The Nativity Story earned $5.6 million this weekend, and was off a not-bad 31%. There is no buzz coming from this New Line release; however, there may be buzz with that powerful Sunday morning crowd who could stir The Nativity Story into a small-sized hit by the end of the Christmas. Currently, it sits with a domestic total of $15.8 million.

Deck the Halls finishes ninth this weekend, and can't be shown the door fast enough. Dreck earned $3.9 million this weekend, off a hefty 41% from the previous frame. Still, this movie has unfortunately earned $30.1 million. My Christmas present to you: Avoid this one like the plague.

The Santa Clause 3: The Escape Clause is our number ten film as it slowly prepares to exit stage left. The Santa Clause 3 earned $3.3 million in its sixth weekend, and was off 32% compared to last weekend. Currently, the Tim Allen comedy has earned $77.2 million.

Overall, there is no joy in Whoville. Last year, over the same weekend, The Chronicles of Narnia: The Lion, The Witch and The Wardrobe earned almost as much as the top ten did this year. The top ten this weekend earned only $82.8 million, well off of the $113.5 million last year's top ten took in, when The Lion earned $65.6 million over its debut frame.