Post-Thanksgiving Frame Sleepy Affair at the Box Office
Weekend Wrap-Up for December 1-3, 2006
By John Hamann
December 3, 2006
BoxOfficeProphets.com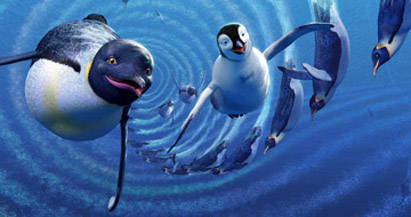 ---
The post-Thanksgiving, first weekend of December has never been a popular time for big business at the box office. This weekend brought more of the same. Openers either had their eye on bigger business in the future (The Nativity), or were trying to exploit a quiet weekend where no big films were opening (Turistas, Van Wilder 2). Overall, things were brighter than last year, thanks again to James Bond and some happy penguins.

The number one film is again Happy Feet, proving that three weekends on top are still possible in today's crazy box office world. Happy Feet, the film that is making Warner Bros. a player in the animation world, grossed $17.1 million over its third frame, dropping an expectedly large 54% from the Thanksgiving frame. Weekend-to-weekend drops are expected to be bigger following a big holiday weekend like Thanksgiving, and this frame is no exception. For distributor Warner Bros., Happy Feet is their biggest animated film since The Polar Express was released in 2004, when it earned $162 million. Happy Feet is also gaining ground on last year's animated Thanksgiving picture, Chicken Little, which earned $135 million at the domestic box office for Disney. Because of the upcoming Christmas holidays, it's hard to say where Happy Feet will end up. Currently, it sits with $121.0 million, and has another weekend to work before Charlotte's Web arrives. I think a domestic total of $165 million is completely possible and that $175 million isn't out of the question.

Second spot, also for the third weekend in a row, is Casino Royale, the excellent re-booting of the Bond franchise. Casino Royale earned $15.1 million in its third frame, off an also large 51% compared to last weekend. The latest Bond crossed some important milestones in the last couple of days. It hit the $100 million mark on Thursday, its 14th day of release, which is faster than GoldenEye, Tomorrow Never Dies and The World Is Not Enough, but slower than current top grossing Bond, Die Another Day. The last Pierce Brosnan flick earned $100 million in only ten days and finished with a domestic total of about $161 million. It also moved ahead of the total gross of the first Pierce Brosnan Bond film, GoldenEye, which finished with $106.5 million. Expect Casino Royale to be hurt badly next weekend by Blood Diamond and Apocolypto, and fall further behind Happy Feet. Currently Casino Royale has earned $115.9 million domestically and could finish with as much as $155 million.

Finishing third, you guessed it – like last weekend – is the aptly titled Déjà Vu, with Denzel Washington. Déjà Vu earned a solid $11.0 million in its second frame, off 47% from the Thanksgiving weekend. Audiences seem to like what they are seeing from Denzel's latest sci-fi/action flick, as that drop is actually quite healthy considering the post-holiday situation. Will this be a $100 million film? Probably not, but it will be Denzel's sixth film since 2000 to gross more than $65 million. Currently, Déjà vu sits with $44.1 million.

Our first opener, The Nativity Story, finishes fourth. Produced and distributed domestically by New Line, The Nativity Story grossed an okay $8.0 million from 3,183 venues this weekend. It had a not very good venue average of $2,514, but did have a decent weekend multiplier of 3.4. The weekend multiplier (weekend gross divided by Friday gross) can be an indication of how good a film is, or in this case, when people are seeing a film. The Nativity Story must have had a lot of viewers on Sunday, but this could change when actuals are released tomorrow. With a weekend estimate, Friday and Saturday actual numbers are counted, and an estimate is made of how well a film would do on Sunday. New Line most likely wasn't looking at this frame as its key weekend; they are looking toward the run up to Christmas. On the other hand, the venue count indicates they were looking for a bigger start than this, but they failed to do any of The Passion of the Christ style of marketing. This will be a very interesting story in the weekends to come; if they can turn an opener like this into a middle-sized hit, the suits at New Line will be very pleased.

Reviews were not great for The Nativity Story. Of the 101 reviewers who voted at RottenTomatoes, only 41 liked it enough to give it a thumbs up. Even the reviews that liked it called it safe, something that Mel Gibson shied away from in The Passion of the Christ. But before you think that The Nativity won't earn much box office because of bad reviews, don't forget that The Passion was only 51% fresh, not far off the 41% rating that The Nativity earned. The Nativity will only be big in the next few weeks if Christians get on board like they did with The Passion.

Deck the Halls (or is that Dreck?) finishes fifth this weekend, and I can only hope that teenagers were paying for this one this weekend and sneaking into Turistas or Van Wilder 2. Deck the Halls grossed $6.7 million this weekend, off a delightfully large 45% from the previous frame. Maybe the word on this one (8% fresh at RottenTomatoes people) is getting out. Currently it sits with $25.0 million.

The Santa Clause 3: The Escape Clause is sixth over the first weekend of December, as it earned $5.0 million. The Tim Allen comedy was dropped on its head following the long weekend, as it lost 49% of its audience. The Santa Clause 3 should see some smaller drops from now up to Christmas, as it hopes to hold on and finish with about $90 million.

Finishing seventh is Borat, as the magnificent one slowly slides down the top ten list. Borat earned $4.8 million in its fifth weekend and was off 53%. The lawsuit target has now earned a huge $116.3 million against a budget of only $18 million. Look for Borat to finish with about $135 million.

Fox Atomic's Turistas finishes well back in eighth this weekend, as the appetite for horror/thrillers in December just isn't there. Turistas grossed a slim $3.5 million from only 1,570 venues this weekend, giving it a venue average of $2,255. The biggest opening for a non-sequel horror film, not opening on Christmas Day, is the remake of Psycho, which tanked over the same weekend in 1998 when it earned just $10 million. This release date was just a bad idea, and like last weekend's Tenacious D in The Pick of Destiny, would have been much better off with a launch date over the September long weekend.

Ninth goes to Stranger Than Fiction, the Will Ferrell flick that didn't work with moviegoers. Stranger earned $3.4 million and was off 41%. Personally, I'm already looking forward to seeing this one on DVD. Stranger Than Fiction has now earned a disappointing $37.0 million.

Finally in tenth is the film that should have gone straight to DVD, Van Wilder: The Rise of Taj. The National Lampoon flick earned only $2.3 million from 1,979 venues. That's quite a way from the $7.3 million the original Van Wilder earned over its opening frame in 2002. Currently, this version of Van Wilder has zero positive reviews out of a possible 16 at RT. Somebody flush the toilet.

Overall, the soft openers didn't leave this year behind last year's totals. Over the same weekend in 2005, the top ten earned about $73.5 million. This year, the top ten earned a better $76.9 million. Next weekend the heat should go back up at the box office, as openers include DiCaprio's Blood Diamond, The Holiday with Jack Black and Cameron Diaz, and as Mel Gibson's Apocolypto.