Friday Box Office Analysis
By Tim Briody
December 2, 2006
BoxOfficeProphets.com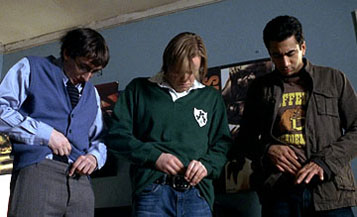 ---
It's the weekend after Thanksgiving. Many smash hits have been released this weekend, such as...um, you know, that one with that guy who does that thing, and...never mind.

The Nativity Story

Really the only of the three new entries this week that posed any threat at all to the top three films, The Nativity Story places a solid fourth with a Friday take of $2.4 million. This is going to be a long-term earner over the holiday season rather than a big breakout weekend. I do expect a slightly above average multiplier for it, as its Sunday earnings might be better than you think. I will give it a 3.1 Friday to Sunday multiplier, good for a $7.2 million weekend, with perhaps some holiday legs over the remainder of December.

Turistas

In a mild upset, Turistas somehow made more than Van Wilder 2 on Friday, with $1.3 million on Friday. It's essentially doomed over the remainder of the weekend as it's both a horror movie and the first weekend in December. A weekend total of about $3.4 million should be in the cards.

National Lampoon's Van Wilder Deux: The Rise of Taj

We here at BOP like Kal Penn, which is why it's depressing to say that the completely ill-advised Van Wilder sequel barely squeaked into the top ten with $931,000 on Friday. Perhaps it will find a long life on DVD like Van Wilder did (though the jury apparently is still out on that one) and we also hope Kal will still find work after the weekend estimate of $2.5 million comes in.

Notable Holdovers

None of the Thanksgiving openers are really worth mentioning, but we will make a note that Casino Royale and Happy Feet remain the top two, with Casino Royale ahead by a few hundred thousand dollars. The penguins figure to vault back over James Bond and hang on to the top slot for a third weekend, becoming only the second movie in 2006 to do that, after Dead Man's Chest. Look for $17.5 million from Happy Feet and about $15 million from Casino Royale.