December 2006 Forecast
By Michael Bentley
December 1, 2006
BoxOfficeProphets.com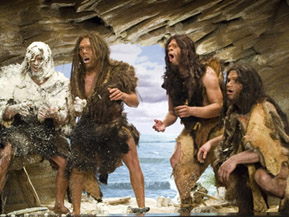 ---
1) Night at the Museum

You know, I'm just going to come right out and say it: I'm not much of a Ben Stiller fan. After There's Something About Mary, he hasn't had a single role that I found funny or that I didn't find incredibly annoying. That said, his latest film, Night at the Museum, has all the makings of being a big-time hit. The premise of the story is pretty simple. Stiller plays a security guard at a natural history museum and one night he...somehow ends ups setting off an ancient curse which gives life to everything in the museum. And I mean everything, from the little Neanderthal statues to bugs, cowboys, Theodore Roosevelt (played by Robin Williams) and of course, dinosaurs. Opening the week before Christmas, Stiller and 20th Century Fox should be getting some nice presents in their stockings this year.

Opening weekend prediction: $44 million.

2) Charlotte's Web

Most all of us have read the classic children's book, or seen the animated movie. It is a timeless tale. Wilbur is a pig, destined to end up with the same fate as most other pigs. Charlotte is a talented spider with a gift for writing words in her webs. Together they team up, with the goal of saving Wilbur. And of course there are several other memorable creatures on the farm as well.

And now it has been updated for the 21st century. Somewhat reminiscent of Babe, this fuses live-action with CGI elements for the animals. An impressive cast of actors have lent their voices to the critters, including Julia Roberts, Robert Redford, Oprah Winfrey, and Steve Buscemi, while Dakota Fanning takes on a human role. It's really a near-perfect story for families, especially those with younger kids. Depending how good the movie actually is, it could very easily end up on top for the month.

Opening weekend: $39 million.

3) Eragon

This year's entry in the annual holiday-time race to become the next Lord of the Rings is Eragon. Based on a book by Christopher Paolini (who was a young teenager when he started writing it), the fantasy story is about a teenage farm boy named Eragon who discovers a beautiful egg...a dragon's egg. It hatches and the two become close friends, but Eragon soon realizes that he is a Dragon Rider and the only one who can save his people from an evil king.

Since the story is so new, compared to a much more established fantasy story like Lord of the Rings, it obviously won't be pulling in $300 million anytime soon. But it might be able to appeal to younger Harry Potterites, as well as others who just want to get away for a couple hours and enjoy some nice special effects. One thing is for sure, though. If the appeal just isn't there and it bombs, you can imagine that Hollywood won't be so quick to rubber stamp just any adaptation of a fantasy epic.

Opening weekend: $33 million.

4) The Pursuit of Happyness

In what is shaping up to be a very crowded mid-December weekend, Will Smith debuts his newest feature film with The Pursuit of Happyness. No, that's not a typo, and in fact the misspelling is actually a key part of the plot. In the story Smith is a down-on-his-luck man struggling to get by and care for his young son. Eventually he gets an unpaid job, which becomes the big break he needed, and this changes their lives immensely.

Perhaps he is just smart about choosing films that will be sure-fire hits, but Smith has had a pretty remarkable run of success over the years. With the exception of back-to-back setbacks with The Legend of Bagger Vance and Ali, all of his films have grossed $100 million or more, going all the way back to Independence Day in 1996. And, perhaps not surprisingly, those two misses are the only pure dramas that he has done. The story has an inspirational and uplifting tone, but that could spell trouble for Happyness. It should still manage a solid opening on the strength of Smith's name and beyond that it is all up to word-of-mouth.

Opening weekend: $22 million.

5) Rocky Balboa

It seems like a joke, but it's not. It is very real. You never thought it would happen after the total failure that was Rocky V, but Sylvester Stallone and crew are back for the sixth Rocky movie, simply titled Rocky Balboa. One day the aging former champ (now a widower) watches a computer simulation that shows the younger Rocky beating the current champion (played by real-life boxing star Antonio Tarver). This inspires him to get back in the ring (for better or worse).

"It's the eye of the tiger, it's the cream of the fight,
Rising up to the challenge of our rival,
And the last known survivor stalks his prey in the night,
And he's watching us all in the eye... of the tiger."

Opening weekend: $21 million.

6) The Holiday

This month's "chick flick" is The Holiday. The rather high-concept plot involves two women (Cameron Diaz in LA, and Kate Winslet in the UK) swapping homes for the holiday. Each of them is fed up with their love lives, so they want a fresh break. And surprise, surprise, each of them meets someone on their vacations (Jude Law and Jack Black). Should be able to perform similarly to 2003's Something's Gotta Give, also from director Nancy Meyers, which opened to $16 million in December of that year.

Opening weekend: $18 million.

7) Blood Diamond

Fresh off the (ongoing) success of The Departed (for which Marty Scorsese hopes he will finally be rewarded, but that's another story entirely...), former heartthrob Leonardo DiCaprio stars in his second Oscar-baiting film of the season, Blood Diamond. The thrilling expose on the South African diamond industry is already earning some controversy and rebuttals from the big gem conglomerates like De Beers.

Leo's now had three $100+ million hits in a row. But can he do it without Scorsese or Spielberg?

Opening weekend: $15 million.

8) The Good Shepherd

Acclaimed veteran actor Robert De Niro's second directorial effort is The Good Shepherd, coming some 13 years after A Bronx Tale. It is an intriguing story about the early years of the CIA, through the eyes of one man (Matt Damon). Others in the cast include De Niro, Angelina Jolie, and even Joe Pesci - who apparently came out of his secret hiding place (possibly the same bunker as Dick Cheney?) to work with his old pal. The film has been increasingly getting favorable awards buzz and, combined with the type of story that mature adults often crave, this has all the makings of being a solid Winter hit.

Opening weekend: $14 million.

9) The Nativity Story

No doubt inspired by the mega-success of Mel Gibson's The Passion of the Christ, New Line is releasing The Nativity Story, a big-screen version of Mary and Joseph and the birth of Jesus. In 2004, The Passion rode that rare wave of grassroots support (with a small dose of helpful controversy) to an eye-popping $84 million opening and well over $300 million in total domestic grosses. As with its predecessor, which was sparked by massive turnout from churchgoers, The Nativity Story is also eyeing church support. But how much support can it expect beyond that?

This is the elephant in the room. Catherine Hardwicke (director of the vastly different Lords of Dogtown and Thirteen) is no Mel Gibson, and star Keisha Castle-Hughes isn't exactly a household name either. And on top of that, The Passion was released prior to Easter in an otherwise lackluster box office climate. One difference is that the former was handed a strong R rating, while this got a family-friendly G. Expect a moderate opening in the low teens, with healthy legs throughout the holiday season. But I sure wouldn't be shocked if it doubles that amount.

Opening weekend: $13 million.

10) We Are Marshall

As this great college football season winds down it is easy to forget about some of the more tragic moments from college sport's past. One of the absolute worst occurred in 1970 when a plane carrying members of the Marshall University football team crashed, killing everyone on board. Thirty-seven players on the team, eight coaches, and others affiliated with the program were all among the casualties.

We Are Marshall, from director McG, chronicles the school's attempt to rebuild the football program the following season. Matthew McConaughey is the coach, Jack Lengyel, and Lost's Matthew Fox and Deadwood's Ian McShane also star. The movie should be able to score moderate box office, and will undoubtedly turn a profit, but could be held back slightly since it is opening during a very competitive season.

Opening weekend: $12 million.

Also in the Running

With December being such a key month for Hollywood, there are a wide variety of major releases. From the blockbusters to the chick flicks, sports films, family fare and awards bait, there seems to be something for almost everyone this year. Some of those other wide releases films that I don't expect to make the top 10 for the month include: Apocalypto (could be big, but Gibson's recent behavior combined with the story will likely hold it back), Dreamgirls (the '60s era musical will definitely find an audience, but not quite enough screens to start with), Children of Men (too many other films ahead of it), Black Christmas (the horror remake is opening too late), Turistas (Hostel-wannabe will have to hope for video sales), Unaccompanied Minors (if it hits with preteen and teen boys it may be able to sniff the top 10), and National Lampoon's Van Wilder: The Rise of Taj (too stupid).

Just Under the Radar

The Good German

BOP's number three pick for Most Anticipated Holiday Movie this year, The Good German reteams director Steven Soderbergh with two-time Sexiest Man George Clooney. It is a black & white retro film set in Post-WWII Berlin that is reminiscent of classics such as The Third Man.

Inland Empire

It's always a good idea to have the latest David Lynch film on your radar screen. Inland Empire stars Laura Dern as an actress who begins to confuse her real life with the role that she is playing. And much confusion for the audience will probably occur as well.

Venus

Peter O'Toole (Lawrence of Arabia) is earning some serious raves for his work in this film, about a couple seniors whose lives are impacted (in a good way) by a teenage girl.

* Please note that all opening weekend estimates are preliminary and do not account for final screen counts.