Openers Thanksgiving Turkeys at the Box Office
Weekend Box Office Wrap-Up for November 22-26, 2006
By John Hamann
November 26, 2006
BoxOfficeProphets.com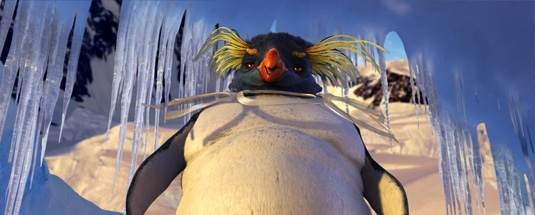 ---
Just like last year over the Thanksgiving long weekend, a smorgasbord of new releases hit screens. And, like last year, moviegoers chose quality leftovers instead of steaming piles of movie dreck. Last year's Thanksgiving crop introduced us to classics like Rent, Yours, Mine and Ours, Just Friends and In the Mix. This year brings us more memorable titles such as Deck The Halls, Bobby, Tenacious D in: The Pick of Destiny, The Fountain, and a single healthy entrée in Deja Vu.

The number one film over the three-day portion of the long weekend is, like last weekend, Happy Feet. Those animated penguins continued to shine in their second frame, scoring $38.0 million from Friday-to-Sunday, and $51.4 million since the start of the holiday weekend on Wednesday. Using the three-day figure, Happy Feet's gross represents a minuscule drop of only 8%. Warner Bros. has to be ecstatic with the performance of their happy penguins, as CGI animation has certainly been hit and miss this year. Animated films like The Wild, Everyone's Hero and The Ant Bully failed to meet expectations, so I'm certain there is a sigh of relief from distributor Warner Bros. and producer Village Roadshow. After ten days of release, Happy Feet is outgrossing the summer CGI flick Over the Hedge, as that film only had $76 million domestic over the same period. With Christmas now only four weekends away, Happy Feet should have a decent shot at earning $200 million by the end of the holiday season. Currently, the George Miller film has earned $100.1 million at the domestic box office.

Pulling up in second for the second consecutive weekend is Casino Royale, the Bond reboot that audiences are adoring. Over the three-day portion of the weekend, Casino Royale grossed $31.0 million, and over the five-day weekend, it raked in $45.3 million. Using the three-day figure, Bond's drop-off was 24% from its debut frame, which is obviously higher than that of Happy Feet, but still a good hold nonetheless. The last Bond flick, Die Another Day, fell 31% in its second frame, which was also the long Thanksgiving weekend, as was The World Is Not Enough, which dropped 35% over the same period. After ten days, the total for Casino Royale sits at $94.2 million. It won't run into any real competition until December 8th, when DiCaprio's Blood Diamond opens – and even that's a stretch. Can Casino Royale catch Die Another Day's $161 million to become the biggest Bond ever? I think so, but we'll certainly know for sure next weekend.

Our first opener of the weekend is Deja Vu, which quietly slips into third spot this weekend. The sci-fi/actioner from Denzel Washington and Tony Scott grossed $29.0 million over the five-day stretch of the weekend and $20.8 million over the three-day portion. It was released to 3,108 venues, and had a three-day average of $6,705. For Denzel Washington, this is his usual great start for an adult-action flick. Over the last six years, Washington has opened six films between $20 and $29 million, with the last, Inside Man, finding $29 million in March of this year. For director Tony Scott, this is his third film with Denzel Washington; the others being 1995's Crimson Tide ($18.6 million opening, $91.4 million finish) and Man on Fire ($23 million opening, $78 million finish).

Deja Vu is no critical darling; however, it is the only opener (of five) to receive a fresh rating at RottenTomatoes this weekend (it was at least fresh at the time of the writing). Déjà Vu received 100 reviews at RottenTomatoes, and of those 61 were fresh, leaving this flick with an obvious slightly fresh rating of 61%. Reviews call it preposterous but entertaining, and over the long weekend, audiences seemed willing enough to park their brains and munch popcorn while taking this one in. Deja Vu will most likely not be a $100 million domestic earner, but it will have a decent holiday season and a great afterlife on DVD.

Fourth goes to another opener, Deck The Halls from 20th Century Fox. Deck The Halls tried to be something for everyone this weekend, and the Fox formula worked, as this drivel scored $12.0 million from Friday-to-Sunday. Who sees this stuff? Of the 52 reviewers at RottenTomatoes who saw this one, only five liked it enough to give it a positive review. But really, who needs a review to tell you that this one is going to Suck with a capital S? Danny Devito hasn't been funny since the '80s (or even back to Taxi) and Matthew Broderick is a stage name who was lucky enough to be in Election with Reese Witherspoon. Speaking of Broderick, here's a guy that should nuke his agent from space – Godzilla, Inspector Gadget, The Stepford Wives, The Cable Guy - I could go on. 20th Century Fox was looking for Cheaper By The Dozen, and I beg you not to make this the leggy monster from hell that that one was.

Finishing fifth is everyone's favorite film to sue: Borat. The Sacha Baron Cohen creation grossed $10.4 million over the Friday-to-Sunday portion of the weekend, and was off 29% compared to the previous weekend. Borat did what seemed impossible only three months ago, crossing the $100 million mark after only 22 days of release. Borat is now sitting on a domestic take of $109.3 million, against a budget of only $18 million.

Sixth spot goes to the dreaded Santa Clause 3, as the Tim Allen sequel gets its usual Thanksgiving bump. Santa Clause 3 grossed $10.0 million, up 21% over last weekend. The schedulers at Buena Vista should get a bonus for this one, as it has received a bump from two holiday weekends in Thanksgiving and Veterans Day. It currently sits with a domestic gross of $67.2 million.

Sony's Stranger Than Fiction finishes seventh, as the Will Ferrell comedy continues to fail to find an audience. Stranger grossed $6.0 million over the three-day portion of the Thanksgiving weekend, off 9% from the previous frame. It has now earned $32.8 million domestically.

Finishing eighth is another family film, Flushed Away. The Aardman creation has lived up to its title versus all of the other family competition, and over the three-day portion of the weekend has a gross of $5.8 million. That's a drop from last weekend of 11%, and now the very expensive Paramount product has a cume of $57.4 million.



A trio of new releases finishes in the basement, with only one having a slight chance of recovering in the weekends ahead.

Finishing ninth is Bobby from the Weinstein Company. Bobby, which revolves around the death of Robert Kennedy, earned only $4.9 million over the three-day portion of the long weekend, albeit from only 1,667 venues. The star-studded drama had a three-day venue average of $2,945 – most likely not high enough to keep it expanding in the weeks to come. Despite the huge cast that features the likes of William H. Macy, Elijah Wood and Anthony Hopkins (just to name a few), the majority of critics gave Bobby a thumbs-down, as it finished with a rotten rating of 43%. It's too bad – after good word-of-mouth was started at Film Festivals, I think many were hoping for a better film.

Tenth goes to The Fountain, Darren Aronofsky's latest film. The Fountain also failed to find an audience, as the mind-bender grossed only $3.7 million from 1,472 venues. It had a three-day venue average of $2,534. Reviewers were split on The Fountain, with some finding it brilliant and others finding it pretentious and overwrought. Aronofsky's Requiem for a Dream was actually reviewed quite similarly with slightly better results. My hope is that this one does find an audience, somehow, in the weeks to come, so that audiences realize what is possible in the moviegoing experience, and that not all films are, well, Deck The Halls.

Our last opener, Tenacious D in: The Pick of Destiny, sadly, shamefully, failed to make the top ten. The Pick of Destiny grossed only $3.1 million this weekend from an underwhelming venue count of only 1,919 venues. Shame on New Line for the marketing around this one. I think the studio failed to realize there was a market for the D, but the release date was just totally wrong. This would have killed over the September long weekend, but against all the other product out right now, it didn't have a chance.

Overall, three-day figures are neck and neck with last year. Over the Thanksgiving weekend in 2005, Harry Potter, Walk The Line, and squad of bad new movies earned $143.2 million as a top ten total. This year, with Casino Royale, Happy Feet and a squad of under-performing new movies, the top ten pulled in a similar $142.7 million, leaving us with little to be excited about.