Weekend Forecast for November 22-26, 2006
By Reagen Sulewski
November 22, 2006
BoxOfficeProphets.com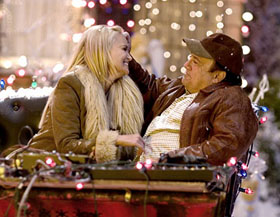 ---
The annual five-day movie frenzy that is the Thanksgiving Weekend is about to hit, with four new movies launching on Wednesday and a couple of key expansions.

Over the last couple of years, Thanksgiving weekend has seen the big movies move to the week prior to it to get a "bonus" box office weekend, and this year is no different, with two $40 million openers in the weekend before. Unlike last year, there's a film that could challenge them for the top spot, namely Deja Vu.

The latest high-concept action film from Jerry Bruckheimer and Tony Scott, Deja Vu posits that the eponymous feeling is actually a power than can be harnessed, sending you back in time four days. When a ferry explodes in New Orleans, a detective (played by Denzel Washington) discovers that it might not be too late to save the people on it, even though they've already been killed.

It's a brilliant conceit, of the kind that makes you think, "Now why didn't I come up with that one?" and perfectly tailored for Tony Scott's hyperactive cinematic style (as well as serving as a bit of an in-joke about the relative sameness of Scott's films). It also leaves room for plenty of explosions and car crashes. It's also had one of the most attention-getting (if obvious) ad campaigns of the year, playing up the film's repetitive concept.

Denzel Washington has seen an incredibly strong run of box office openings in the past six years, culminating in this year's Inside Man debuting to $28 million, the highest in his career. And although Tony Scott had the recent flop of Domino, Deja Vu brings to mind his run of hits with hyped-up techno-thrillers like Enemy of the State and Crimson Tide. This should easily be the biggest new film of the weekend, earning about $26 million over three days and $33 over the five-day Holiday period.

With no milquetoast Steve Martin family "comedy" this fall, Deck The Halls fills that gap by finally giving us the battle royale that we've always wanted - apparently, Matthew Broderick versus Danny DeVito. A slapsticky effort, the two star as competing suburban residents who find themselves in competition for the ironic (think about it) title of "King of Christmas". This is settled by who has the largest, gaudiest, noisiest Christmas display at their house, because that's what Christmas is all about.

This kind of paean to crass consumerism has worked before, most notably with 1996's Jingle All the Way, that timeless pairing of Arnold Schwarzenegger and Sinbad. This has gotten about as terrible reviews as it's possible to get, though as the major new family entry of the weekend, it's bound to serve as a compromise choice, with its PG rating and vague similarities to National Lampoon's Christmas Vacation. Watch for about $10 million over three days, with $14 million over the five-day period.

One of the oddest looking films of the year, Tenacious D in The Pick of Destiny brings Jack Black and Kyle Gass's creation for MTV to the big screen. A sort of mix of Spinal Tap and Bill & Ted, this film purports to tell the origin of Tenacious D, the Greatest Band on Earth, and their devotion to rocking your socks off.

Black plays JB, who has one singular dream - to rock out as the greatest lead singer of all time. After leaving home for Hollywood, he discovers KG (Gass), a troubadour, and forms their band, named Tenacious D, with the only thing stopping them from success being their complete lack of talent. They discover that the secret to rock success is actually carried in a magical guitar pick, which they must journey to find.

Followers of the D will know what to expect from their show and album, which could at times be blisteringly funny, though the transition from what were basically sketches to a 90 minute movie could prove troublesome. Think of it as an SNL movie based on characters you probably haven't heard of. That the trailer looks nearly incomprehensible to neophytes doesn't help. A lot of this film's popularity will be carried on the weight of Black's newfound stardom, though a release on just 1,900 screens doesn't bode well. I'm expecting a Friday-to-Sunday total of just $6 million, with $8 million total from Wednesday on.

The Fountain is groundbreaking filmmaker Darren Aronofsky's latest, after bringing us the trippy Pi and the bleak anti-drug film Requiem For a Dream. An ambitious story that covers no less a topic than the quest for immortality, The Fountain stars Hugh Jackman and Rachael Weisz in three parallel stories spanning 1,000 years, from the age of conquistadors to 500 years into the future.

A difficult production that has been in the works for over four years and was to originally star Brad Pitt, it's obviously a personal project for Aronofsky, but is essentially as weird as hell and his attempt to out-Kubrick Kubrick. A visually stunning film, it's bound to be extremely polarizing, with some hailing it as the best of the year, and others ridiculing it for pretentiousness. Opening on close to 1,500 screens this weekend, this is actually the widest release any of his films have received, almost certainly due to the fantastic reputation of his last films and the landing of a couple decent leads. However, this is the kind of film that's nearly impossible to sell to mass audiences, and the 30-second TV ads fail completely in this regard. I expect this to come in with about $3 million for three days, and $4 million over five.

Expanding on Thursday is Bobby, the Emilio Estevez-directed look at the day Robert F. Kennedy was assassinated at the Ambassador Hotel in Los Angeles in 1968. An ensemble film with one of the year's most impressive casts, Bobby attempts to portray the events of that day as a crossroads for America, and to look at how it affected every segment of society in those pivotal times, at the height of the Vietnam War. Also, it in no uncertain terms draws parallels to international events today.

Opening last weekend on just two screens, it earned close to $70,000, which is healthy but not earth-shattering for that kind of release. It makes its way to 1,667 venues this weekend, but with reviews staying at middling-to-good, it seems unlikely to breakout or be a heavy Oscar contender. I expect a weekend total of around $9 million, and $11 million over four days.

Now we come to the holdovers, which should dominate the Thanksgiving box office. Happy Feet, the animated penguin tale, edged out the newest James Bond film, Casino Royale, by less than $1 million when final figure came in, but as the biggest family film on the biggest family film weekend, it should widen that gap. The toe-tapping family musical directed by George Miller is best positioned to be the #1 choice for big groups, and should easily win the weekend with about $31 million, adding in $45 million over the next five days.

Casino Royale was a tiny step down from Die Another Day, but basically survived the transition from Brosnan to Craig intact. This has been hailed by many as the best Bond since GoldenEye, and this world-of-mouth may be enough to convince the last few skeptics to jump on board. I expect decent legs for this over the weekend, as it should earn $28 million in three days and $38 million in five.

With the addition of these two films, everything else in the box office took a major hit, dropping 50% or more in almost all cases. The films with the best chance to recover are Santa Clause 3 and Flushed Away, as over the five days, there is room for families to see more than one film, Give them $6 and $5 million respectively over three days.

Borat is set to pass the $100 million mark, which qualifies as one of the upsets of the year. Kazakhstan's favorite son should see close to $9 million more added to his coffers over the three day weekend, with $12 million over five days.