Weekend Forecast for November 17-19, 2006
By Reagen Sulewski
November 17, 2006
BoxOfficeProphets.com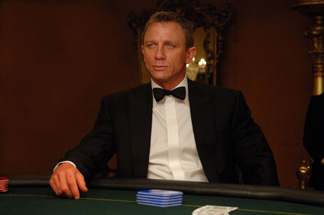 ---
Things are kicking into high gear at the box office, with one of cinema's biggest franchises, James Bond, relaunching yet again. And while that would normally be enough to make a big weekend, we also have what may be one of the biggest family films of the year to contend with.

Happy Feet is directed by George Miller, of Mad Max and Babe: Pig in the City fame, and is his first foray into 100% digital filmmaking. Centering on a group of penguins at the South Pole, it has almost perfect timing to capitalize on the success of March of the Penguins, though it was of course necessarily started much further back. In this movie, the South Pole is a great big musical festival, with your singing voice landing you your mate. That presents a bit of a problem for one penguin, who can't sing, though he can dance like the dickens. Cast out from penguin society, he has to find his way in an unforgiving landscape with potential new friends and enemies all around.

The lead penguin is voiced by Elijah Wood, but the secondary cast is more impressive, featuring Robin Williams in three roles, Hugh Jackman, Nicole Kidman, Hugo Weaving and Steve Irwin, The Crocodile Hunter, in his last role. Though big name casts don't always mean a lot (see: The Ant Bully), Robin Williams is money in the bank for animation, and the character design couldn't be cuter and more audience-friendly. With an emphasis on toe-tapping songs, this could be the family hit of the fall, and the big Thanksgiving family film. Though animation hasn't been the automatic win it had been previously, this one looks quality and has had some terrific promotion. Look for a weekend total of about $45 million.

Few series could make more news about casting than James Bond, which is up to its 21st official movie and its sixth lead. After unceremoniously firing Pierce Brosnan following Die Another Day, the search was on for a replacement. Their choice was Daniel Craig, who proved to be controversial, inspiring hate Web sites on one side (one of the biggest complaints? James Bond shouldn't be blond), and comparisons to Steve McQueen on the other.

Casino Royale was the first of the James Bond novels, and has appeared previously as a TV-adaptation and a spoof film staring David Niven and Woody Allen. It's not a mystery why they might try remaking it. Essentially a reboot, it's been dubbed the "Batman Begins" of the series by wags. Director Martin Campbell returns to the series (his first since GoldenEye) and by most accounts has delivered a superior action film, updating a Cold War spy sensibility for modern times.

Reviews are ecstatic so far, which is something that might not have been expected, and with a terrific looking campaign, it should be able to win over the hardcore fans and bring in the curious. This series has been trending into the upper 30s for opening weekends, and I this has a better than average chance to become the highest opening in the series. Give it a weekend total of about $39 million.

From those two films we drop way, way, way down the ladder to Let's Go to Prison, starring Dax Shepard and Will Arnett. The strangely cheery title covers for a comedy that really wants to be Trading Places, but with more of the Dan-Akroyd-running-around-in-a-Santa-suit part. Shepard is a career criminal who finds the perfect revenge on the judge who sent him to prison -when his prissy son (Arnett) is sent to prison, he decides to "take him under his wing" to help him survive. This entails immediately selling him to the meanest looking guy in the prison for "snuggling". Ah, forceable sodomy. Will you ever stop being funny?

However, Arnett proves more than adaptable to prison life (the best folk are prison folk, after all) and turns the tables on Shepard to rule the joint. Shivs, toilet wine and other hilarity ensue. Surprisingly, this comes from a director with a bit of a reputation, Bob Odenkirk, of Mr. Show fame. The writing crew is from The State and Reno 911!, which also has a fairly substantial following. None of this leads me to believe it'll be all that good a film (it's not being previewed for critics, for one thing), or even a popular one (since it's out on just 1,500 screens and only briefly got advertising), but it might not be an outright bomb. Watch for it to earn about $5 million this weekend.

Limited release sees a few notable films this weekend, starting with Fast Food Nation. Richard Linklater's second film this year is an adaptation of the non-fiction expose of the fast food industry. Rather than adapting it straight, Linklater has turned the book into a overlapping narrative story, covering multiple aspects of the industry in the wake of an e.coli breakout in a fast food chain.

Starring Greg Kinnear, Ethan Hawke, Avril Lavigne, Wilmer Valderrama and Patricia Arquette, it is the latest in the line of activist films, though relatively unique in its fictionalized construction. Opening on about 350 screens this weekend, it should be able to bring in a few million this weekend, and will be hoping for a groundswell similar to that of Super Size Me.

For Your Consideration is the latest improvised film by Christopher Guest and his stable of comedians. In it, three actors for a low-budget film, Home For Purim, discover that they're receiving Oscar buzz. FYC then delves into the chaos that results as egos start to inflate. I can't wait for the trade advertisements for this one come December. Guest's films have started to hit the wall with this concept; the startlingly funny Waiting For Guffman has given way to the dire and dreary A Mighty Wind. Still, there are enough people willing to give him a shot that this could do decently if it picks up support. Look for around half a million this weekend.

Finally, we have Bobby, a film about the assassination of RFK in 1968. Directed by Emilio Estevez, the film wanders around the Ambassador Hotel in Los Angeles, through an ensemble cast that includes Anthony Hopkins, Elijah Wood, William H. Macy, Heather Graham, Lindsay Lohan, Martin Sheen, Christian Slater, Helen Hunt... well, it just keeps going. The growing turbulence of Vietnam looms large through the film, and draws parallels to events today (one guess what it is), as well as what's seen as a loss of the last great hope for that generation of leaders. The film debuted at the Toronto film fest to less than enthusiastic reviews, but won an award at Venice. It's debuting on just two screens in the hope of a better reception and word-of-mouth buzz.

After winning the box office two weeks in a row, Borat faces the first big test of its run. Ticking up slightly last weekend after a major expansion, it will undoubtedly start to see a drop in this frame. It's still a massive smash by any measure, now over the $75 million mark. Though it loses the top spot, it should still bring in close to $17 million more this weekend.

Borat's leggy performance seemed to inspire other films as well, with both The Santa Clause 3 and Flushed Away showing some old-time holdover power, dropping under 15% each in their second weekends. They both face a big challenge from Happy Feet and seem unlikely to repeat that, but neither is Happy Feet a Harry Potter-like monolith that will destroy all that come near it. Give them both around $12 million this weekend.

Stranger Than Fiction went a long way towards making Will Ferrell respectable in "straight" roles, coming in just shy of $13 million. It's the non-explosion, non-culture baiting adult choice this weekend, but we'll see if the strong word-of-mouth it's received will be able to carry it. Give it around $9 million for weekend number two.