Borat, Family Films Trump Openers
Weekend Box Office Wrap-Up for November 10-12, 2006
By John Hamann
November 12, 2006
BoxOfficeProphets.com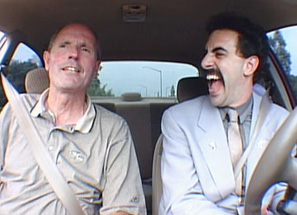 ---
It was another wacky weekend at the box office, as the second frame of Borat is just as awe inducing as its first amazing weekend. With an extra 1,700 venues to work with, Borat is the strangest multi-weekend box office champ we've seen in a very long time. So strong were Borat, The Santa Clause 3 and Flushed Away, they left new openers with huge names in the dust. Performing okay were Stranger than Fiction and Babel, but disaster awaits Sarah Michelle Gellar's The Return and there's even worse news for Russell Crowe's A Good Year.

The number one film of the weekend is again, somehow, Borat. Sacha Baron Cohen's creation not only repeats at number one, but actually increases its take over last weekend. The 20th Century Fox release earned $29.0 million in its second frame, this time from 2,566 venues instead of last weekend's 837. The mockumentary had a venue average of $11,301 � which is well off last weekend's average of $31,607, but still very healthy indeed. Borat now sits with a total of $67.8 million after only ten days of release, and is an easy lock to earn well over $100 million.

The easiest film to compare Borat to now is The Blair Witch Project, the little film that changed the horror movie industry forever. The Blair Witch Project opened in July of 1999 at only 27 venues, where it earned over $1.5 million. Over its first frame, it had a venue average of $56,000. In its second weekend, distributor Artisan added four more venues, and the handheld scarefest earned $2 million (venue average: $64,000). It went wide in its third weekend, going out to 1,101 venues, where it earned a Borat-like $29.2 million. It was here, in its third weekend, that it peaked. Artisan brought the venue count up to 2,142 venues in its fourth weekend, and the film earned $24.3 million, off 17%. In the following weekends it lost 40%, then 50%, then 42% of its weekend to weekend audience. The film, which was made for only $35,000, finished with $140.5 million. Borat, at $18 million, obviously cost a lot more to make, but if drop-offs in the coming weekends aren't too severe, it should finish with a larger domestic gross than The Blair Witch Project. The question now is whether Borat is a flavor of the month, like Blair Witch, or if it can sustain its momentum and keep its drops below 40% in the weeks to come.

Second spot goes to The Santa Clause 3: The Escape Clause, which earned a solid $16.9 million this weekend from 3,458 venues, and dropped only 13.4% compared to last weekend. Our top three films either increased their take over last weekend, or dropped minimally, which means only good news for the overall box office. The Santa Clause 3 now sits with $41.1 million.

Repeating in third place is Flushed Away. Thanks to the Veteran's Day holiday, Flushed Away was able to show strength in its second weekend with a gross of $16.7 million, a decrease of only 11.1%. Flushed Away, an Aardman creation, looks to improve on the so-so success that Wallace and Gromit found last year. W&G dropped 28% in its second weekend after debuting to a slight $16 million. That film finished with about $56 million, while Flushed Away has $39.9 million in the kitty already with Thanksgiving on the horizon. All of a sudden, this film has an outside shot at $100 million, which will make distributor DreamWorks/Paramount very happy.

Will Ferrell's Stranger Than Fiction finishes fourth, and while I'm sure the producers and distributor Sony would have liked a top three finish, I think they will be very pleased with this result. Stranger Than Fiction earned $14.1 million from 2,264 venues, giving it a venue average of $ 6,228. This opening is akin to Eternal Sunshine of the Spotless Mind, the 2004 film that Jim Carrey opened to $8.2 million. While the opening for Sunshine was lower than that of Stranger Than Fiction, so was the venue count. Sunshine opened at 1,353 venues and had a very similar venue average of $6,042. Surprisingly, Eternal Sunshine didn't try to expand after opening weekend. It saw consecutive weekend drops of 35% and finished with about $35 million. Reviews aren't as good for Stranger Than Fiction (75% fresh at RottenTomatoes) than they were for Eternal Sunshine (a stellar 94% fresh). However, I also think that Stranger Than Fiction may be an easier grasp for audiences than Eternal Sunshine was.

Opening Stranger Than Fiction was no easy task, and to get it this close to $15 million should be seen as a quiet victory. Sure, Will Ferrell is a driving force at the box office, but his built-in audience is more comfortable laughing out loud at Borat than thinking with Stranger Than Fiction. If I were taking on a star to work in my movie, I would immediately seek out Ferrell because of his marketing prowess. Seen earlier this year with Talladega Nights, Ferrell did it again here, goofing off in TV spots and in any interview he could get. Will Ferrell controls his own opening weekend, and I think Sony will be happy with this one.

Finishing fifth is Saw III, as the horror flick plunges hard for the second consecutive weekend. Saw III grossed $6.4 million, off a huge 56%, equal to the drop it earned last weekend. Saw III now has earned $69.7 million domestically, and should have a similar finish to that of Saw II, which ended with $87 million.

Babel, expanding from arthouse release, finishes sixth. The Brad Pitt/Cate Blanchett drama earned $5.7 million from 1,251 venues this weekend, giving it a so-so venue average of $4,516. From Paramount, this Oscar wannabe had two weekends of strong limited release seeing weekend with seven and then 35 venues. This is a tough film to take wide despite the stars, as the title means little and has a confusing story. It does have decent reviews, though, and could carry good word-of-mouth. Let's see if it disappears next weekend.

The Departed finishes in seventh spot, as a crowded slate drives down the holdovers, no matter how good. Martin Scorsese's epic crime drama grossed $5.2 million in its sixth weekend. The Departed dropped a mere 32% this weekend, which means it now has five consecutive drops of close to or less than 30%. The Departed has now earned $109.8 million, a few million more than Scorsese's former biggest, The Aviator, which finished with about $102 million.

The Return, a horror film starring Sarah Michelle Gellar, finishes eighth for Rogue Pictures. The Return earned only $4.8 million from 1,986 venues, giving it an average of $2,407. Rogue dropped the ball on this one, refusing to screen it for critics and mishandling the marketing completely. The good news for the distributor is that this one cost only $15 million to make, a figure it won't earn domestically, but an amount it will see from home video sales.

Ninth goes to The Prestige, which grossed $4.6 million in its fourth weekend. The Chris Nolan film dropped 38% compared to last weekend and now sits with a solid $46 million.

Tenth is an embarrassment for Russell Crowe, as his latest, A Good Year, does a Tom Cruise in MI3 impression, but to a much worse degree. A Good Year earned only $3.8 million from 2,066 venues, which means it cost more to make prints for this one than it earned in opening weekend box office. Crowe was wondering if audiences had forgotten the phone-throwing incident that happened in New York following the brutal opening of Cinderella Man in 2005. I would say obviously not, as movie fans seem to be passing judgment on star behavior via their ticket buying habits in 2006. The good news for distributor Fox is that the budget for A Good Year is rumored to be as low as $35 million, so even if this one fails to make $10 million, it isn't the end of the world. For Russell Crowe however, this is two consecutive disappointments (or one disappointment and one brutal flop).

Our last opener, Harsh Times, fails to register a top ten position this weekend. Released to only 956 venues, the Christian Bale flick grossed only $1.8 million this weekend. This one should have been bigger. It had an urban setting and starred Batman along with Desperate Housewife Eva Longoria.

Overall, the hot streak continues at the box office, again thanks to Borat. The top ten grossed a combined $107.2 million, which is more or less dead even with last year, when the top ten rang up about $107.5 million. Next weekend, things get even more interesting with the release of the new James Bond film, Casino Royale, as well as the new animated feature, Happy Feet from Warner Bros.