Weekend Forecast for November 10-12, 2006
By Reagen Sulewski
November 10, 2006
BoxOfficeProphets.com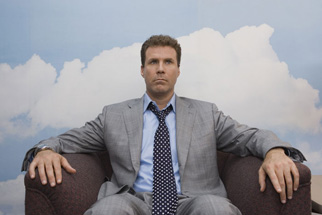 ---
With the box office still reeling from last week's shock of the decade, four new films are testing the waters. However it's still Borat's world, we just live in it.

Leading the way for the new films in the box office is Stranger Than Fiction, which has a premise that causes screenwriters around the world to slap their heads in frustration, saying, "now why didn't I think of that one?" It stars Will Ferrell, in one of his first moderately sedate roles, as a mild mannered man who fulfills every writer's dream; his life is apparently being dictated by the latest novel by a prominent writer (played by Emma Thompson). He hears her voice in his head, and shortly thereafter, the things she says come to pass.

At first it's just a moderate distraction, a positive influence on his boring life. That is, until Thompson's writer character decides to do what all writers eventually do � deciding to kill off a major character for interest's sake. Since it's Ferrell she's talking about, he naturally doesn't take that so well, and decides to seek her out.

As movie concepts go, it's a doozy, and it's a bit of a surprise to see that Charlie Kaufman isn't involved. Marc Forster of Finding Neverland fame is the director. Though it's still a comedy, it's a very different sort of one than Ferrell's fans are used to. There are unlikely to be any cougar-assisted driving lessons or Spanish-speaking dogs. As such, his newly minted status as the new Adam Sandler or Jim Carrey won't be in full play, but it will keep the film from being another Melinda & Melinda. Think somewhere in between The Truman Show and Punch-Drunk Love.

It looks quite clever, if not laugh-out-loud funny, and is getting respectable reviews. There are a couple significant barriers in its way to becoming a huge hit, in that Ferrell's typical fans are likely to be disappointed, and those who don't like him in the first place may not give him a chance. Even at that, there's enough of a concept here to carry the day, and it should come in with about $14 million.

Sarah Michelle Gellar continues to try and work her magic in horror films with this week's The Return, which one could probably be forgiven being mistaken for another Japanese adaptation from its style, though it is, in fact, an original. Her character is haunted by visions of a mysterious murder that occurred 15 years ago, and may be premonitions of harm yet to come.

This is your standard "young female in a ghost story" film, which could provide some scares, but is getting very little promotion from its studio, the smallish Rogue pictures, likely because it doesn't have the ability to make a big push for the film. It's biggest success to date was 2005's Unleashed, which managed about $11 million.

They're likely banking on Gellar's pull among young audiences and horror fans from The Grudge, though that card may not be the best one to play, judging by The Grudge 2's relatively mediocre performance compared to its predecessor. It's also not being screened for critics, which doesn't hurt it that much, but is pretty indicative of a stinker. Look for an opening weekend of about $8 million here.

This week's romance selection comes courtesy of Ridley Scott and Russell Crowe with A Good Year. Crowe stars as a workaholic London stockbroker who inherits a French vineyard from a beloved old uncle (played in flashback by Albert Finney). It's the place where he largely grew up, but doesn't fit with his lifestyle and he decides he must sell it and... sorry, I nodded off there for a second. Suffice it to say that it's not much of a potboiler. You could be forgiven for thinking this was a Merchant-Ivory film (yes, I know that Merchant is dead).


Complications arise when a love interest enters in the form of a French caf� owner, and a long lost cousin may have a claim on the farm. Yay, probate battles! Reviews have been less than kind of the film, and although Ridley Scott is a capable and respected director, he's also prone to letting off a few stinkers from time to time. This looks to be the case here, as I'm reasonably sure audiences aren't too interested in seeing Russell Crowe rediscover his childhood while walking around in a vineyard. I would expect about $6 million for the film this weekend.

Harsh Times is an unusual take on the hood/gangster drama, notably because of its racial makeup. The film stars Christian Bale and Six Feet Under's Freddy Rodriguez as old friends who grew up in Los Angeles, returning to become police officers in their old neighborhood. There, the line between cop and thug is drawn pretty thin, and old habits start to settle back in. It could almost be mistaken for a Grand Theft Auto plot.

The film is the directorial debut of David Ayer, who most famously wrote The Fast and the Furious and Training Day, which this closely resembles. Bale can chew scenery with the best of them, and as an ex-Army Ranger gets to play out the tough guy skills he's learned in a few recent action films. Released on just under 1,000 screens, it could have an impact like other "urban" films, though it lacks a star that will really connect with that audience. Give it about $4 million this weekend.

Although many pundits (including yours truly) expected Borat to be a hit even in its limited release last weekend, virtually no one could have predicted the magnitude of its breakout. Employing a strategy to pack limited houses, Fox was able to get it to the top of the box office in just 837 screens, pulling in $26 million when all was said and done. This was over $30,000 per venue, a number that rivaled the opening weekend of Pirates of the Caribbean: Dead Man's Chest. Now that they've got everyone's attention, they're tripling the screen count, and are a stone cold lock to win it again.

Moreover, the film was blisteringly funny, one of the best reviewed films of the year that has built up incredible word-of-mouth. A repeat of last weekend's per screen average is impossible (...I think) but it's been by far the strongest holdover mid week, indicating a pent-up demand and staying power. Look for it to win the weekend, with $33 million.

Two family films made strong showings going head to head last weekend. The Santa Clause 3 and Flushed Away came in within less than $1 million of each other, at $19.5 and $18.8 million respectively. Even at that, that's a bit of a downturn for Tim Allen's franchise, and maybe a little bit better than expected showing for Aardman Studio's latest. I give Flushed Away stronger odds on showing legs, as Santa Clause is a bit of a stale concept at this point. Give it $13 million, with Santa Clause just behind with $12 million.

Major Oscar contender Babel also gets a major expansion after a terrific run in limited release, jumping to 1,251 screens from 35. The multiple-narratives film starring Brad Pitt, Cate Blanchett and many more earned almost $1 million on those 35 screens, and its complicated take on communication and connectedness is earning it many early plaudits. Pitt's star power is definitely its best chance to make an impact this weekend, and on this many screens, it should be able to bring in about $9 million.