Borat Make Box Office Boffo
Weekend Wrap-Up for November 3-5, 2006
By John Hamann
November 5, 2006
BoxOfficeProphets.com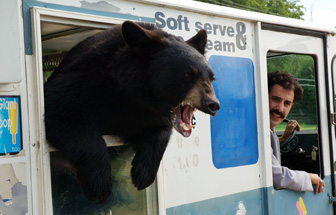 ---
All hail Borat, king of the box office. After some of the oddest hype seen since Talladega Nights: The Ballad of Ricky Bobby, Sacha Baron Cohen's comedy about an oddball Kazakhstan TV Reporter hammered expectations, becoming the biggest surprise hit since Napoleon Dynamite or even The Blair Witch Project. The R-rated comedy even beat two strong family movies in The Santa Clause 3 and Flushed Away despite being on about 25% of their screens. In other news, Saw III did the expected and plummeted, The Prestige and The Departed continued to shine, and The Queen showed up in the top ten for the first time despite being at only 387 venues. It was an odd, odd, odd weekend at the box office.

How can I write about the incomparable? The number one film at the box office this weekend is Borat, the 20th Century Fox film from Sacha Baron Cohen and director Larry Charles (Seinfeld). Borat is a breakout success, as it earned an absolutely huge $26.4 million from a minuscule 837 venues. It had a venue average of $31,517, an average that puts Borat in the same ballpark as something like Star Wars: Revenge of the Sith. That film opened to $108.4 million but grossed that amount from 3,661 venues, giving it a Borat-like venue average of $29,619. The Hollywood Reporter said on Friday that they were looking for an $8-$10 million opening for Borat and BOP's own Reagen Sulewski was looking for a $14 million debut. Simply put, the opening here is historic. Sure, it's not a $100 million plus weekend, but its impact will be the same, and I'm certain will be seeing a lot of Borat lookalikes in the months and years ahead.

Two weeks ago, 20th Century Fox decided that Borat wasn't going to play well in middle-America, so the studio decided to slash the number of venues from well over 2,000 to 800 and hope to build word-of-mouth from there. Obviously, they didn't have to, but it does make me wonder if it the venue count change was a ploy to raise awareness about this very funny film, or if Fox actually thought this one wouldn't play in Topeka. With the venue average it has, Borat obviously played very well in every venue. It should have. Reviews were universally positive. At RottenTomatoes, only five reviewers out of 125 didn't get the joke, giving it a fresh rating of 96%. For a wide release film (more than 700 venues) Borat has the best reviews of the year, but will eventually drop behind The Queen, which currently sits at 98% fresh. That's better reviews than Marty Scorsese's The Departed and indie-darling Little Miss Sunshine, which both sit at 93%. When is someone going to say Oscar?

Next weekend, Fox plans on taking Borat even wider, back to the 2,000+ venues it had originally imagined. After this weekend, I wouldn't be surprised if that 2,000+ didn't become 3,000+. As Tim Briody reported on Friday, Borat earned $8.9 million on Friday night. That gives the comedy a weekend internal multiplier (weekend gross divided by Friday gross) of 2.97. To do this kind of business over an opening weekend and still keep the multiplier close to 3.0 is an amazing accomplishment, and leads me to think that Fox should go as wide as possible with Borat next weekend. Given the multiplier and the reviews, there is no doubt in my mind that Borat will be a $100 million earner, and I'm looking for a sub-20% drop next weekend. Congratulations to Universal, who already signed a contract for the follow-up, valued at only $42.5 million. This Borat cost the studio less than $20 million to make, and will be the start of a very wonderful franchise.

Analysts picked our number two film, The Santa Clause 3: THe Escape Clause, as the supposed number one film this weekend, but it wasn't to be. The Tim Allen franchise took a giant leap backward as the third film in the series grossed $20.0 million, which compares poorly with the second film's opening take of $29 million. It has been a year of scheduling disasters and this is another example of that. Flushed Away, the other new family film opening this weekend, obviously cannibalized the opening of Santa Clause 3. However, this wasn't Disney's fault. The other two Santa Clause flicks all opened on the same weekend, so DreamWorks knew heading into the year that the holiday-themed, live-action flick would debut this weekend.

The first Santa Clause was a pleasant surprise, debuting to $19.3 million in November of 1994. It dropped only 11% to second in its sophomore weekend and returned to the number one spot for two more weekends after that. It went on to earn $144 million domestically. The sequel opened to $29 million in 2002 and dropped only 15% in its second frame. The Santa Clause 2 ended up with $139 million at the domestic box office. The third film won't be so lucky. Throughout its run it will have to deal with Flushed Away, and in two week's time will have to contend with the animated Happy Feet from Warner Bros. Santa Clause 3 will have trouble reaching $100 million this time around, against a budget most likely in the $70 million area. As much as I hate to say it, Martin Short carries the box office curse, and may have been bit with the bug when working with Dennis Quaid on Innerspace in 1987. Since then, he's appeared in many films that should have finished better, like Treasure Planet, The Prince of Egypt, Jungle 2 Jungle, and Mars Attacks!

Flushed Away finishes third this weekend, with a gross that is higher than this analyst expected. Instead of getting crushed by Santa Claus, Flushed Away held up well in the face of adversity, grossing $19.1 million from 3,707 venues. It opened on about 300 more venues than Santa Clause 3, and finished the weekend with a venue average of $5,152. I thought this Aardman production would open lower than their Wallace and Gromit flick, but in reality in opened very similarly to that of The Curse of Were-Rabbit's $16 million. The W&G flick ended quite poorly, finishing with a domestic total of $56 million, something that I doubt will happen with Flushed Away. Wallace and Gromit had a large built-in audience, whereas Flushed Away's is much broader. I expect decent holds until Happy Feet debuts in two weekends.

Fourth spot goes to last weekend's big winner in Saw III. The slash and gash flick did exactly that in its second weekend, as it grossed $15.5 million and carried a huge (but expected) drop of 54%. Lionsgate doesn't care, as Saw III earned its budget in its first two days of release, and now sits with $60.1 million.

The Prestige and The Departed battled over position for the third consecutive weekend, with The Departed coming out on top this time. The Martin Scorsese Oscar-destined flick continues to churn in its fifth solid weekend. The Departed grossed $8.0 million this weekend, and was also off a tiny 19%. Borat wouldn't have helped this one, as The Departed carries an even stronger R than the Fox release. The Departed crossed the $100 million mark this weekend as it has earned $102.3 million. This is only the second time a Martin Scorsese flick has earned more than $100 million, as The Aviator finished with $102.6 million.

The Prestige, the magician flick from Chris Nolan finished sixth this weekend, earning $7.8 million. The Prestige dropped a tiny 19%, proving that audiences are rallying around this one, or buying tickets for the PG-13 rated Prestige and then sneaking in to the R-rated Borat. Whatever the case, The Prestige has now earned $39.4 million and could finish with as much as $60 million on the domestic front.

Seventh goes to Flags of our Fathers, as the Clint Eastwood flick slowly slips into oblivion, much too soon. Flags grossed $4.5 million and was off 29% compared to last weekend, despite Paramount adding 185 venues to the war film's run. Flags now sits with a disappointing $26.6 million, and could be a memory in three weekends.

Eighth spot goes to Man of the Year, as the Robin Williams political satire continues to hold ground. Man of the Year grossed $3.8 million this weekend and was off 19% compared to the previous frame. The Universal flick has now earned $34.0 million.

Finishing ninth is Open Season, and is the third family film in the top ten this weekend. Open Season grossed $3.1 million, was off 47% and now sits with a domestic tally of $81.4 million.

Tenth spot goes to The Queen, Stephen Frears' excellent drama about Queen Elizabeth during the time of Princess Diana's death/assassination. The Queen grossed $3.0 million from a tiny venue count of only 387, leaving it with an average of $7,778 (theatres were very busy this weekend). As I mentioned above, The Queen's 98% fresh rating is driving people to see this one, as Helen Mirren is probably already a lock for Best Actress Oscar. Currently this one sits with $10.1 million, and BOP will have more on it in the weekend's to come.

Overall, the box office was able to maintain its pace with last year, thanks solely to Borat. The top ten this weekend pulled in $111.2 million, which compares quite favorably with last year's $115.3 million when Chicken Little and Jarhead combined to open to $67 million. Next weekend will certainly be interesting with the expansion of Borat, Will Ferrell in Stranger Than Fiction, Russell Crowe in A Good Year and Sarah Michelle Gellar in The Return.