Weekend Forecast for November 3-5, 2006
By Reagen Sulewski
November 3, 2006
BoxOfficeProphets.com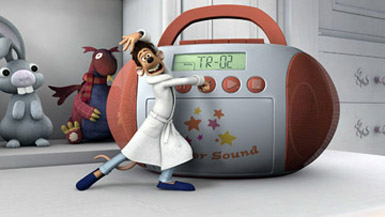 ---
After weeks of relatively calm box office battles, the first weekend of November brings us an old-fashioned slugfest, with two films going head-to-head and a potential spoiler lurking in the midst.

I think it'd be interesting if you brought mid-1990s Tim Allen, flying high on the wings of one of the hottest sitcoms in the land, to 2006, where he's stuck remaking old Dean Jones movies, and seeing if the whiplash would break his brain. I suppose at least he's working. He's got one pretty reliable franchise, though. The Santa Clause sees its third outing hit theaters this weekend.

Like the first two films, this movie hits theaters well in advance of Christmas and even Thanksgiving, repeating what has been a winning strategy so far. The first film in the series earned $144 million 12 (count 'em) years ago, while the second opened to an astounding $29 million four years ago. That's a lot of money for dressing Tim Allen up in a fatsuit.

The Santa Clause 3: The Escape Clause ups the annoyingness factor by bringing in Martin Short as Jack Frost, who's trying for a hostile takeover of the North Pole. Personally, the job seems like a giant hassle, but to each their own. However, this has been a reliable family film franchise from the past two outings, and I see no real reason to doubt that this will continue that trend. It looks more or less the same quality of the last two films, and we'll continue to be treated to more of them every few years or so until one of them flops entirely or Allen's caught with his pants down on a street corner. Look for it to win the weekend with about $28 million.

Going head to head against this in the family film market is Flushed Away, the latest outing from Aardman Animations, and one of Hugh Jackman's 87 films released this year. Jackman stars as a posh pet rat that, per the title, gets flushed out of his comfortable lifestyle into the London sewers. He then must journey back to his life while dealing with the crazy cast of characters that already reside there.

Aardman is the studio famous for bringing us the films of Nick Park and Peter Lord, including Chicken Run and the Wallace & Gromit films. Notably for Flushed Away, they've moved away from plasticine stop-motion animation for digital work, though they've retained the same look and style. While purists may be up in arms about this decision, it is reportedly not because of the interference of DreamWorks, but due to the fact that since this film features so much "water", it would be cost prohibitive to animate it in their traditional fashion.

The voice cast for Flushed Away also includes Kate Winslet, Ian McKellen, Jean Reno and Bill Nighy, which makes for a group high in talent if not necessarily box office pull. What's more, a film set in a sewer may make for a tough sell for family audiences. While it won't match the opening weekend of Chicken Run, it should at least be able to match and exceed the weekend of last year's Wallace & Gromit film, as Flushed Away isn't bogged down by the cult status of Aardman's famous duo. Watch for an opening weekend of $18 million.

The wildcard this weekend comes to us from Britain, by way of Kazakhstan, and with maybe the greatest title in the history of cinema. Borat: Cultural Learnings of America for Make Benefit Glorious Nation of Kazakhstan (or just Borat for short) is the second movie to feature one of Sasha Baron Cohen's character creations, and with the most potential to break out in the United States.

Borat stars Cohen as the title character, a Kazakhstani journalist sent to the United States in order to learn what makes it the greatest country in the world. Cohen plays him as the most clueless foreigner possible, in order to better slip in under the radar of American sensibilities. It's a brilliant conceit, and the real people he interacts with reveal astonishing things about themselves, with just a little prodding from Borat's incredibly racist and anti-Semitic remarks. It's almost Andy Kaufman-esque in its sensibilities, though the main difference is that Cohen allows us to be in on the joke and is hoping we get the message of the film about just how shallow racism and xenophobia can lie.

It's also hysterically funny, with critical reviews tending into the rapturous and calling it the funniest movie of the year. Cohen's shtick depends on flying somewhat under the radar, so while those in the know will be out in full force, it's going to leave a lot of people scratching their heads. It's appealing to almost the same subset of people that "get" Jackass, though this is obviously more culturally inflammatory. Fox is releasing the film on a very small slate - just 837 screens - but awareness is running extremely high, and Borat has tremendous breakthrough potential. Look for it to make an extremely strong showing with $14 million, and a solid third place finish.

Saw III grabbed an impressive $33 million in its opening weekend, the highest so far for the horror series, which led to a fourth outing of the franchise being immediately greenlit. That's mainly due to the fact that this is twice the figure of the film's budget, and not any particular hopes that it has of earning great amounts of money in the upcoming weeks. Horror is especially front-loaded as films go, and this one in particular wasn't that well received. Look for an extremely steep drop to around $14 million.

The Departed is set to pass the $100 million mark this weekend, if it can continue its stretch of impressive holdovers, now entering its fifth weekend. It's one of the leggiest films of the year, and each week solidifies its chances for Oscar nominations.

A couple of films make expansions in limited release this weekend. The Queen jumps to around 400 screens after sitting just below the top ten at the box office. It should be left on the outside again with three strong new openers taking up slots, but should still be able add another $2 million or so to its total, and is making impressive noises for a film with such a Brit-centric focus.

Babel, one of this year's big Oscar contenders, adds a few more screens as well after an extremely impressive opening weekend. Averaging over $50,000 per screen at its seven venues, the multi-layered story starring Brad Pitt and Cate Blanchett is living up to its hype as a Cannes-winning film. It should bring in another $750,000 this weekend.