Saw Franchise Buzzes Box Office Again
Weekend Box Office Wrap-Up for October 27-29, 2006
By John Hamann
October 29, 2006
BoxOfficeProphets.com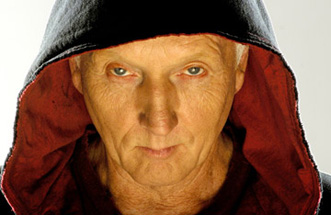 ---
I can't imagine that too many people are overly surprised that Saw III took the box office crown this weekend. What may surprise, though, is the continued strength of the franchise through its third installment. Other studios ran in fear of the buzzing sequel, as we had only one other opener (Catch a Fire) and a platforming arthouse release (Running With Scissors, which looks like a Wes Anderson rip-off). The real drama in the top ten came from continuing films The Departed, and The Prestige as they vied for second spot this weekend.

The number one film in a landslide is Lionsgate's Saw III, which is quickly becoming the most popular horror franchise ever, despite having only three films released (so far). Saw III grossed an impressive $34.3 million from 3,167 venues, giving it a hot venue average of $10,830. This installment of the cheap-to-make, easy-to-market franchise had an even better opening Friday than Saw II. The second installment grossed $12.1 million over its first Friday before ringing up an opening weekend of $31.7 million, which gives it an internal multiplier (weekend gross divided by Friday gross) of 2.6. Saw III grossed $14.2 million on opening day, and ended the weekend with a multiplier of 2.42. With sequels, no matter the Roman numeral that follows the title, multipliers tend to get lower. For films like the Saw franchise, there is a hardcore fanbase that needs to show up on opening day, which skews the multiplier lower. For a third film in a franchise like this to do this kind of business, Lionsgate has to be very pleased. A few weekends ago The Grudge 2 opened to much lower numbers than the original film in the series, which usually means the franchise is sputtering. With Saw III, there is not sputter in these saws, so you can expect to see another installment next Halloween.

The key to these films is the budget. The first Saw film came out of nowhere, costing only $1.2 million for Lionsgate before going on to earn $55.2 million domestically and over $100 million worldwide. The second film cost only $5 million to make and earned $87 million domestically and $150 million worldwide. Saw III cost Lionsgate $12 million and should earn as much as the second film did, both domestically and abroad. To illustrate the earning power of this franchise: the opening weekend alone for the first Saw film ($18.3 million) is about equal to all three budgets for this franchise, something not seen in today's Hollywood.

It was a close battle for second spot this weekend as The Prestige took on The Departed, which left Flags of our Fathers picking up the scraps. The Departed, Martin Scorsese's gangster movie with the stellar cast, comes out just ahead in second place. Already in its fourth weekend, The Departed earned a still-strong $9.8 million from 2,951 venues. The Departed is now looking to wallop The Aviator in terms of domestic box office, which will make the Infernal Affairs remake Scorsese's highest grossing film of his storied career. Where The Departed finishes now depends on Oscar. With a Best Picture win, this movie is easily a $150-160 million earner. Without it, you can still look for a take in the $120 million range. A win would be nice for Warner Bros, as the budget came in at around $90 million.

The Prestige comes in third place, as the Hugh Jackman/Christian Bale flick earned $9.6 million in its second weekend, off a decent 35%. Facing off against a Saw film is no easy task, especially if you are targeting that late-teen, young-adult market. The Warner Bros production has now earned $28.8 million after only two weekends and should earn $50 million easily at the domestic box office. This is a victory for the studios as The Prestige carried a budget of $40 million, and a story of battling magicians is no easy sell.

Finishing a worrisome fourth is Clint Eastwood's Flags of our Fathers, the war movie that is sorely lacking the casting coup of The Departed. Many eyes were on the key second weekend of Flags, as Paramount added 314 venues to the film's run. Did the expansion pay off? No. Flags earned only $6.4 million, equaling a drop-off of 38% from last weekend's opening take of $10.2 million. Million Dollar Baby did drop 31% in its second weekend of wide release, but followed that with a 13% drop the following weekend. Will history repeat itself? I doubt it. Clint's epic now sits with $19.9 million. Check back next weekend to see where it will finish.

Finishing fifth is Open Season, Sony's leggy animated effort. Open Season continues to draw in its fifth weekend of release. Open Season grossed $6.1 million, off a tight 25% from the previous frame. Open Season still has an outside shot at reaching $100 million, but will need to continue to see low drops for a few more weekends. It could be too late, as there are more animated titles in the wings, and Open Season's current gross sits at $77.4 million.

Sixth spot goes to the other family-friendly film in the top ten, Flicka, from 20th Century Fox. The low budget horse flick from Fox grossed $5.0 million in its second weekend, off a decent 35% from the previous frame. Remember, this is only a $15 million effort from Fox, so its current gross of $14.1 million and an expected domestic total estimate of $30 million are good news for the studio.

Robin Williams and Man of the Year quietly trudge down to seventh spot this weekend. The Universal release from Barry Levinson grossed $4.7 million and was off 32% from the previous frame. Man of the Year is going to end up having a healthier finish that I first expected. It currently sits with $28.9 million, and could finish with as much as $40 million, in the same ballpark as Levinson's Bandits and Wag the Dog.

The Grudge 2 continues to slink its way out of the top ten at the box office, this time finishing in eighth place. Grudge 2 earned $3.3 million, equaling another horrid drop of 57%. It's hard to believe that this one opened to $20.8 million only three weekends ago. Currently it sits with $36.0 million in the box office kitty. For readers who like math, The Grudge 2 = Dead Franchise.

Landing in ninth this weekend is Marie Antoinette, and it would have been gone if not for some weak films at the bottom of the top ten last weekend (The Marine, The Guardian). The Sofia Coppola flick earned only $2.9 million this weekend, and was off 47%. This Sony effort has now earned a small $9.8 million, so it will be guillotined Monday in the Sony offices.

Tenth spot goes to The Guardian, the Kevin Costner/Ashton Kutcher action/drama that just keeps managing to hang around somehow. It had $2.4 million this weekend and now has a total take of $50 million.

Focus Features' Catch a Fire failed to inspire, as the Tim Robbins/Derek Luke picture failed to crack the top ten. We do know that it earned $2.0 million from 1,305 venues, which gives it an average of $1,532. It's too bad, as this was the only new release this weekend to get a fresh rating (79%) at Rotten Tomatoes.

Overall, the box office matchup with last year is basically a push. The top ten this weekend pulled in $84.5 million. In 2005, which featured Saw II on top, the top ten earned about $83 million. In 2004, with the original Saw in third, and the original Grudge on top, the box office earned about $90 million.