Weekend Forecast for October 27-29, 2006
By Reagen Sulewski
October 27, 2006
BoxOfficeProphets.com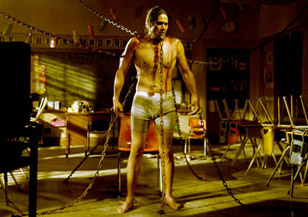 ---
The last weekend of Halloween, fittingly, is headlined by a horror film from one of the most successful horror franchises of this decade.

For the third straight Halloween, a film from the Saw franchise opens on Halloween weekend (Halloween night is a terrible night for movies, but no matter). The series, which launched the trend of ultra-gory, sadistic horror that we've seen become so popular, grew from a Sundance buzz film to a $30 million plus-opening juggernaut.

Saw III attempts to up the ante with its Rube-Goldberg-gone-psychotic traps, which is the major justification for the film. I guarantee more thought was placed in attempting to figure out the ways for people to die in these films than in anything else. At any rate, Saw III has a dying Jigsaw, the main villain, clinging to life while his new prodigy puts a group of not so randomly chosen strangers through the wringer (if they use a wringer, I want $100).

The audience for this film is pretty well pre-sold, and basically just needed to be told it was coming out. Horror has been a bit off this year, with both a Texas Chainsaw Massacre film and a Grudge sequel disappointing at the box office. I don't see that same malaise affecting this series, and it may even seem some growth. It's a series that's striking while it's hot, and is insanely profitable, with sub-$20 million budgets. It's an easy winner of the weekend, with around $30 million.

The only other wide released film this weekend is Catch a Fire, a biopic of an apartheid-era black South African named Patrick Chamusso. After being falsely arrested on suspicion of sabotage and activism, then seeing his family jailed, he sheds his quiet life for one of activism and rebellion, in the process becoming a South African folk hero.

Chamusso is played by Derek Luke, who received a ton of attention a few years ago with Antwone Fisher, another powerful biopic. His antagonist is played by Oscar-winner Tim Robbins, portraying a South African police detective who hounds Luke's character.

Chamusso's story is not that well known in North America, which will likely present a barrier for it at the box office. It might compare somewhat to Hotel Rwanda, which was a much more familiar story, but had a platformed release. Catch a Fire isn't opening that wide itself, starting on just 1,300 or so screens, which is a reflection of both the unfamiliar subject and the merely moderate star power. It's positioning itself for Oscar attention, with box office at this point being a bonus. Look for about $5 million this weekend.

A limited release film to watch this weekend is Babel, which launches in seven theatres. Alejandro González Iñárritu's film has been building buzz ever since it won three awards at Cannes, including Best Director. Unlike a lot of Cannes winners, it has a lot of commercial potential, thanks to its stars, Brad Pitt and Cate Blanchett. Much like Syriana last year, Babel is a film that covers a series of interconnected stories, this time revolving around language and communication. Expect this to be the film with the highest per screen average this weekend, with it possibly earning as much as $400,000 on those seven screens.

One of the most controversial films of the year debuts on 91 screens this weekend. Death of a President, the faux-documentary positing the potential after-effects of the assassination of George W. Bush, has driven up the ire just from its concept. It won the top award at the Toronto Film Festival. These 91 screens will mainly be in Canada, with many U.S. chains refusing to carry the film and several networks refusing to air ads for it. This seems much ado about nothing as far as the film's content goes, which by most accounts is rather neutral and interested only in ramifications. In fact, that's the kind of buzz the producers of the film are likely hoping for. It should come in with close to $1 million on these screens.

The Prestige was the winner of last weekend's box office chart with a modest $14 million, though it's a respectable total for the film's hype and starpower levels. It's likely to be passed in its second weekend by at least one returning film, with an off chance of two films passing it. The magic-themed thriller got average word-of-mouth, though with an excessively twisty plot, it may be able to hold some intrigue. Give it about $8.5 million this weekend.

The Departed should pass it into second spot, after showing great staying power through its first three weekends. It's already moved ahead in the weekday box office, and has passed the $80 million mark. It's on its way to becoming Martin Scorsese's highest grossing film, with The Aviator's $102 million definitely in jeopardy. It's one of the best reviewed major films this year, and stands out in a year that's been unimpressive so far. Look for about $10 million this weekend for The Departed.

Flags of Our Fathers' opening weekend was a relatively unimpressive $10 million, after it started on just 1,800 screens, good enough for third spot. However, Clint Eastwood's complex war drama has a chance to pick up viewers, and is getting a moderate expansion of a few hundred screens. If it can hold its per screen average, it's got a shot at moving into third spot this weekend, with about $9 million.

Open Season continues to impress, dropping just 26% in its fourth weekend. Its rate of decline has decreased in each successive weekend, and it's close to passing Barnyard as the fourth most popular animated film of the year. Its fifth weekend should add about $6 million to its total.

Running With Scissors makes a large expansion to 568 screens, after a successful launch on eight screens that earned it close to a quarter of a million dollars. Though critically panned, the dysfunctional family film based on Augusten Burrows's memoirs could still break out of that potential pitfall. It's a fairly well known and popular book, and the quirky style the film presents will hook the arthouse crowd; it would be easy to mistake it for a Wes Anderson film. Look for it to earn $4 million this weekend.