The Prestige Conjures Up A Box Office Win
Weekend Wrap-Up for October 20-22, 2006
By John Hamann
October 22, 2006
BoxOfficeProphets.com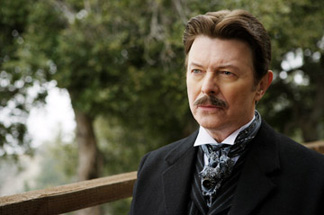 ---
It was a close race at the box office this weekend, as movies for adults played off against one another. Opening films included The Prestige from Chris Nolan (Batman Begins, Memento), Clint Eastwood's Flags of our Fathers and Sony's Marie Antoinette with the lovely Kirsten Dunst. On the family side, new films included Flicka, and Sony's horse movie.

The number one film of the weekend is, surprisingly, The Prestige, which was able to hold off Flags of our Fathers and The Departed to finish first. From Buena Vista, the dueling magician flick grossed $14.8 million from only 2,281 venues this weekend. It had a venue average of $6,497, the best in the top ten. Still, this is a huge win for director Christopher Nolan, as well as stars Hugh Jackman and Christian Bale. Most prognosticators had picked Clint's war movie to finish on top, or even The Departed, so this is a big win for those involved.

The Prestige is Hollywood's second pic about magicians in only a few short months, as Edward Norton's The Illusionist has enjoyed a long run, and sits with about $36 million after finishing just outside the top ten last weekend. For The Prestige stars, Jackman and Bale, this one obviously doesn't hold a candle to their super hero roles as Wolverine and Batman. It does however potentially expose them to a different, older and dare I say more mature audience. Shedding the roles of icons can be difficult for actors, take for example Mark Hamill and Christopher Reeve. Both actors had large problems moving from franchises to smaller, more character-driven films.

In the review department, The Prestige pulled the trick off. While not dazzling, reviews were good enough. At Rotten Tomatoes, The Prestige received 105 reviews, and of those, 77 were positive, giving this one a fresh rating of 73%. It's also apt to have good word-of-mouth, as users at the RottenTomatoes site have so far given the film a 92% fresh rating. On the box office side, word-of-mouth seems to be working, as the film received a weekend multiplier (weekend gross divided by Friday gross) of 2.9, which means this one played well over the entire weekend instead of just Friday night.

Finishing in second is not Flags of our Fathers; it's Martin Scorsese's The Departed, finishing second after three strong weekends of release. The Departed grossed another $13.7 million this weekend, off only 28%, despite having some stiff competition in the adult male demographic from Flags of our Fathers and The Prestige. The Departed looks like it will now finish as Scorsese's biggest film ever, as it should easily pass The Aviator's domestic total of $103 million. Currently this $90 million production sits with $77.1 million, and is going to finish with at least $110 million domestically for Warner Bros.

Finishing in a somewhat disappointing third place is Clint Eastwood's Flags of our Fathers, but there's no reason for anyone to get too upset at this point. Flags finished the weekend with a gross of $10.2 million and did it with only 1,876 venues, giving it the third best venue average in the top ten at $5,437. Analysts were looking for a first place finish from the latest Clint Eastwood flick, but the war flick finished right in Eastwood's range. Million Dollar Baby, after six weekends of limited release, went wide and grossed $12.3 million from 2,010 venues. Mystic River had one weekend in limited release and then found $10.4 million from 1,467 venues. 1992's Unforgiven opened wide in its first weekend and grossed $15 million from 2,071 venues. Clint Eastwood films are usually of the 'legs' variety, not the breakout variety.

While the opening take was expected, the reviews were not as favourable as I thought they might be. At RottenTomatoes, 118 reviews were counted and 89 were positive, leaving the war epic with a fresh rating of 75%. While this isn't far off that of The Prestige, this is Eastwood Oscar bait, and the scores pale in comparison to some of his other Oscar worthy efforts. Mystic River came in at 86% fresh (161 positive out of 187) and Million Dollar Baby finished at 92% fresh. (188 positive out of 205). While the Flags rating might improve, the facet that is missing here is acting. Sure, Ryan Phillippe was in Crash, but who talked Eastwood into giving Paul Walker so much screen time? I have a feeling that these choices may hold the director back on Oscar night and in the end limit the box office returns on this one.

Finishing strongly in fourth place is Open Season, Sony's leggy CG creation from its blossoming animation division. In its fourth weekend, the latest talking animals flick grossed $8.0 million, off only 28% from last weekend. This one now seems to have an outside shot at $100 million as it currently sits with $69.6 million. Open Season cost Sony $85 million to make, so this is an excellent start for their upstart animation division.

It was a tie for fifth between newcomer Flicka and the lame Grudge 2. Flicka, 20th Century Fox's horse movie starring Alison Lohman (Matchstick Men). Flicka did what it needed to this weekend, grossing $7.7 million from 2,877 venues. It had a venue average of $2,676. Made for just $15 million, Flicka only had to gross about $5 million this weekend to be considered a success as the budget was so low. Reviews were mixed. At RottenTomatoes, 56 reviews were counted and 31 were positive, giving the girl and her horse movie a rotten rating of 55%. None of it really matters with this type of film, though. It will make $20 million domestically before being huge on DVD.

The Grudge 2 got embarrassed this weekend. After opening last weekend with a disappointing $20.8 million open, The Grudge 2 fell on its face in its second weekend, pulling in only $7.7 million which equals a drop of 63%. Sure, it was shot on the cheap, costing Sony only $20 million to make, but this is now a franchise killer, with a current take of $31.4 million.

Seventh this weekend goes to Universal's Man of the Year, the political satire starring Robin Williams. As expected, the Barry Levinson helmed comedy got hammered against the adult competition this weekend, grossing $7.0 million and losing 43% of last weekend's audience. It still has a chance at $40 million, which put in the same area as Levinson's last politically-themed film, Wag the Dog, which earned $43 million.

Finishing eighth is Sony's Marie Antoinette, from esteemed director Sofia Coppola, and starring Kirsten Dunst. Released to only 859 venues, Marie Antoinette grossed an okay $5.3 million, giving it a healthy venue average of $6,170, which is better than Flags of our Fathers. This is Sofia Coppola's first film since 2003's Lost in Translation, which finished with about $45 million. Reviews were mixed for Antoinette, 63 of 118 fresh at RottenTomatoes. We will have to wait and see what Sony decides to do next weekend. Will they bottle it up and not spend any more money on it, or will they hope for word-of-mouth to kick in, spend some ad dollars and expand the venue count next weekend? You will have to wait and see.

After opening in second only three weekends ago, Texas Chainsaw Massacre: The Beginning winds up in ninth this weekend with a gross of $3.9 million. After dropping 60% last weekend, it follows that up with a 48% plunge. Good riddance to bad garbage, this one now has bilked teenagers out of $36.0 million.

Rounding out the top ten is the WWE film The Marine, which somehow manages to subvert expectations and live to see a second weekend on the charts. The Marine took in an additional $3.7 million this weekend, down 48% from its debut frame. This estimate seems somewhat dubious, and it's possible that it won't be a true top ten finisher when the actuals are released tomorrow. The John Cena joint has so far bilked his few fans out of $12.5 million.

A pleasant story comes with our number 12 movie. The Nightmare Before Christmas, this time in IMAX 3-D, grossed $3.3 million from only 168 venues. It had the best venue average in the top ten at $19,643. This is the third time Nightmare Before Christmas has been released. It originally came out over the same weekend in 1993, where it earned about $6 million. It then had its first re-release in 2000, which wasn't successful, earning the film a couple hundred thousand over about six weeks. Now the Nightmare is in 3-D, and the fanbase has sought it out over its opening frame. Nightmare Before Christmas has never lost its original fanbase, with my wife recently buying a handbag with its logo on it only last weekend. With Halloween approaching, expect another good weekend in the next frame.

Overall the news is good, good, good, at least compared to last year. In 2005, the box office was led by The Rock and Doom, which opened in top spot to $15.5 million. Top ten totals for that frame came in at a woeful $66 million, making it easy for this year to top last year. In 2004, things were better with the top ten earning $86 million. The 2006 top ten is much like 2004, as the top ten films earned $82.0 million. Next weekend overall business should still be brisk, as Saw III arrives in time for Halloween.