Friday Box Office Analysis
By Tim Briody
October 21, 2006
BoxOfficeProphets.com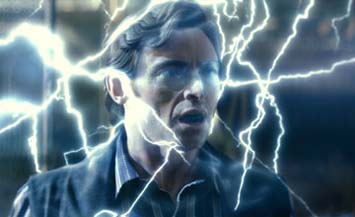 ---
It's a wacky weekend at the box office as Batman, Wolverine and Christopher Nolan work some magic, Flags of Our Fathers disappoints, and a re-release of a classic comes out of nowhere.

The Prestige

Hugh Jackman and Christian Bale's magic movie surprisingly takes the top spot on Friday with $5.1 million, definitely a solid figure on just 2,281 screens. The two big movies this weekend both skew more towards adults, but they shouldn't cannibalize each other, so expect above average multipliers from each. The Prestige should come in at around a 3.1, which would give it a $15.8 million weekend and be just ahead of The Departed for the overall weekend winner.

Flags of Our Fathers

Clint Eastwood's Iwo Jima epic was released on only 1,876 screens as Paramount wanted to build word-of-mouth at the expense of the opening weekend figure. It earned $3.5 million opening night, perhaps a little lower than expected. There is some good news for the rest of the weekend, as it should be buoyed by a solid weekend multiplier, though expect Monday Morning Quarterback to discuss why it wasn't put in more theaters. Call it a 3.2 multiplier and $11.2 million for the weekend.

Flicka

The girl and her horse drama lands with $2.5 million, a slightly disappointing figure for the widest release of the weekend by about 600 screens. Last year's Dakota Fanning-led Dreamer is a solid example, as that opened to an eerily similar $2.7 million on its way to $9.1 million for the weekend. The 3.34 multiplier fits perfectly so expect Flicka to end up with $8.3 million.

Marie Antoinette

Sofia Coppola's take on the French queen's life earned $1.9 million on 859 screens for a per-screen average just behind The Prestige for tops among this weekend's openers. A stylish, polarizing film without a real good comparison, let's figure a weekend total of around $5.7 million and some expansion in the next couple of weeks.

The Nightmare Before Christmas 3-D

From the Completely Unexpected Department, a re-release of The Nightmare Before Christmas (now in 3-D) lands in the top ten with $1.2 million on a mere 168 screens, blowing away the per-screen average of every other film in the top ten. It should still be there when weekend estimates come out, with a total figure of around $4 million.

Notable Holdovers

From the Completely Expected Department, The Grudge 2 collapses 72% from last Friday and will be lucky to get out of the weekend with a 65% decline. Elsewhere, Man of the Year falls 46% from last week, also not a big surprise there. Both films will be a complete afterthought after this weekend.