Friday Box Office Analysis
By Tim Briody
October 14, 2006
BoxOfficeProphets.com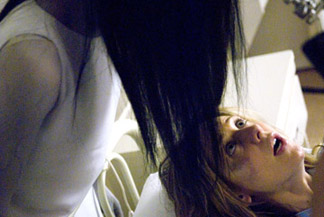 ---
The Grudge 2

Horror sequel The Grudge 2 opened to a $9.6 million Friday, easily tops at the box office. It's a good number, though down quite a bit from the $15.2 million Friday number earned by The Grudge two years ago. Audiences are clearly getting tired of Japanese horror adaptations, and we also just had another Texas Chainsaw Massacre movie last week. A 2.57 multiplier led the first movie to a $39.1 million weekend. We're going with a 2.5 for the sequel, good for a $24 million weekend.

Man of the Year

The Robin Williams political comedy lands at third place for Friday with just under $4 million. April's RV started with $4.6 million, but that had a family-friendly 3.56 multiplier to power it to a $16.4 million weekend. Being the only pure comedy out there right now is actually in its favor, so look for an above-average weekend multiplier of around 3.1, which would give it a still-somewhat disappointing weekend of $12.3

The Marine

I'll leave it to David Mumpower to take care of the John Cena bashing tomorrow, but suffice to say it's another miss for WWE productions, although it's a little better than See No Evil. The Marine earned $2.2 million Friday, and its prospects over the remainder of the weekend aren't much better. Look for about a 2.7 multiplier, which would mean a $5.9 million weekend.

One Night With the King

With $1.5 million on just 221 screens Friday, the independently released One Night With the King easily scores the highest per screen average in the top ten. It should still be there when the total weekend estimates come out, with a total of aabout $4.5 million.

Notable Holdovers

The Departed falls a very good 34.3% from a week ago, which strengthens its position as an early Oscar contender. Sorry, but that's how these things work. Call it about a 31% drop and a second weekend of $18.6 million.

Almost inexplicably, Texas Chainsaw Massacre: The Beginning actually holds well in spite of itself and The Grudge 2. A drop of 47% isn't great, but considering those factors it is. Figure a second weekend of around $10.1 million.

Jessica Simpson and the un-funny Dane Cook's Employee of the Month crashes 60.8% from last week. Good riddance, I say. Expect about $5 million this weekend.