Friday Box Office Analysis
By Kim Hollis
October 7, 2006
BoxOfficeProphets.com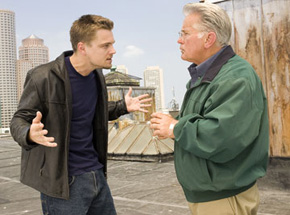 ---
Three new wide releases came into the marketplace yesterday, and all performed according to expectations or better.

The Departed

As recently as August and September, there was significant rumor that Martin Scorsese's newest film was a mess. Sure, it had an awesome, all-star cast and had fantastic source material in the Andrew Lau-directed flick Infernal Affairs, but North American audiences just wouldn't be able to accept such a convoluted storyline. A couple of weeks ago, the tide began to turn, and word-of-mouth became loudly positive. It wasn't just a fanboy thing, either, as critics gathered round to sing The Departed's praises. It currently sits at 92% at RottenTomatoes, with the Cream of the Crop rating being even better at 94%. At long last, the suits at Warner Bros. had a quality film to hang their hats on. Would it translate to box office?

The answer this morning is a resounding yes. Even the bumbling flubs at Warner Bros.' marketing department couldn't mess up an excellent movie that features Leonardo DiCaprio (who by all accounts, gives the performance of his career), Matt Damon, Jack Nicholson, Mark Wahlberg, Martin Sheen and Alec Baldwin. The Departed made $8.5 million on its opening day, and looks to have every opportunity to have a long and healthy life that lasts all the way into awards season. The movie has a lot going for it besides great buzz. It skews toward the crucial 25+ male demographic and is also two and a half hours long, which means that it didn't have a huge number of showings to achieve that $8.5 million number. With that in mind, we'll expect a multiplier of 3.25 and a weekend total of $27.6 million. It is (as of this moment) on target to top Scorsese's previous best box office performer, The Aviator ($102 million).

Texas Chainsaw Massacre: The Beginning

For anyone who ever wanted to know about Leatherface's tender years of youth, at last we have a movie to provide those answers. This Michael Bay-produced prequel started the weekend with $7.3 million, well off the $10.9 million accrued by the 2003-released Texas Chainsaw Massacre on its opening day. With a constant glut of horror films permeating the marketplace, it's not terribly surprising that fans of the genre have begun to grow a bit more discerning and selective. Still, Texas Chainsaw Massacre: The Beginning will take in a respectable $18.3 million in its first weekend with a 2.5 Friday-to-Sunday multiplier.

Employee of the Month

I guess today is officially the day I feel completely and utterly out of touch with the youth of America. I don't find Dane Cook funny, though I do like when the martial arts guy in that one beer commercial does a variety of things to beat the ever-loving crap out of him. At least, I think that's Dane Cook. Anyway, I do know Dax Shepard and Jessica Simpson, and I even like Shepard. Even so, you couldn't pay me real money to see this movie in theaters, particularly when there's Cardinals baseball to be watched. My opinion, however, is not universal. Employee of the Month made $5 million yesterday, exceeding Reagen Sulewski's forecast for the entire weekend by $2 million in just its first day. BOP's Steve Mason was slightly more generous, predicting a $9 million weekend for Cook and friends. Since it seems highly likely that Dane Cook fans rushed out on opening day to see this comedy, it's probably going to be fairly front-loaded as far as audience goes. That would indicate a Friday-to-Sunday multiplier of around 2.6 and a weekend total of $13 million. Its real success, of course, will be on video.

Notable holdovers

Open Season held up fairly well from its start last Friday, falling right at 37%. That's more or less standard for these CGI kid flicks unless there is something special or unique about them. It should maintain that solid performance over the entire weekend, which will give it a second frame total of $15.8 million (which is still more than I thought the movie would make opening weekend - oops).

Thanks to legions of Ashton Kutcher fans, The Guardian proved to be a fairly front-loaded picture. It dropped 50% from last Friday, though that number should level out ever so slightly over the full three days. Give it a second weekend total of $9.9 million.

Finally, School for Scoundrels showed the headiest drop in the top ten, falling 59% from its number last Friday. That was to be expected given that the majority of people who would turn out for the movie would be Napoleon Dynamite fans hoping to see Jon Heder in something funny. Since the movie is rumored to be lacking in humor, it's no surprise that there's no goodwill word-of-mouth here. School for Scoundrels will manage $3.9 million this weekend before being forgotten altogether.