Friday Box Office Analysis
By David Mumpower
September 30, 2006
BoxOfficeProphets.com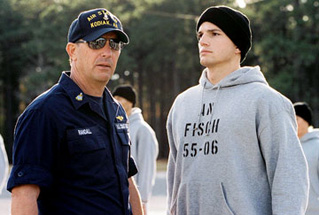 ---
Three new titles entered the marketplace on Friday and consumers noticed two of them. Considering how the rest of September has gone, this feels like a win.

Open Season

Open Season was the top opener and film on Friday, earning an estimated $6.3 million. The child-friendly fare boasted a strong cast of actors providing voice-over work. This helped to warm up a kids' movie concept that has been done to death in 2006, starting with the splendid Over the Hedge. Freshness doesn't appear to have deterred any of the young consumers who pressured their folks into going to see a film widely hailed as mediocre by critics. With IMAX expected to boost Open Season's revenues throughout the weekend, a tally of $22.2 million appears to be in the cards. Sony should be quite pleased with this performance, particularly given how the glut of recent CGI-animated films has saturated the medium.

The Guardian

As Kim Hollis semi-boldly predicted on the site yesterday, Ashton Kutcher does stand on hallowed box office ground this weekend. He can stake a claim to being in the two highest grossing titles. In addition, to doing his Kelso voice in Open Season, Kutcher co-stars with Kevin Costner in Friday's second place earner, The Guardian. The Fugitive director Andrew Davis' first production in three years offered a strong debut on Friday with an estimated $5.8 million.

While this is not exactly the blockbuster comeback some were predicting for Costner, a $16.2 million opening almost matches what his last movie, The Upside of Anger, made in its entire domestic run ($18.8 million). For Kutcher, these two openings further enhance a resume that now includes four $15+ million openings in his last five attempts. For reasons passing understanding, North America loves Mr. Demi Moore.

School for Scoundrels

The third new opener on Friday, School for Scoundrels, was largely ignored by consumers, managing only $2.7 million. The Billy Bob Thornton vs. Napoleon Dynamite project was made for a frugal $20 million, but even that total appears to be extravagant given the expected opening weekend of $7.0 million. For whatever reason, North America considers to be unenthusiastic about Thornton's comedy choices since Bad Santa. School for Scoundrels represents his third straight disappointing performer, following the Bad News Bears re-make and The Ice Harvest. For Heder, this is a slight career misstep easily overlooked after the recent success of The Benchwarmers.

Notable Holdovers

The most important second weekend release performed as expected. Jackass: Number Two fell 62% Friday-to-Friday, reassuring everyone that once its passionate fans have attended, the rest of the continent is perfectly content to sit this one out. Of course, a $13.5 million second frame is still going to make Greg Boardman unhappy.

The other three films in release didn't have any better luck than Jackass: Number Two. Jet Li's Fearless fell a whopping 59% to $1.4 million. It should wind up around $4.6 million for the weekend and won't be a box office factor any more after that (assuming it ever was). Flyboys somehow managed to throw under Fearless and Jackass, declining a precipitous 63% from an already paltry total of $2.0 million last Friday to $700,000 yesterday. A $2.2 million weekend places Flyboys just under $10 million after ten days. And as for All the King's Men, the $55 million production fails to make the top ten on its second Friday. Yikes.