Fearless Jackass 2 Leads Dull Box Office
By John Hamann
September 24, 2006
BoxOfficeProphets.com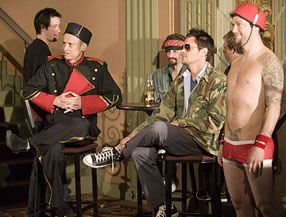 ---
As expected, Jackass: Number Two was able to breathe some new life into the box office this weekend, but that breath seems to be coming from a two-pack-a-day smoker. Jackass 2 did improve slightly over the original prankster flick, but the debut of Jet Li's Fearless was only okay, MGM's Flyboys was ignored, and All the King's Men flopped hard. What we are left with is another dismal weekend at the box office despite some fireworks from Johnny Knoxville and his merry gang of idiots.

The number one film of the weekend is Jackass: Number Two, which was pretty much a given heading into the frame after the critical drubbing that is All The King's Men. The Jackass sequel took in an inspired $28.1 million from 3,059 venues, surpassing the original's $22.7 million debut back in October 2002. Before we get too excited, let's look at a few things. If inflation is added to the original, that film's opening moves up to about $24 million. Also, Jackass: The Movie debuted on 500 fewer venues, finishing with an average of $9,073. Next, the original Jackass started against the second weekend of The Ring, which was a phenomenon, rising 23% in its second frame. Don't get me wrong - for a TV show that's been off the air for a few years, this is a decent opening. However, this is simply the same audience that showed up for opening weekend four years ago, plus a few of their friends (or their poor wives or even worse, their kids).

As Kim Hollis reported in BOP's Friday Numbers Analysis, Jackass: Number Two got off to a decent start on Friday with an $11.6 million first day, but caved as the rest of the weekend continued, much like the original. The weekend multiplier (weekend gross divided by Friday gross) came in at 2.42, very close to the original's 2.3. Surprisingly, the original Jackass fell only 44% in its second frame, so it will be extremely interesting to see where this one goes next weekend. For a film that most likely cost somewhere in the $10 million range, this is a home run for Paramount Pictures. The original Jackass flick was a co-production with MTV Films; this time, the loot belongs solely to Paramount. Don't forget that this movie will not only be huge in theatres, it will be even bigger on home video, and the Paramount suits will definitely be celebrating today.

In second spot is Jet Li's Fearless, which got off to a great start despite a low venue count. Fearless, which is thought to be Jet Li's last martial arts movie, opened to $10.6 million this weekend from only 1,806 venues. It finished the frame with a $5,869 venue average, the best in the top ten. From Focus Features, Fearless was the best-reviewed film in the top ten. At RottenTomatoes, 75 critics saw Fearless, and with 53 of them turning in a positive review, the revenge flick garnered a fresh rating of 71% (sadly, that's the best score for an opener since The Illusionist debuted five weekends ago). For Jet Li, the opening for Fearless is right in the same area as his last opener, Unleashed, which found $10.9 million from 1,957 venues in May 2005, before crashing 62% in its second frame. Better things should happen here, as Fearless is a classier film, and I expect Focus to widen the count in the weekends to come.

Finishing third this weekend is last weekend's number one film, Gridiron Gang, starring former wrestler The Rock (aka Dwayne Johnson). The Rock has a reason to celebrate this weekend, as a film he's headlined didn't crash and burn after opening weekend. Gridiron performed admirably in its second frame, pulling in $9.7 million, dropping only 33%. That hold is a far cry from Doom's second weekend plunge of 73% and Be Cool's 56% drop. Gridiron Gang has now grossed $27.2 million, and looks to finish with at least $50 million at the domestic box office, which is great news for The Rock.

The plunge from third to fourth is drastic, meaning bad news for two big openers. One of them, Flyboys, manages to find the number four spot, but in this box office environment, that isn't good news. Flyboys crashed and burned with an opening weekend gross of $6.0 million from 2,033 venues. Flyboys was mostly ridiculed by the critics, as the only thing going for this one was some CG air duels involving WWI biplanes. It wasn't enough, and Flyboys could be out of the top ten by as early as next weekend. IMDb lists a $60 million budget, so MGM is going to be wearing another expensive flop.

The animated Everyone's Hero finishes fifth in its sophomore frame after debuting in third spot last weekend. Christopher Reeve's swan song grossed $4.8 million in its second weekend, off 22% from its opening gross. Currently it sits with $11.6 million and will probably be wiped off the map when Open Season starts hunting next weekend. Look for Everyone's Hero to finish with maybe $25 million in domestic sales, before it storms video stores.

Speaking of crashing and burning, The Black Dahlia languishes in sixth after opening above $10 million in the previous frame. The news for the Universal whodunit isn't good – the second weekend gross for the star-studded flick came in at only $4.4 million, good for an extreme drop of 56%. The Brian De Palma flick now has $17.3 million in the domestic kitty against a production budget rumored to be as high as $70 million. Look for this once highly anticipated product to finish with a domestic gross as low as $30 million.

The box office bad news finishes seventh as potential strongman All the King's Men was left out to dry by its studio and audiences. The expensive Sean Penn political drama was eviscerated by critics and audiences ignored it, leaving it with an opening weekend gross of just $3.8 million. Sony seemed to know what they were up against and left Kings with a venue count of only 1,514, which gives it an average of $2,510. Critics hated it. At RottenTomatoes, only 13 reviewers out of a possible 113 liked it enough to give it a thumbs up. That leaves it with a horrid average of 12% and this $55 million film will be a memory in about five minutes. The result here is not only a critical letdown, but is also a letdown for the rest of fall season at the box office. This is a season desperate for a leggy hit, something that will last longer than a Jackass: Number Two and breathe life into a struggling movie season. Our next hope for a good movie for adults lies with The Departed, Martin Scorsese's October 6th film starring Leonardo DiCaprio and Matt Damon.

Landing in eighth is The Covenant, Screen Gems' former number one film. After opening to just under $9 million, this one has fallen quickly. In its third weekend, The Covenant pulled in only $3.3 million and was off 31% from the previous frame. This mistake has now grossed $20.3 million and will be quickly replaced next weekend. Good riddance.

The Illusionist finishes in ninth, two spots lower than where it was in the previous frame. The Edward Norton film-that-won't-die grossed $3.3 million this weekend, down a tiny 8% from the previous frame. While not a huge grosser at $27.5 million, The Illusionist is a tribute to the old school way of releasing a film. The Yari Film Group picture started out on 51 screens six weekends ago and has turned into a fair sized hit for the upstart distribution company. Sure, at most it will only gross $40 million, but I think the makers of Hollywoodland/All The King's Men/The Black Dahlia would be happy with that figure.

Finally in tenth is Little Miss Sunshine, the Sundance darling. Little Miss Sunshine joins The Illusionist as one of two strong indie performers in the top ten with a gross of $2.9 million, off 12% from last weekend. The critically favored flick has had an outstanding run and has now earned $50.3 million.

Overall, the top ten is off significantly for the fourth consecutive weekend as the fall season continues to eat away at any gains made through the summer. The top ten this weekend came in at $76.8 million, a far cry from the $84.5 million last year's top ten earned over the same weekend. Things may pick up next weekend with the launch of Open Season and The Guardian, but that seemed certain at about the same time last weekend with Jackass: Number Two and All the King's Men on the horizon.