Friday Box Office Analysis
By Kim Hollis
September 23, 2006
BoxOfficeProphets.com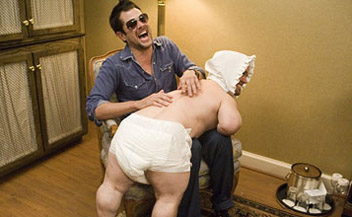 ---
What's the best way to cure the September blahs? Other than watching football, it's apparently seeing a bunch of young doofuses intentionally doing things to mangle themselves.

Jackass: Number Two

If you were ever wondering what, being mauled by a yak, having a tooth pulled by a speeding car, or riding a bike off of various things will get you, the answer is a $11.6 million Friday. Yes, Johnny Knoxville and friends were able to parlay a second installment of the Jackass franchise into buckets of cash by putting their bodies on the line. Even though Jackass has been off the air for several years now and some had speculated that the show's popularity had passed, it is looking as if Jackass: Number Two will have no no trouble smashing the opening weekend of Jackass: The Movie, which earned $22.8 million in its first weekend. That film had a miserable 2.35 multiplier as all the fanboys rushed out on opening night, and the same should hold true here. Jackass: Number Two is looking at $27.2 million for its first three days.

Jet Li's Fearless

Called the most beautiful movie of the year by Salon, Jet Li's Fearless pulled in a slightly-less-than-standard-for-Jet Li $3.5 million on Friday. At this point, Li has a solid base of fans who generally turn out on opening weekend regardless of what type of movie he's doing. We'll see how that holds up now that he's given up martial arts films (though he says future movies will still be plenty heavy on action). Look for a weekend multiplier of 2.6 (comparable to Hero) to take Fearless to a three-day total of $9.1 million.

Flyboys

The WWI airplane movie pulled in a slight $1.8 million on Friday. James Franco is going to have to wait for another day to prove that he can topline a film on his own. Flyboys should have an okay Friday-to-Sunday multiplier of 2.8 or so, which would give it $5.0 million for the weekend.

All the King's Men

Early in the production of this film, it looked like a sure winner. With a cast that included Sean Penn, Jude Law, Kate Winslet, Anthony Hopkins and Patricia Clarkson, All the King's Men had a can't-miss pedigree and was a remake of a movie that had earlier won several Academy Awards of its own. Alas, it's not meant to be for All the King's men, which has been eviscerated by critics and started the weekend with only $1.2 million. With a 3.3 multiplier, it's looking at a weekend total of $4.1 million before it fades off into unfortunate obscurity.

Notable Holdovers

Gridiron Gang had a strong Friday holdover, dropping only 38% from the previous week. It's looking at a second weekend total of $9.2 million. As for last weekend's period mystery film, The Black Dahlia had a disastrous 62% drop. Its weekend total should be in the $4.1 million range. The animated Everyone's Hero had a Friday-to-Friday dip of 33% and should hold for an additional $4 million in its second frame.