Friday Box Office Analysis
By David Mumpower and Kim Hollis
September 16, 2006
BoxOfficeProphets.com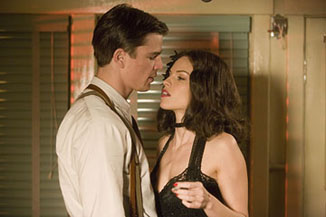 ---
September continues to be completely unexciting. Four new releases, four disappointments. Welcome to early football season.

Gridiron Gang

Gridiron Gang was unable to match the box office of Dwayne "The Rock" Johnson's earlier films such as The Rundown and Walking Tall as it made $4.7 million on Friday. For that matter, its first Friday total fell $700,000 short of the first day of Invincible. With all of the great real-life football available in high school football stadiums yesterday and on college and NFL fields over Saturday and Sunday, it's pretty clear that people are simply more interested in the real thing at this point. We bet Gridiron Gang does just fine on DVD, though. A 2.8 Friday-to-Sunday multiplier would give The Rock's film $12.7 million to win the weekend.

The Black Dahlia

While the BOP staff might have been hyped up for the release of Black Dahlia, the public simply wasn't feeling it. The Josh Hartnett/Aaron Eckhart/Scarlett Johansson/Hilary Swank film came in with $3.8 million on Friday, which seems to indicate pretty clearly that the movie-going public isn't into these period mystery pieces. It does skew a touch older than Gridiron Gang, which means it ought to be reaching for a 3.0 Friday-to-Sunday multiplier. That would indicate a three-day total of $11.4 million.

The Last Kiss

We love Zach Braff, but most of the world had no idea that he had a movie in theaters this weekend. The Last Kiss, which was playing in only 1,357 locations, earned $1.8 million on Friday. It should have a 2.9 multiplier or so, and will have a weekend total of $5.4 million.

Everyone's Hero

Did you know that there was a new animated film in theaters yesterday? You're not alone if you didn't. Everyone's Hero, the movie Christopher Reeve was working on at the time of his death, brought in a mere $1.5 million on Friday, making it barely a blip on the radar and another film that is much more likely to have some success on DVD. It should have the standard kid movie multiplier of 3.1 or 3.2, which would give it about $4.8 million over three days.

Notable Holdovers

We're certainly fast and loose with the term "notable" here. The Covenant dropped 53% and is likely looking at a weekend total of $4.4 million. As for Hollywoodland, it's done. It fell 57% and had a total yesterday of only $824,000. It won't be able to pull in much more than $2.7 million on the weekend.