Friday Box Office Analysis
By Kim Hollis
August 19, 2006
BoxOfficeProphets.com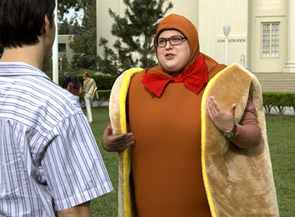 ---
One of the biggest wild card films finally made its debut at the box office this weekend. Would months and months of hype and personal calls from Samuel L. Jackson blast Snakes on a Plane to the stratosphere?

Snakes on a Plane

It turns out that BOP was over-optimistic on the opening weekend prospects of the long-discussed Snakes on a Plane. Steve Mason had projected that the movie would earn $39-42 million in its first three days, while Reagen Sulewski had forecast $44 million. Both analysts were banking on the fact that the Internet buzz had been roaring almost from the moment the film's title was announced. The question, though, was always whether that type of fanboy buzz could truly translate to great August box office like horror predecessors Alien vs. Predator and Freddy vs. Jason. Apparently, if you don't have a "vs." in your title, $40+ million is not in the cards. Ordinarily, BOP eschews tracking numbers, which can give a good general sense of awareness and potential, but oftentimes will miss certain breakout films. This week, however, trackiing was closer than we were, although it was slightly low. Snakes on a Plane earned $7.8 million on Friday, a number that does include late-night Thursday showings totalling $1.5 million. As far as the weekend goes, Snakes on a Plane will suffer both from being in the horror genre and from having fanboys that rushed out to see it on Friday. A 2.5 Friday-to-Sunday multiplier would be quite in line with expectations, which would give the Samuel L. Jackson film $17.3 million for the weekend. We're disappointed that more animals-eating-people fans didn't give this more of a shot, particularly since it's even Fresh at RottenTomatoes.

Accepted

The Justin Long college comedy kicked off just in time for back-to-school, and was rewarded with a $3.7 million Friday. Given the fact that the film had very few known stars, that's going to lead to a fair weekend total that will primarily serve as an advertisement for the DVD, where movies like this most typically find their audience. Given the young demographic, Accepted will also fall in the 2.6 range for Friday-to-Sunday multipliers. This would give the Steve Pink-directed project a $9.6 million weekend, just short of double digits.

Material Girls

Remember when Hilary Duff's star was rising and she broke into the mainstream with the movie adaptation of her Lizzie McGuire television show? That seems so long ago, doesn't it? Now she and sister Haylie have attempted to capture the attention of the youth audience with the silly-sounding Material Girls, and the result is a resounding thud. Material Girls managed only $1.1 million on Friday and is headed toward a $3.3 million weekend before it trails off into obscurity.

Little Miss Sunshine

Expanding to 694 screens, the indie sensation Little Miss Sunshine pulled in an additional $1.5 million on Friday. The movie has been racking up massive per-screen averages over the last several weeks, and is proving to be a very pleasant summer surprise (though there were a few of us at BOP who thought it had true breakout potential). It should finish the weekend with $5 million, which ought to only be the beginning of a solid box office run.

Notable Holdovers

World Trade Center dropped only 36% from last Friday, which is a fine showing. Its stellar word-of-mouth is obviously helping, as audiences who might have been hesitant about sitting for such a painful subject have now started giving the film the benefit of the doubt. Oliver Stone and friends are looking at a second weekend total of $13.1 million.

At the other end of the spectrum is last week's shocking second place winner, Step Up, which tumbled 60% from last Friday. That's not completely surprising, as it's the type of film that sees a rush on opening weekend. It should see a weekend two number of $9.3 million.

Pulse just barely has a heartbeat but is still in the top ten. It dropped 46% from last Friday, and should find $4.6 million this weekend.