Friday Box Office Analysis
By David Mumpower and Kim Hollis
August 12, 2006
BoxOfficeProphets.com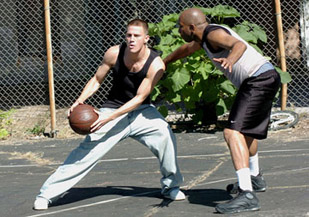 ---
Friday box office was ripe for the pickin', and a new contender stepped up.

Step Up

One constant at the box office is the teen audience. Much of the time, they are starving for something they deem as quality entertainment, and it can be hard to predict exactly where that sweet spot is. Step Up follows in the footsteps of such similarly-themed movies as Save the Last Dance, You Got Served, and the recent Disney Channel hit High School Musical by surprising analysts with a sensational Friday debut of $8.6 million. Typically, teen-targeted movies have fairly standard Friday-to-Sunday box office behavior as there is a slight rush to theaters on opening day for hot movies. Step Up should follow that trajectory and settle in with around a 2.6 multiplier, which would give it a $22.4 million opening weekend and a chance at the number one spot. Given its likely minuscule budget, it makes us reconsider if Disney will reconsider its well-publicized decision to do fewer films per year of this variety.

World Trade Center

After earning $7.7 million on Wednesday and Thursday, World Trade Center had a Friday take of $6.0 million. The Oliver Stone-directed film about Port Authority policemen who are trapped in the rubble of the World Trade Center once again had the difficult-to-cover theme of 9/11, but a bigger-name star and helmer helped it to larger numbers than United 93. As an adult-targeted film, it should have a solid 3.1 multiplier. That would give World Trade Center a three-day total of $18.6 million and $26.4 million for the five-day.

Pulse

There was a time when a horror project from the Weinsteins would be highly likely to break out and succeed. Of course, the brothers were hanging out at Disney then and the marketing pull had a little extra financial backing. Pulse is yet another in the recent trend of Hong Kong horror remakes full of more style, less slash. Veronica Mars' Kristen Bell headed up an extremely attractive cast and the movie's premise was certainly interesting, but a slew of release date changes and a poor marketing job kept Pulse from doing as well as was once hoped. Its $3.4 million opening Friday has to be disappointing when you consider that even terrible scare fests have debuted to $20 million easily in recent months. It's going to limp along to an $8.5 million for the weekend, and the Weinsteins will have to hope Pulse catches on once it hits video.

Zoom

Speaking of one-time can't-miss projects, Tim Allen family films have traditionally been easy money. He's had strong successes with the two Toy Story films and both Santa Clauses, and even dreck like The Shaggy Dog was financially huge. That was not to be the case with Zoom, however, which had the stink of no originality all over it. Zoom suffered by following in the footsteps of the charming Sky High, a similarly-themed kid flick that touched a chord. Its $1.6 million Friday makes it barely a blip on the radar, and Sony will have to be content with a $5.3 million weekend. Fortunately, for the studio, Ricky Bobby keeps chugging along (or is that Reese Bobby?)

Notable Holdovers

Talladega Nights: The Ballad of Ricky Bobby tumbled a bit in its second Friday, dropping 59% from last week. That's a fairly steep fall, but since last weekend's multiplier did indicate an early rush to see the movie on opening day, it's not entirely unexpected. Things should even out some over the weekend since the comedy has solid word-of-mouth. Even at that, it's looking like Step Up will emerge victorious. Ricky Bobby and friends should find themselves in second place with $21.6 million, though it truly is a dead heat between the two movies at this point.

As for the animated Barnyard, it slid 45% from last Friday down to around $3.0 million, but since it started out better than anyone would ever have expected, Paramount is probably considering it a winner. After all, if it manages $9.5 million in its second weekend, it's outperforming Ant Bully by a ridiculous degree.

Despite excellent reviews and word-of-mouth, The Descent still dropped a standard-for-horror 55%. It should wrap up the weekend with about $4.5 million.