Friday Box Office Analysis
By Kim Hollis
July 29, 2006
BoxOfficeProphets.com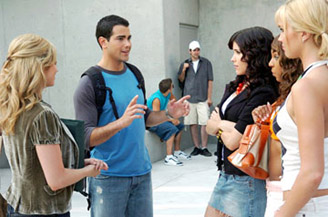 ---
After three weeks at the number one spot, it appears that Pirates of the Caribbean: Curse of the Black Pearl is about to be deposed as box office champion. It's a closer race than most would have imagined, though.

Miami Vice

Miami Vice had to struggle past the preconceived notions that many people had of the show. Viewers who have fond memories of the series as a goofy, pastel-dominated affair (incorrect though they may be) had trouble getting past the film's darker, humorless edge. What this means in terms of box office is that Miami Vice will fall into the same general opening box office range as director Michael Mann's previous film, Collateral. In 2004, Collateral started the weekend with an $8.2 million Friday. Miami Vice bettered that number just slightly, as it debuted with $8.7 million despite no pre-insanity Tom Cruise. Essentially, the audiences for the two films are the same, so they work well as companions in comparison. Collateral's Friday-to-Sunday multiplier was 2.9, and a similar number would give Miami Vice an acceptable $25 million opening weekend. It remains to be seen whether the film can match the long-term staying power of its predecessor.

John Tucker Must Die

The pleasant surprise of the weekend is John Tucker Must Die, which reached out to a demographic that was obviously aching for something aimed squarely in their direction. The teen flick with a female-driven audience was able to successfully convey its Mean Girls/Heathers atmosphere to a $5.8 million Friday. Junior high and high school girls are an extremely tricky demographic to predict. Mean Girls and She's the Man, as examples, had multipliers of 2.9, but A Cinderella Story, which was released in a similar time frame, managed only a 2.4. We'll split the difference for a 2.6, which would give the young womanizer a very fine weekend total of $15.1 million.

The Ant Bully

Even if The Ant Bully had been well marketed, it was facing a difficult uphill battle in light of the fact that it was sandwiched between two other animated openers in Monster House and The Barnyard. It's becoming clearer and clearer that the publicity staff at Warner Bros. is going to have a lot of explainin' to do after an absolutely miserable summer of failure. Despite a decent voice cast, The Ant Bully had a story that felt less than fresh and an almost total lack of presence in television and theater advertising. Its $3.0 million weekend is a testament to the fact that even CGI animation requires freshness and excitement to succeed. With a smaller opening, its multiplier will probably be decent, but even with that, it will struggle to break $10 million.

Notable Holdovers

Pirates of the Caribbean: Dead Man's Chest continues to run fairly strong as it declines only 42% from last Friday. If it continues to hold steady, a weekend in the $20.4 million range appears likely, despite a drop to second place.

Monster House is off a surprising 51% from its first Friday, which is alarming considering the family-friendly nature and availability of 3-D viewings. It should even out slightly for the remainder of the weekend, which would mean a total of $12.2 million.

Back on the topic of Warner Bros. flops, Lady in the Water is all but forgotten as it slides 68% from its opening day. It won't recover a significant amount, either, and will finish frame number two with around $7.2 million. Next weekend, it will be perilously close to being off the map.

Clerks II hangs onto a top ten slot by grossing $1.3 million, a drop of 69%. Given the frontloaded nature of all Kevin Smith films, this isn't particularly surprising. It may or may not maintain that top ten position by the weekend's end, as it will be looking at a total around $3.2 million. It's close to attaining the $20 million mark, which the Weinsteins have said would be a number they would be very pleased with.