Weekend Forecast for July 28-30, 2006
By Reagen Sulewski
July 28, 2006
BoxOfficeProphets.com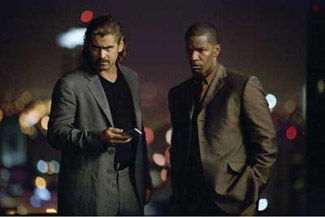 ---
The summer movie season is starting into its tail end. Though no 100 million openers are left to come, there's still a few relevant films at the box office, starting with this week.

Looking at a film adaptation of Miami Vice on its surface, it would seem like a bad joke. Few other TV shows were as much of their time as this one was, and it eventually fell victim to the very styles it helped to bring about. Picture turquoise and pink together, throw a white sport coat over it and paste on some stubble and you've got an instantly recognizable (and mockable) style.

It's unfortunate, since the series was groundbreaking, edgy television that paved the way for a huge number of dramas that followed it. Series creator Michael Mann (who's moved on to incredible things) has returned to bring it to the big screen, attempting to salvage the still solid core while adapting it for this decade and moving beyond the style-related baggage it carries.

The basic idea remains the same, with two Miami narcotics detectives going undercover to infiltrate international drug rings. Colin Farrell plays Detective Sonny Crockett, partnered with Jamie Foxx's Ricardo Tubbs. Mann is one of the unquestioned masters of the police procedural, nearly perfecting it with 1995's Heat. He looks to have delivered a slick and stylish (but not too stylish) thriller, offering one of the few adult-oriented action films this summer. Farrell and Foxx aren't huge box office draws, but should be adequate to get the job done. However, there are a large number of people who just won't be able to get past the source material for the film and therefore it won't reach the full potential it has to match films like The Bourne Supremacy. Look for a weekend total of $34 million.

For the second weekend in a row, a CGI animated film from a studio outside of the "Big Two" hits theatres. The Ant Bully is Warner Bros.' attempt at breaking back into the market, after being burned with so many animated projects in recent years. In contrast to last weekend's Monster House, The Ant Bully is taking no chances with its voice talent, signing on Nicolas Cage, Julia Roberts, Meryl Streep and Paul Giamatti, among others, to headline the film as well as the production backing of Tom Hanks.

Superficially resembling A Bug's Life and Antz, two 1998 offerings, The Ant Bully diverges from those films by directly integrating the human world into the film. After a young boy floods an ant colony, he's magically shrunk down to be taught a lesson. Why the ants have never bothered to show this level of technological superiority before is probably best left unexplored. In any case, the boy ends up becoming part of the group and helping them to fight back against pests and ultimately, an exterminator. Wacky hijinks are had by all.

Falling squarely in the adventure comedy subgenre of animated films, The Ant Bully boasts the now typical eye-popping visuals we've come to expect from any animated film these days. Audiences are getting a bit blasé about that now though, and the been-there, done-that feel to the film may provide a bit of trouble. Celeb voices might bring in a few more adults than last weekend's Monster House, but the film doesn't have that adult buzz, and it's far too crowded a marketplace right now. Look for a weekend take of about $18 million.

Every film with more than one teenaged protagonist these days bills itself as "the next Mean Girls", and John Tucker Must Die is no exception. After discovering that they have ended up with a mutual boyfriend, three high school cheerleaders conspire to ruin the life of the eponymous cheater (played by Jesse Metcalfe of Desperate Housewives fame). They do so by recruiting the new girl in town to seduce him but lead him into situations where he can be humiliated. These, of course, fail with theoretically hilarious results.

The female leads are mostly refugees from TV and music, including Sophia Bush from One Tree Hill, Brittany Snow from Nip/Tuck, and R&B singer Ashanti. None rise to the level of a Lindsay Lohan, and Fox knows this. They don't appear to be displaying much confidence in the film's prospects. Satire doesn't sell very well, and this has a lot more in common with Jawbreaker or Drop Dead Gorgeous than Mean Girls. Give John Tucker Must Die an opening weekend of approximately $8 million.

Woody Allen's Scoop marks his second straight film with apparent new muse Scarlett Johansson, who appeared in last year's Match Point, which marked a recent critical high for the legendary filmmaker. Switching gears from that thriller back to comedy, Scoop stars Johansson as a journalism student in London, who discovers that she's able to communicate with a legendary, but recently deceased, British journalist who may have a lead on the identity of a serial killer on the loose. The trail leads to a British aristocrat (played by Hugh Jackman), who she then proceeds to fall for, even as she suspects him of murder most foul.

Even with the best critical support in ages for Allen, Match Point ended up with about $20 million. Scoop looks to be several shades more ridiculous than that, though its star power is significantly improved thanks to the addition of Jackman. Still, premiering on about 500 screens, the best that Scoop can really hope for is about $3 million.

After three weeks at the top, Pirates of the Caribbean 2 will finally fall from the top spot, but not before amassing a tremendous figure, nearly $350 million, in that span. This weekend's take will see it surpass the original's $330 million, and vaulting it very close to all-time top 10 territory. $400 million-plus is looking like a very realistic goal at this point for the sequel. Its fourth weekend will be an impressive $20 million, good enough for third place.

Monster House faces a rather direct challenge in its second weekend from The Ant Bully, which along with Pirates of the Caribbean 2 and the "bedtime story" of Lady in the Water, makes this a rather crowded family film marketplace. Monster House may still hold up well with about $14 million, but the family-horror-adventure film is yet another to fall to the end of the novelty of CGI animation.

Lady in the Water proved to be an expensive and noisy bomb for Warner Bros. and M. Night Shyamalan, who saw his first outright flop since breaking into the public's consciousness with The Sixth Sense. The $18 million opening is a downright embarrassment for all the hype it arrived with, including a book that Shyamalan had written as a pre-emptive told-you-so after he was dropped by Disney. Things are unlikely to get better for him this weekend, with word-of-mouth likely to destroy it. Its second weekend should fall in the area of about $7 million.