Pirates Pillage Four New Contenders
Weekend Box Office Wrap-Up for July 21-23, 2006
By John Hamann
July 23, 2006
BoxOfficeProphets.com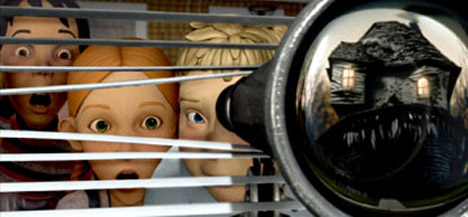 ---
Four potentially strong contenders went up against Pirates of the Caribbean: Dead Man's Chest and all walked the plank. Lady in the Water, Monster House, Clerks II and My Super Ex-Girlfriend all looked like great summer fare a few months ago, but as their release dates approached, none looked like a breakout and one was a ticking bomb.

The number one film for the third straight weekend is the very successful Pirates of the Caribbean: Dead Man's Chest. Still setting records three weekends after its open, Johnny Depp and friends earned another $35.1 million this weekend, dropping an okay 44%. Dead Man's Chest set the record for fastest film to reach $300 million this weekend, crossing that mark on Saturday, its 16th day of release. The former recordholder was Star Wars: Revenge of the Sith, which earned $300 million in 17 days last May. Dead Man's Chest now sits with $321.7 million and $400 million on the horizon, if it can slow the big drops it has seen in the last two frames. As David Mumpower pointed out in BOP's Friday Box Office Analysis, few films repeat at number one for more than two consecutive weekends anymore. The last was Harry Potter and the Goblet of Fire, which finished at number one on November 18th, 25th and December 2nd of last year, but after those three weekends, the Goblet of Fire had earned a puny-in-comparison $229 million. Next weekend should see a new number one, with Michael Mann's Miami Vice opening, along with the animated Ant Bully.

Second spot goes to our first opener in Monster House. Despite not coming from Disney/Pixar or Fox, Monster House was still able to open quite strongly this weekend. The animated Spielberg/Zemeckis effort earned a quite solid $23 million this weekend from 3,533 venues. It finished the weekend with an okay venue average of $6,510. The ability to shave some business off Pirates of the Caribbean seemed tough heading into the weekend. Tracking wasn't great; however, some strong marketing from Sony - matched with very enthusiastic reviews from Ebert and Roeper - kept the House ahead of that Lady in the Water. Critically, the film finished with mixed reviews, leaning toward the positive side. At RottenTomatoes, 63 out of 90 reviews were of the good variety, leaving it with an average of 70%. My problem with the reviews for Monster House was that too many critics wanted to tell me that it was too scary for the kids rather than whether it was a good film or not.

Monster House got off to a good start on Friday, earning about $7.7 million. That good news spread over the weekend, as decent word-of-mouth expanded through the youngster hotline. The weekend multiplier (total weekend gross divided by Friday gross) ended up at 3.0. That's a solid figure when you remember that school is out, which gives the kiddies ample opportunity to see a film on Friday in air-conditioned bliss. A non-summer multiplier for a film like this would have come in over 3.5; however, this multiplier tells me good things could be on the horizon for Monster House. The only cloud for Sony and Amblin could be next weekend's launch of The Ant Bully, although Warner Bros. seems to be marketing that one like they did Superman Returns.

Third spot this weekend goes to the troubled Lady in the Water from the even more troubled M. Night Shyamalan. Three months ago, this movie looked like a Signs-level hit. After critics threw a whole lot of rotten veggies during press screenings, I think Warner Bros. will be happy to move on after a weekend gross of $18.2 million. Released to 3,235 venues, Lady in the Water earned a venue average of $5,626. After 2004's The Village burned to the ground ($50 million opening, $114 million finish), Shyamalan needed a hit with Lady but instead laid another egg, riling moviegoers and critics alike. RottenTomatoes gathered 128 reviews, of which only 27 were positive. That's a fresh rating of 21%, while a meager 17% of the nation's top reviewers gave this dog a bone.

Did M. Night Shyamalan peak at the box office with 2002's Signs? In 1999, The Sixth Sense got off to a decent start with $26.7 million before going on to earn almost $300 million. Unbreakable fed off the success of The Sixth Sense, opening to $30.3 million in 2000; however, word-of-mouth on that film was not great, and it failed to reach the $100 million mark. Next up was Signs, and a large amount of help from Mel Gibson and a crackerjack marketing campaign opened the religious alien saga to $60.1 million before going on to earn $228 million. Then, on Night's name alone, Buena Vista opened The Village to $50.7 million, but again, word-of-mouth was awful and it ended up earning only $114.2 million. With Lady in the Water, the shine is officially off. Shyamalan will either need a better script or a bigger star to open his next film, and even then, his former built-in audience may ignore it.

Fourth place goes to You, Me and Dupree, leaving last weekend's fellow opener Little Man in its dust. Dupree earned $12.8 million in its second weekend, off a surprisingly solid 41%, which was completely unexpected given its critical drubbing and the addition of two new comedies to the race this weekend. The Owen Wilson comedy from Universal has now earned $45.3 million after two weekends, and will be a memory in two more.

Sony's Little Man developed croup this weekend and could only hack out a second weekend gross of $11 million. That's off a bigger-than-Dupree 49%, and means the comedy from the Wayans Brothers will have to work hard to make $60 million. This one cost Sony and Revolution $65 million to make, so hopefully they will think carefully before greenlighting the next White Chicks/Little Man fiasco. Currently, it sits with $40.6 million domestically.

Sixth goes to Clerks II over this comedy-mad weekend, as Kevin Smith goes back to what he's good at for a decent result at the box office. While not a breakout, Clerks II managed to gross a decent $9.6 million this weekend from 2,150 venues, giving the sequel a venue average of $4,465. Smith's fanbase showed up on Friday, as Clerks II found a gross of $4.1 million; however, it finished the weekend with an ugly weekend multiplier of 2.3, meaning that fanbase vanished over the rest of the weekend. The good news here is that Clerks II cost only $5 million to make (about $4.98 million more than the original), so it will turn a tidy profit for the Weinstein Company.

Seventh goes to Fox's My Super Ex-Girlfriend, a film that could have been really good but sadly isn't. This missed opportunity with Luke Wilson and Uma Thurman opened to $8.7 million. Critics weren't thrilled. At RottenTomatoes, 83 reviews were counted and only a slim 42 liked it enough to recommend. Sadly, this one could be gone in a weekend, and is a big missed opportunity.

Superman Returns manages to stay ahead of The Devil Wears Prada, but again by a very slim margin. The Warner Bros. flick grossed $7.5 million in its fourth weekend, off a better 39%. At this point, the Bryan Singer flick has grossed $178.4 million, and if it does make it to $200 million, it will take about a month from now to do it. Remember that this film cost at least $260 million to bring to the screen, not including years of preparation, marketing and print costs.

Ninth is The Devil Wears Prada, as all the new films in release attempted to put the squeeze on this movie. The squeeze was avoided and The Devil earned $7.4 million this weekend, off only 29% from the previous frame. The total for the Fox release now sits at $97.6 million and it will cross the $100 million mark in the next frame.

Cars finishes tenth, and this may mark its departure from this column. Cars earned $4.9 million and was off 37%, a somewhat higher drop this weekend thanks to the debut of Monster House. Cars has earned $229.4 million at the domestic box office after seven weekends. After the same amount of time, The Incredibles had earned $237 million, Finding Nemo $291 million, and Monsters, Inc. about $219 million. Considering its slower start, Cars ended up performing quite admirably compared to its in-house competition.

Overall, box office was up strongly compared to last year. Over the same weekend in 2005, the top ten earned about $123.5 million, led by Johnny Depp's Charlie and the Chocolate Factory. In 2004, the top ten earned about $135 million thanks to the debut weekend of The Bourne Supremacy. This year, the top earned $138.2 million, staying ahead of the past two years.