Weekend Forecast for July 21-23, 2006
By Reagen Sulewski
July 21, 2006
BoxOfficeProphets.com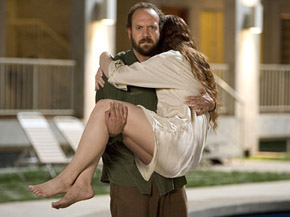 ---
A packed slate of four new films greets this weekend, each with its own set of question marks about its performance. Meanwhile, there's one particular blockbuster that keeps chugging along.

Lady in the Water comes in with the highest profile, coming from the Human Hit Machine M. Night Shyamalan. It's one of the biggest tests of his popular suspense chops, coming on the heels of the public rejection of The Village, which took the willingness of audiences to follow his twists and turned up to the breaking point. Lady in the Water, which is billed as a "bedtime story", might just snap it completely.

The plot centers around a caretaker (Paul Giamatti) at an apartment building who finds a mysterious woman (Bryce Dallas Howard, in her second go-round with Shyamalan) at the bottom of the complex's swimming pool, which goes hand in hand with a portal suddenly appearing there. Revealed as a woman from a mystical and magical land trying to return home, she's pursued by ravenous creatures who seem to wish her no good.

This introduces a little more fantasy into Shyamalan's work than is typical, though the style seems obviously similar. And really, it's not so different than the aliens in Signs. But this might be one flight of fancy too many for audiences to take. Shyamalan's notoriety is his own worst enemy in this case. It also doesn't help that the picture looks like, well, a mess. Rejected by Disney after a long-standing arrangement with that studio went sour, Shyamalan took his movie to Warner Bros., who was happy just to have him on board and didn't interfere. Maybe they should have, since reviews are absolutely trashing the film. Warners is giving this one the full court press, but I believe this one is going to fall quite short of expectations. Look for it to open with around $31 million.

Aiming for family audiences is Monster House, which is something of an oddity in that it's an animated horror film, albeit a tame one. It borrows from that childhood idea in a lot of neighborhoods of that one scary-looking house, turning it into a literal monster, eating anything that goes on its property.

After one too many disappearances, three local kids decide to brave the grounds to get to the bottom of the mystery behind the house. PG-level scares ensue. The film doesn't star the typical level of celebrity voices (though there are a few) as per the tradition of recent CGI animated films, largely because it's specifically not aiming itself at adults, and the kids probably wouldn't care. The eye-popping visuals are the biggest attraction here, though the scary nature of the film will probably exclude some of the younger kids.

Monster House is a close spiritual comparison is Scooby-Doo, but without the cultural connection. Or maybe more accurately, the second Scooby-Doo film, when all the novelty of an adaptation had been removed from it. That makes the $29 million that it opened to a reasonable target, though it should come in just below that with about $27 million.

My Super Ex-Girlfriend is the third film this weekend, directed by Ivan Reitman and starring Luke Wilson and Uma Thurman. This high-concept comedy posits the darkside of a relationship between Superman and Lois Lane, but flipped in gender. Wilson's regular guy character breaks up with what he thought was just a regular, too-needy girl, but who turned out to be literally super. After all, just because you have super strength, it doesn't mean you're filled with self-confidence.

Breaking the super-hero code of ethics, she decides to make his life a living hell, especially when he starts a new relationship with one of his co-workers (Anna Faris). It's one thing to have a stalker, it's another to have one who is invincible. This may be one of those cases where the concept is better than the movie, at least judging by reviews of the film, which are generally unfavorable, while acknowledging the game spirit of the actors involved. Satirical films generally woosh right over the heads of audiences, and this is likely to be another of those cases. Launching on a modest 2,700 or so screens, My Super Ex-Girlfriend should come in with about $13 million.

The final new wide opening film is Clerks II, a 12-years-later follow-up to the film that introduced director Kevin Smith to the world. Though Smith had said he'd left the Askewniverse behind, he decided to have one more go around with the characters who made him famous. Dante and Randall, the slacker protagonists of the first film, are still without much of a direction, with Dante still working at the same convenience store – at least until it burns down.

This moves the setting into the world of fast food, which provides an all-new arena for dick jokes, inventive cursing and ruminations on pop culture. Smith's audience is small but fiercely loyal, propelling most of his films into the $8-10 million range, if they get the screens. Clerks II might attract a little more in the way of curious on-lookers, as the centerpiece of his empire.

It got the kind of publicity you just can't buy recently, when Joel Siegel, ABC's lead film critic walked out of a screening, making a fuss about it being the first film in 30 years to inspire him to do so, just by its vulgarity. To Smith's fanbase, this is the most ringing endorsement possible. In general, though, critics have been fairly kind to the film, going all the way back to its premiere in Cannes. Ultimately, we're dealing with a cult movie, and $12 million is about the most you can expect for Clerks II.

Pirates of the Caribbean: Dead Man's Chest faces its first real challenge for top spot at the box office, but it's one it should easily withstand. Dropping from its all-time record weekend, it earned $62 million in week number two, which on its own would be the fifth best opening weekend of the year. It tied the record for fastest $200 million, in eight days, and is all but certain to outpace any other film to $300 million. Look for it to pull in about $36 million to retain top spot for a third weekend, and push its total box office to around $325 million.

The twin embarrassments of Little Man and You, Me and Dupree brought in about $21 million each, when that much between them would have been too much. If history is any guide, neither of these films will stick around much longer. White Chicks, from the same creator as Little Man, fell 55% in its second weekend. Will audiences learn from this? We can only hope. You, Me and Dupree might hang on to a little more business, but they should both end up with about $9 million this weekend.

The story of Superman Returns remains its under-whelming performance as it aims towards $200 million, a figure it should have had in the span of two or three weeks, instead of the length of its run. Give it another $7 million as it barely edges out the resilient The Devil Wears Prada for eighth spot on the weekend.