Weekend Forecast for July 14-16, 2006
By Reagen Sulewski
July 14, 2006
BoxOfficeProphets.com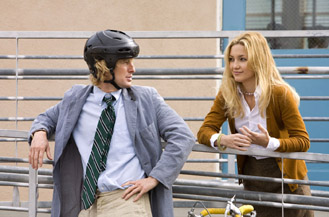 ---
So how does Hollywood follow up the biggest opening weekend in history at the box office? Apparently, by making sure we don't get used to that kind of thing, releasing two comedies that threaten no records, only good taste.

Owen Wilson should know better. He just had a huge hit last year with Wedding Crashers, so he knows what a summer comedy looks like. Obviously, You, Me and Dupree must be the result of some sort of gambling debt or drunken call to his agent. The film features Wilson as a down-on-his luck loser who crashes with newlyweds Matt Dillon and Kate Hudson and then proceeds to drive them crazy. It's not that bad of a concept on its face, really, but it's the execution that would seem to be lacking.

The slacker who won't grow up, Wilson (and I'm not sure if I'm talking about the actor or his character at this point) is the fly in the ointment of adult life, wrecking havoc wherever he goes. The so-called humorous situations on display for this film seem to consist almost entirely of bodily function jokes and the comedy potential of seeing Wilson in various states of undress. It seems devoid of other ideas, like a Jim Carrey vehicle, but lacking that force-of-nature performance to give it form.

With regards to its box office, Wilson still has a fair amount of a following, about equivalent to Ben Stiller of a couple of years ago. In the supporting roles, Matt Dillon has seen his career revived, especially after managing an Oscar nomination last year, and Kate Hudson has carved out a niche as a crazy simulacrum of her mother, Goldie Hawn. Michael Douglas is even on hand, for as much as he adds (probably not much, since ads have completely ignored him). Critics have been brutal to the film, however, and the commercials are distinctly lacking in anything that screams comedic innovation. The success of this one will be entirely up to whatever star power Owen Wilson can muster. In this case, it should be a weekend take of around $17 million. Choose more wisely next time, Owen.

In any other week, You, Me & Dupree's status as the biggest cinematic abomination in release would be well cemented. It didn't count on the Wayans Brothers though, who bring us the inexplicable, unfathomable, unredeemable Little Man. Emerging from what must have been a chemically-altered creation process, the film centers around a midget jewel thief who decides to hide out as a baby with an unsuspecting (and, one assumes, cataclysmically stupid) family while on the lam. Hilarity supposedly ensues. I wonder if the inventors of CGI would have decided to scrap the whole idea if they knew it would be used to impose Marlon Wayans' head on the body of a three-foot-tall man for this film, or if they'd have just gone ahead and killed themselves right there.

Little Man proudly (?!) proclaims itself as being from the makers of White Chicks, which through mass delusion or perhaps hypnosis opened up to $19 million and managed to earn close to $70 million. That film at least had the "white people are so lame" angle to hang its hat on, while Little Man wants us to trust that this truly bizarre-looking creation will provide laughs due to mistaking a small man for a baby. It's funny, but not ha-ha funny.

A lock to crack the IMDb's Bottom 100 as soon as it's eligible, Little Man might entrap a few unwitting folks who haven't witnessed any of the entirely joyless ads. It possibly could appeal to toddlers, who would laugh at the funny little man, but has earned itself a PG-13 rating and thus is locked out of that market. This is yet another one of those films I urge you not to see if you want to be my friend, unless you want to see it on a dare. Sadly, we have a brave population these days, and this film should earn about $10 million this weekend.

The number one film on the weekend, barring meteor strike, will once again be Pirates of the Caribbean: Dead Man's Chest. It set virtually every opening weekend record of note last weekend, racking up a total of $135.6 million when the smoke cleared. This figure didn't just surpass Spider-Man's opening weekend total of four years ago, it obliterated it. Even the weekday totals are impressive beyond all measure. It's due to earn about $60 million in the four-day interweekend period, which would qualify as the sixth largest opening weekend of the year by itself.

The big test this weekend is to see just how front-loaded the film was. The picture is somewhat obscured because of the midnight screenings, but it's almost certain that Friday was Pirates 2's biggest day, meaning it dropped across the weekend. However, it's got quite a nice starting point. Even a 50% drop against the baseline gives it around $60 million for the weekend. With little else to compete against it this weekend, it should do that a little bit better, coming in with about $64 million.

Superman Returns was the biggest victim of Pirates' success, falling nearly 60% off its already disappointing opening weekend. There were hopes that it could repeat last summer's recovery of Batman Begins, but the verdict has been delivered quite firmly in this case. It may not fall quite that much this weekend, but the third weekend take will be around $11 million. The folks at Warner Bros. are licking their wounds on this one, and it will struggle to even reach $200 million.

Every other returning film took something of a hit from the Pirates juggernaut, with the notable exception of Cars, which as the family film alternative, held onto 75% of the prior weekend's business. The surprising The Devil Wears Prada came in with a respectable $15 million for its second weekend, keeping its hopes for a $100 million total alive. Adam Sandler's Click continued its downward slide, and will be one of his lowest-grossing comedy vehicles since The Wedding Singer elevated him into a new stratum.

In limited release, A Scanner Darkly makes its first big expansion, moving onto 216 theaters after a fairly successful limited launch on 17 screens. Watch for this to threaten the top ten with around $1.5 million. Also, Strangers With Candy, the Comedy Central adaptation starring Amy Sedaris, makes a slight expansion. On just 79 screens, it stands little chance of making as big of an impact, though its per-screen average of $10,000 is commendable for a project that only dedicated cable watchers even know about.