Friday Box Office Analysis
By David Mumpower
July 1, 2006
BoxOfficeProphets.com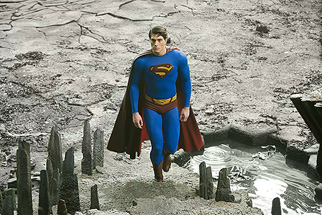 ---
What a difference a day's box office makes. Yesterday, Superman Returns appeared poised to have a solid weekend in the mid-$60s range. Today, we know better.

Superman Returns

The movie world was turned on its head and Warner Bros. absorbed a body blow as Bryan Singer's latest superhero epic was soundly ignored by movie-goers on Friday. The $200 million budgeted Superman Returns earned a weak $16.2 million, making the project no better than 50/50 to even open at $50 million once actuals are in. Considering the $11.0 million performance on Thursday, there was cause for optimism about the weekend performance. After a meager 47% increase in the movie's Friday in-take, box office analysts are faced with a single stunning conclusion. The opening of Superman Returns is a failure.

Many analysts, including BOP's own Reagen Sulewski, had projected a five-day tally north of $120 million. Warner Bros. probably won't even get those in the movie's first week. Even giving Superman Returns a solid internal multiplier of 3.2, we would be looking at a $51.8 million opening weekend. This total would fall $5 million short of last July's surprise winner, Fantastic Four. It is over $12 million short of the June 2003 release of The Hulk. The Brandon Routh/Kate Bosworth movie isn't even close to the tentpole release from last year's first weekend of July, War of the Worlds. That projects $64.9 million appeared to be a reasonable goal for Superman Returns after its two day tally of $32.1 million was similar to the Tom Cruise project's $35.7 million in the same time frame.

As was the case last year, Superman Returns did not see the weekend spike that a film with good buzz should expect. In yesterday's column, I posted collated data indicating what a good split would be for the two-day-to-five-day comparison. That split should have been 33/67. A worst case scenario was given of Spider-Man 2, a 42/58 split. The hero of Metropolis is in danger of being much closer to the latter. If it hits $51.8 million, a realistic base case scenario, that would be a 38/62 split. If the film has a War of the Worlds multiplier, 2.96, we are looking at the dreaded 40/60 split. This would be a strong first indicator of woeful legs for the movie.

Since Superman Returns has disappointed on each of its first three days of box office, it is impossible to rule this out as a possibility, even allowing for the fact that Sunday's box office should be marginally inflated for the holiday. Technically, Tuesday is the official government holiday, but many consumers will take Monday off to stretch this into a five-day weekend.

Warner Bros. needs as many of these people as possible to hit theaters between now and Tuesday in order to stop the bleeding. At this point, Superman Returns is not a lock to make as much in its entire first week as X-Men: The Last Stand earned in its first three days, $102.8 million. And guess which one's budget was $50 million cheaper? While Bryan Singer would never admit it publicly, he must be regretting the decision to leave the established franchise. His attempt to breathe new life into the faded icon of Superman appears to be largely rejected by North American audiences.

The only good news at the moment is that Superman Returns is still pacing $9 million ahead of last year's hit, Batman Begins. The problem is that they are poised for nearly identical weekends. The Batman re-launch earned $48.7 million in its first weekend. Superman Returns needs a 3.0 internal multiplier to match this. While it's still early in the race, even matching Batman Begins' final domestic box office of $205 million appears ambitious. With the long holiday, anyone who wants to see the movie will have had the opportunity to do so by Tuesday.

The Devil Wears Prada

As disastrous as Friday might have proven for Warner Bros., Fox found it just as invigorating. Their understated marketing campaign for The Devil Wears Prada bore fruit. This clever example of counter-programming was a huge winner, earning $9.5 million and thereby universally beating expectations. Demonstrating this fact, the movie will have made as much by the end of matinees today as BOP had projected it to earn over the entire weekend. It also has a chance to double its tracking data with a strong holdover. Like BOP, both Variety and Hollywood Reporter were expecting an opening in the mid-teens. Even with a low internal multiplier of 2.7, Prada will bring in $25.7 million over three days. John Hamann will have much more to say about what a success story this in his weekend wrap-up tomorrow but suffice it to say that Meryl Streep has stolen Lex Luthor's thunder.

Notable Holdovers

Click dropped 57% from its first Friday, which is probably not the news that Adam Sandler and Sony were hoping for. The fact that this sort of drop is par for the course for most summer films these days won't be much consolation, as it's beginning to look as though Click will be one of Sandler's weaker mainstream comedies (we won't count stuff like Punch-Drunk Love and Spanglish). Thanks to the July 4th super-long holiday for many people, Click's drop will level off to some degree - probably close to the 50% range. That would give it $20 million for the weekend and a couple of nice weekdays to bolster its total before it starts to fall off the face of the Earth.

Waist Deep, the super pleasant surprise for Focus Features saw its fortunes turn around as it fell an astronomical 69% from last Friday. That's one of the higher depreciation percentages you'll ever see, particularly given its smaller overall start. Normally, films targeted to this demographic do see significant drop-off in weekend two - it's normal box office behavior. The trouble is, it does appear that all of the fans who wanted to see Tyrese's celestial dome were able to do so last weekend with ease, so Waist Deep will be looking at a plunge to $3.8 million after its near-$10 million start.