Trailer Hitch
By Jim Van Nest
June 29, 2006
BoxOfficeProphets.com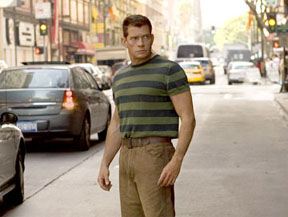 ---
Welcome to Trailer Hitch, BOP's look at the latest movie trailers to hit the Internet. Just in time for the release of Superman Returns, another superhero returns...to Trailer Hitch. We also revisit our Snakes on a Plane and check out a sweet looking new animated flick.

A Scanner Darkly – Opens July 7th

From the minds of Philip K. Dick and Rickard Linklater comes 2006's answer to Sin City. Using a technique he debuted with 2001's Waking Life, Linklater uses live action film and overlays animation to make a truly unique looking picture. I find it odd that when filmmakers come out with some sort of new technique or effect, they seem to hire Keanu Reeves to star. Robert Downey Jr., Winona Rider and Woody Harrelson are also featured in a movie I'm finding hard to describe from the trailer. It's set in the future and it doesn't seem to be a very happy future. We've lost the war on drugs and everything we're doing seems to be being recorded. Other than the stunning visuals, I don't know what else to say about this trailer other than, I want to see more. I want to know what it's about and I want to watch it unfold in this bold "new" style of filmmaking.

Snakes on a Plane – Opens August 18th

I already warned you. You will be hearing about Snakes on a Plane in this column. And what do we have here but a new teaser/trailer kind of thing. Rather than the bootlegged version I covered before, this one is in the form of your normal trailer. There isn't a lot to this trailer, really, but we learn the problem, snakes on a plane, and we meet the solution, Samuel L. Jackson. The feeling I get from this trailer is that it's a leftover from the '70s. Had it been made 30 years ago, it could have been called Shaft and Snakes on a Plane. I'm just having a hard time trying to figure out how this won't be one of the most fun movies of the summer. Check it out...you'll be hooked.

The Guardian – Opens September 22nd

Stop me when this sounds familiar. Young hotshot kid joins a branch of the armed service and mouths off to his seasoned veteran instructor. Still proves to be the best in his class. Has real life adventures and eventually has to be teamed up with or saved by, the seasoned veteran instructor. In a nutshell, this describes The Guardian. Ashton Kutcher is the young hotshot, Kevin Costner the seasoned instructor and the Coast Guard is the branch of service. Now I'm sure there will be some differences between this and Top Gun, Men of Honor, An Officer and a Gentleman and the whole list of similarly themed films. But I can't imagine it's enough to make me check it out. The trailer itself is okay, but it just has such a been there-done that feel to it for me. It could probably use snakes on a plane.

Jackass: Number Two – Opens September 22nd

Not a lot to review here really. I mean, what do you expect out of a second helping of Johnny Knoxville, Steve-O and crew beating the hell out of themselves? I do like how the trailer begins with a list of quotes about the first movie and how terrible it was. And then leads into some quick clips from the new film. Johnny getting rammed by a bull, pulling a tooth with a string attached to a car and a lobster clawed onto someone's tongue. It's what we've come to expect and love from these idiots and I'll feel bad about laughing at them later.

Spider-Man 3 – Opens May 4, 2007

"How long can any man fight the darkness before he finds it in himself?" This is the lead in to the brand spanking new Spider-Man 3 teaser. I'm not a big fan of the series, let's start with that. And this teaser looks awesome. It tells you very little, except what you need to know. We see "the darkness" taking over Spidey as we'll witness the birth of Venom. We see a quick glimpse of Sandman and can see Harry Osborne continuing his path toward becoming the Green Goblin. We see Peter Parker with Mary Jane AND with some blonde? The tables are set for Spidey 3 to be the best of the bunch. And with Thomas Haden Church and Bryce Dallas Howard on board, not only have they cornered the market on three named future Oscar winners, but they've beefed up the cast nicely to go with what looks to be a beefed up flick. I could be wrong, but it looks like Pirates of the Caribbean 2's box office record will go down in May of 07.