Friday Box Office Analysis
By David Mumpower
June 24, 2006
BoxOfficeProphets.com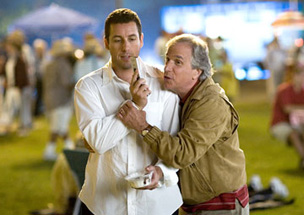 ---
As expected, Adam Sandler hit the power button at the box office Friday. His latest comedy, Click, earned an acceptable $14.6 million, making it far and away the number one film. In point of fact, Click earned more than the next three films combined. But how strong is this performance? Therein lies the debate.

Click's $14.6 million represents the smallest first day tally for an Adam Sandler summer comedy since Mr. Deeds. That project was a mirror image in terms of Friday production, opening to $14.4 million while managing an internal multiplier of 2.58. Before we write off Click as having this sort of performance, there are a couple of caveats to consider.

While Mr. Deeds was Sandler's worst summer first Friday in that period, it was not his worst Friday in totality. That honor is reserved for 50 First Dates, a February 2004 release that spiked from $10.5 million on Friday to $19.8 million (!) on Saturday. Obviously, the seasonal release combined with the romantic subject fare are key contributors in its lofty internal multiplier of 3.8.

The only other recent point of comparison is Sandler's last film, The Longest Yard. That title managed $16.2 million on Friday before winding up with $47.6 million in three days. A key consideration here is that its Sunday tally was inflated by the period, Memorial Day weekend. So, that 2.94 multiplier is somewhat artificial. In short, it appears unlikely that Click can manage anything beyond a 2.8 multiplier, and the 2.65 range appears to be the safest bet. That would indicate Click's weekend estimate should be $38.7 million, making it a mediocre performer by his standards.

Waist Deep, the other new release of the weekend, is a surprise hit of sorts for Focus Features. It finished in a lofty fourth place for Friday, probably the best position placement it ever has since The Fast and the Furious: Tokyo Drift and (particularly) The Lake House are right on its heels. The opening Friday of $3.3 million is an example of frontloading at its finest, but even with an internal multiplier of 2.6, Waist Deep will manage $8.6 million for the weekend. This is beyond what tracking data had indicated, so it's a solid win for the studio.

The four openers from last weekend had decidedly mixed results in their second Fridays. Garfield: A Tail of Two Kitties was the "winner" in terms of holdover. Its $1.5 million represents a decline of 40.8% from the horrific debut total of $2.5 million. The Lake House isn't far behind with its $2.9 million Friday indicating depreciation of 43.9%. Last Friday's success story, Nacho Libre, is less successful. The Jack Black comedy fell 63.9% to $3.9 million. All is not lost, though. This title should recover nicely over the weekend since it only has to compete with a 2.61 internal multiplier from the first weekend. The same cannot be said for yesterday's big loser, The Fast and the Furious: Tokyo Drift. As predicted in the forecast, the wheels came off on this title. It fell 68.7%, all but assuring this movie is finished at the box office. The franchise appears to be dead.

Tune in tomorrow for John Hamann's ever-popular analysis of weekend box office.