Vaughn-Aniston Break-Up Saves the Box Office
Weekend Box Office Wrap-Up for June 2-4, 2006
By John Hamann
June 4, 2006
BoxOfficeProphets.com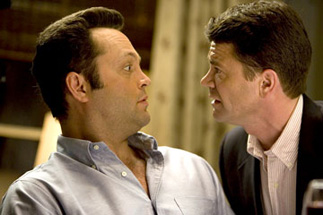 ---
It was a definite 'good news-bad news scenario' at the box office this weekend, with the good news being about The Break-Up, the bad news about X-Men's horrendous drop compared to last weekend. Vince Vaughn's follow up to The Wedding Crashers proved very big this weekend, despite extremely questionable word-of-mouth. X-Men: The Last Stand had a ridiculously large drop compared to its record-setting opening weekend, and as a colleague said this weekend, could become the definition of the word 'flameout'. Yes, it was that bad.

The number one film of the weekend is The Break-Up, the comedy from Universal starring the suddenly huge Vince Vaughn. The rom-com grossed a massive $38.1 million this weekend from 3,067 venues. It had a venue average of $12,395, and gives us our fourth very big film of the summer. Over the last couple of weekends, theatres have been very busy, with many eyes seeing the trailer for this one. Yes, The Break-Up was going to benefit from that, but no one thought to this degree. The opening weekend is $4 million bigger than The Wedding Crashers ($33.9 million opening), and again, only $9 million away from Mission: Impossible III's $47 million opening. This is bigger than Runaway Bride, which opened to $35.1 million and Sweet Home Alabama ($35.6 million). Finally, this is 50 First Dates territory ($39.9 million), which is a huge step up for Vince Vaughn. For Jennifer Aniston, this one breaks up a troubling streak of low grossing movies, surrounded by bigger films like Bruce Almighty and Along Came Polly.

The Break-Up itself certainly isn't a critical darling, but again, audiences ignored the warnings and went anyway. RottenTomatoes gathered 124 reviews, and of those only 40 were positive, leaving it with a somewhat nasty rating of 32%. The box office numbers show a typical date movie, with maybe some front-loading. David Mumpower reported on Saturday that The Break-Up grossed $15.8 million on Friday night. Other websites reported later in the day an estimate of $13.8 million. If we divide the Friday gross ($13.8-15.8 million) by the weekend gross ($38.1 million) we get an internal weekend mutiplier in the 2.4-2.7 range. A decent opening weekend would fall into the 2.8-2.9 range, so we know by this number that questionable word-of-mouth is already starting to leak. Not that it matters. Budget data isn't available; however, with the pedigree of the talent, one might estimate a budget in the$40-50 million range. For Universal, this opening weekend is bigger than the domestic grosses of their last three films - United 93, American Dreamz and Slither. Finally, the total for the top ten would have fallen well short of last year's totals had The Break-Up not opened as strongly as it did. This does not bode well for the next few weeks at the box office, especially if the rom-com slides hard next weekend.

X-Men: The Last Stand finishes a surprising second this weekend, hurt by a large drop-off in audience, and an excellent start for The Break-Up. The Last Stand grossed $34.4 million this weekend, down a hardcore 67% compared to the three-day figure of $102.8 million over the first three days of the holiday last weekend. While a large drop was expected, a drop this big tells us that the target audience has seen this one and has moved on to other things. The word we are using is flameout, for obvious reasons.

Last year, the number one film over the Memorial Day weekend was the second weekend of Star Wars: Revenge of the Sith. It fell 55%. In 2004, Shrek 2 dominated over the long weekend, and fell a decent 47% the weekend after. The same weekend, however, former Memorial Day record holder and opener The Day After Tomorrow dropped 60%. In 2003, the top Memorial Day film was Bruce Almighty, which followed up a huge open with a 45% drop. What does this list say? That if you are a film like X-Men:The Last Stand or The Day After Tomorrow (films big on style, but small on substance), the weekend drop-offs are going to be big. Exhibitors can't like this arrangement. With the majority of earnings going to the studios over the first two weeks of a film's run, exhibitors are getting cut out of the windfall. X-Men: The Last Stand now sits with a domestic total of $175.7 million after two weekends, and has not yet hit its budget of $200 million.

Third this weekend is not the Da Vinci Code. It's Over the Hedge, the CGI animated kids film from Paramount via DreamWorks. Over the Hedge had an excellent hold, grossing $20.6 million and dropping only 24%, despite losing 100 venues in its third weekend. Last year, Madagascar dropped 41% in the post-Memorial Day weekend. Over the Hedge has now earned $112.4 million, and could match Madagascar's domestic total of $193.6 million, although it will run into Cars from Disney-Pixar next weekend.

The Da Vinci Code falls to fourth this weekend; however, it does level off somewhat after a drop last weekend of 56%. The Ron Howard flick grossed $19.3 million in its third frame, down a better 43%. While the drop improves, Sony has failed to keep a high level of interest going, despite an ad campaign begging for further controversy. Currently, the Tom Hanks flick has grossed $172.7 million domestically, and looks to finish with about $250 million.

The drop-off from fourth onward is dramatic, with almost a $15 million difference between fourth and fifth. Mission: Impossible III takes the five spot this weekend, as it slowly fades into obscurity as a large Tom Cruise disappointment. M:I3 grossed $4.7 million this weekend, dropping 33% compared to last weekend. The Paramount so-called event picture has now grossed only $122.7 million, well back of the production cost ($150 million) and well away from the negative cost ($200 million). Good thing for Paramount that Over the Hedge is working out so well.

Sixth is Poseidon, which finished with spitting distance of M:I3. Poseidon grossed a paltry $3.4 million this weekend as it drops 40% compared to last weekend. This turkey with its $160 million budget has now earned $51.7 million for Warner Bros., and foreign grosses won't be bailing this one out. At least the WB has Superman Returns waiting in the wings.

Seventh goes to RV, as the Robin Williams laugher has consecutive healthy weekends. RV grossed $3.3 million this weekend, equaling a drop of 21%. The sequence of drops for RV now looks like this: 33%, 10%, 50%, 18%, and now 21%. The Sony film now has a decent total gross of $61.8 million, versus a budget of about $50 million.

Eighth goes to Lions Gate's no-brainer in See No Evil. The WWE flick grossed $2 million this weekend, drops 26%, and now sits with $12.4 million.

There's good news in ninth, as the brainy An Inconvenient Truth gets a top ten finish despite being at only 77 venues. The Al Gore project about global warming grossed $1.3 million this weekend, giving it a strong venue average of $16,948, the best in the top ten. The total now for the documentary has now reached $1.9 million.

Just My Luck finishes tenth, with only a $800,000 gross as it approaches pathetic. Just My Luck dropped a nasty 58%, and now has $15.6 million in the domestic kitty.

Overall this weekend, it was a very close race versus last year, and as I mentioned above, would have been a loss if not for the very strong performance of The Break-Up. The top ten this weekend grossed about $128 million, which is pretty much a push compared to last year's totals of about $125.5 million. In 2004, things were much stronger as Harry Potter and the Prisoner of Azkaban led the top ten to $182 million. In 2003, things were also much better as the top ten grossed $166 million, led by Finding Nemo.