Friday Box Office Analysis
By Tim Briody
May 27, 2006
BoxOfficeProphets.com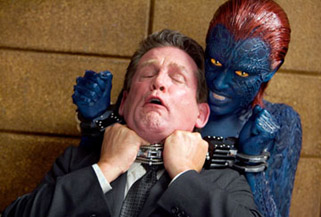 ---
X-Men: The Last Stand

The third entry in the X-Men franchise earned an astounding $44.5 million Friday, an absolutely fantastic figure. This is the largest Friday box office total ever. Projecting a four-day tally from this is not easy, though. The previous two films don't work very well as multiplier examples. This is Memorial Day weekend and the others were released in July and the first week of May respectively. For reference, however, X-Men had a 2.55 and X2 scored a 2.73.

The combination of typical Memorial Day weekend multipliers and the fanboy rush nature of the comic book movie are going to collide here and the results may not be too pretty. Add in that a few million of that is quite likely due to midnight showings, and there's even less reason to be optimistic. X3 is unlikely to match even The Day After Tomorrow's 2004 relatively low four-day multiplier of 3.47. Still, a four-day multiplier of around 3.2 would give X-Men: The Last Stand an outrageous $142.4 million in its first four days, which still blows a lot of doors away.

Keep in mind that there's still a lot of guessing going on at this point as the holiday weekend has really never seen anything like the opening that X3 has had. An even higher weekend figure than our estimate is entirely possible, and substantially less isn't out of the question either. Stay tuned, as Box Office Prophets will continue to monitor this developing story when Saturday's numbers become available.

The Da Vinci Code

Meanwhile, to the shock of absolutely nobody, the Ron Howard/Tom Hanks collaboration on the best selling novel absolutely collapses on its second Friday. The movie earned $10.2 million, down 66.2% from last week. The overwhelming inital interest combined with the fact that it simply isn't a very good movie spelled this out pretty clearly once last weekend's totals were in. The four-day weekend total of around $42 million will appear to soften the blow, but really, it's not pretty. Look for it to enter freefall mode next weekend.

Over the Hedge

In fact, The Da Vinci Code is not even a lock for second place this weekend. Over the Hedge earned $7.6 million on Friday and should have a much stronger hold over the long weekend. Madagascar is the blueprint example of this, winding up with a four-day multiplier of roughly 4.4 last year. Over the Hedge is a film I suspect might even surpass that 2005 demostration of legs.