Weekend Wrap-Up Part I
The Da Vinci Code Shatters Records
By David Mumpower
May 21, 2006
BoxOfficeProphets.com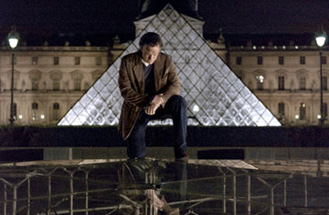 ---
After consecutive weekends of disappointing numbers for expensive productions, Hollywood needed a home run. With The Da Vinci Code, Sony hit a grand slam. The film earned the biggest domestic opening of 2006 to date, as well as the largest worldwide opening in box office history.

When Dan Brown's novel was first licensed for theatrical adaptation, observers were confident this project would be huge. Sixty million worth of copies in print goes a long way in securing a story's popularity. In addition, more cynical critics of the novel have argued that it is little more than a screenplay wrapped in several hundred pages of riddles and weak prose. There are also the unwieldy historical factoids, many of which have earned charges of being revisionist in nature. The flaws were ancillary to the appeal of The Da Vinci Code, though. At the bestselling book's heart is a quest for the Holy Grail, and if Indiana Jones has taught us nothing else, that classic has proved that movie-goers are always up for a good Templar Knights adventure.

Armed with the knowledge that this is a Can't-Miss project, all Sony had to do was not screw it up. Their choices for casting were inspired. With Tom Cruise in full meltdown, Tom Hanks can accurately stake a claim as the most popular actor in the industry. His selection for the role of Harvard symbologist Robert Langdon has been viewed as a masterstroke, despite the hairstyle he inexplicably wears in the movie. The key role of the French police officer and granddaughter of the Louvre's curator was given to Amelie herself, Audrey Tautou. While she has been nothing more than a fringe actress in North America due to the language barrier, Amelie's current status as one of the 30 highest rated films of all time on IMDb demonstrates just how much the camera loves this actress given the right role for her skill set. Ian McKellen's selection as the eccentric Sir Leigh Teabing and Jean Reno's in the role the books' author based on him, Captain Fache, added further Eurocentric flair to the project. In short, the film was perfectly cast.

Of course, all of the great actors in the world would be useless if they lacked excellent source material and a strong directorial hand. The latter task was assigned to The Artist Formerly Known as Opie, Ron Howard. The forcibly retired Arrested Development narrator has become the de facto Go-To Guy for film adaptations. His successes with Apollo 13, How the Grinch Stole Christmas and A Beautiful Mind all demonstrate the perfect combination of critical acclaim and box office might. Howard assigned the task of screenplay adaptation to his buddy, Akiva Goldsman, a writer who won an Academy Award for his work on A Beautiful Mind. Unfortunately for both of them, critics took them out to the woodshed on The Da Vinci Code.

For whatever reason, all of the smart decisions about casting, writing and direction failed to lead to a product worthy of the combined parts. The movie currently stands at 18% fresh at Rotten Tomatoes, a staggering statistic so unlikely that the first thought is to wonder whether the digits are transposed. This is not the case, though. The combined talents behind some of the most popular and well-respected movies of the past two decades have made a clunker.

Due to the technological advances in modern society, word spread almost instantly that The Da Vinci Code had not been well received in its debut at the Cannes Film Festival. After the disappointment of Mission: Impossible III and disaster of Poseidon, industry analysts quickly began to speculate about the fate of The Da Vinci Code. Would it be next in line to under-achieve? Those fears were squashed when Friday numbers were published. The Da Vinci Code exploded into theaters with a $30 million first day. To say that this total is strong frankly undersells the accomplishment. A theatrical adaptation of a novel only does numbers like this if Harry Potter is battling Voldemort or if hobbits go on vacation in Mordor.

The Da Vinci Code skews heavily adult, causing analysts such as BOP's own Reagen Sulewski to point out that perhaps the most accurate recent comparison is 1993's The Firm. Even allowing for 13 years of inflation, The Da Vinci Code had outperformed that blockbuster's opening weekend numbers by Saturday afternoon. The only question would be how well the project could hold over the entire weekend. The answer proved to be a bit disappointing. Code earned "only" an estimated $77 million and a per venue average of $20,615 over the weekend, meaning that its internal multiplier is around 2.6. That's about as front-loaded as a film of such mature subject matter is ever going to have. Of course, it is also a mathematical trick in that a larger first day number is difficult to maintain over three days. And a book with 60 million copies in print is going to have a strong fanboy presence on day one.

Sony also did something clever by lowering industry expectations into the mid-60s for the project, thereby making any number above that seem sensational. The studio also always had an ace in the hole with regards to international box office receipts. According to Variety, The Da Vinci Code has the highest worldwide print count in movie history. The result is the largest ibnternational three-day total in movie history, $147 million. For the mathematically challenged, this represents a cumulative worldwide opening of $224 million. Considering that The Da Vinci Code has a reported budget of $125 million, this is an epic win. Even allowing for the fact that the huge print count has an attached record expense for making the prints and accounting for other marketing expenses across the world, this project is already a money-maker for Sony. It is unequivocally the most successful Sony project since Spider-Man 2.

How impressive is the result? Consider that the previous best opening weekend for a Tom Hanks non-animated movie had been (depending upon perspective) $30.6 million for Saving Private Ryan or a four-day total of $39.9 million for Cast Away. The Da Vinci Code just beat them both combined. That's not the only feat of this nature for Hanks, either. This opening represents the final tally of his last major project, The Terminal, and is almost double the total box office of his movie prior to that, The Ladykillers. For Audrey Tautou, The Da Vinci Code's opening weekend represents more domestic box office than her prior five films (A Very Long Engagement, Dirty Pretty Things, L'Auberge Espangnole, He Loves Me...He Loves Me Not, Amelie) combined...by $25 million.

In point of fact, the only cast member used to having such box office success is Sir Ian McKellen. This is only his second-biggest opening after X2: X-Men United's $85.6 million. It is also a total he might surpass in seven days, as the actor is poised to make box office history next Sunday. If X-Men: The Last Stand opens as well as tracking would indicate, he will become the first actor with a major role in consecutive $70 million opening weekends. While no one argue he is a box office draw on his own, McKellen is quietly assembling a resume worthy of Harrison Ford. The Da Vinci Code and X3 appear likely to become his fifth and sixth $200 million films. Gandalf is living large these days.

All that is left from here is the determination of The Da Vinci Code's total box office. Obviously, we are left with little more than wild speculation at this point, but the shaky internal multiplier and bad reviews make me skeptical about its longevity. I don't see it becoming the biggest film of Tom Hanks' career, at least not domestically. Even Cast Away's final box office of $233 million is not guaranteed to be topped, much less Forrest Gump's $330 million. Internationally, Gump's $680 million tally certainly appears attainable, though.

Box office discussion for the remainder of this week's top ten, including Over the Hedge, is available in part two of the column. Click here to read it.