Weekend Forecast for April 14-16, 2006
By Reagen Sulewski
April 14, 2006
BoxOfficeProphets.com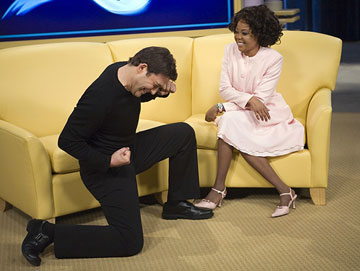 ---
A suddenly revitalized box office adds two more strong contenders to the lineup, in a weekend that could conceivably feature as many as three films over $20 million.

It's somewhat hard to believe, but the Scary Movie franchise has been viable enough to reach its fourth installment, despite the extremely diminishing returns shown in actual ideas, and, you know, jokes. However, there's no accounting for taste. Started by the Wayans brothers and handed over to spoof-meister general David Zucker (who basically invented the genre), it's more or less abandoned the idea that you can build an entire movie based on jokes about horror movies, instead using it as a framework for pop culture jokes, a sort of live action Family Guy.

Anna Faris returns as the star, having gotten her big break in the first of these films, and more or less becoming Queen of all Spoofdom. Regina Hall is also back for her fourth go-around, Craig Bierko replaces Charlie Sheen as the main male lead and it also includes an array of celebrity cameos, including Dr. Phil and Shaquille O'Neal. No one could accuse them of missing the zeitgeist for obvious jokes, as targets of the film seem to include Tom Cruise's flip out on Oprah, Brokeback Mountain and the iPod craze.

Handing the franchise over to the Zuckers paid an immediate dividend for this franchise, which bounced back to the $40 million plus opening weekend range after the first sequel took a dive. It's selected its targets well, and the massive release schedule of 3,602 screens should help Scary Movie 4 win the weekend with about $48 million.

The other new film of the weekend is The Wild, another of the (and stop me when you get tired of this) approximately umpteen animated films to be released this year. Coming directly out of Disney's own CGI animated studio as opposed to Pixar, it bears a startling resemblance to last year's Madagascar. Starring Kiefer Sutherland, as a lion in the New York Zoo (hmmmm), Janeane Garofalo as a neurotic giraffe (double hmmm), James Belushi, William Shatner and Eddie Izzard as various other animals in the zoo, the film covers the aftermath when Sutherland's character's son is shipped to Africa (I said, hmmm!!). The animals then have to break out in order to save him, venturing about in the streets of New York.

While I look forward to the scene of Sutherland's lion torturing an alligator for information ("There's NO TIME! TELL ME WHAT YOU KNOW!), the film looks generic beyond belief down to its title, and complete with crotch jokes as its money shot. Still, anything animated these days with even a modicum of ad support does well. It's probably a bit too close to the recent smash Ice Age 2 to do very well, but a weekend of $23 million shouldn't be surprising.

Speaking of that, we have that film sliding in for a third place spot, with a chance to be second if The Wild falters. It dropped over 50% from its record-breaking $68 million opening weekend, while still winning the weekend. While people seem to be catching on to the idea that these films just aren't that good, it's still a nice cliff for a film to be falling from. Look for it to bring in another $17 million or so, pushing it close to $150 million total.

Despite all warnings and eerie, dire premonitions, several million people walked up to a ticket booth last weekend and said, "One for The Benchwarmers", to the tune that it earned nearly $20 million last weekend, thus proving that people have too much goddamned spare time on their hands, or that we missed our shot to put the sterilization drugs in the popcorn and save future generations. But I digress. Rob Schneider and David Spade can clearly thank Jon Heder for this one, as none of either of their recent films had shown any great promise, while Heder still has his residual Napoleon Dynamite fame to ride on. This thing pretty much defines front-loaded, and should fall precipitously to around $8 million in weekend number two.

Take the Lead was a decent earner for Antonio Banderas (it at least beat out the new Bruce Willis film of the week, which is a sentence that wouldn't have made a lot of sense a few years ago), if visions of a Save the Last Dance-like performance didn't materialize. Look for another $7 million or so this weekend, and probably a second shot at stardom for some of the young actors in this film.

Thank You For Smoking makes a major expansion after poking its head into the top ten for the first time last weekend. The acerbic satire about the cigarette and lobbying industries has earned about $6 million to date in limited release and jumps to over 1,000 screens this weekend. One of the most critically acclaimed films of the early year, it's still a bit of a tough sell. Give it about $5 million on the weekend.