Weekend Forecast for March 24-26, 2006
By Reagen Sulewski
March 24, 2006
BoxOfficeProphets.com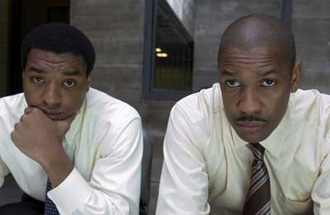 ---
A star-studded crime thriller from an unlikely source leads off a trio of new films this weekend, with the hopes of giving us three straight weekends with a $20 million opener.

For all the critical acclaim that Spike Lee has received throughout his career, he's never been able to reach that holy grail of mass commercial success. Even his magnum opus, the Oscar nominated Malcolm X, topped out around $50 million. So to see his name on a film like Inside Man is a little unusual, if only because it looks so straightforward.

Starring Clive Owen, Denzel Washington and Jodie Foster, the film centers on a bank heist (organized by Owen) that seems deliberately set up to be as disruptive as possible. Washington's NYPD negotiator shows up on scene to try to defuse the situation, but things seem to be going wrong beyond his control. Then a mysterious powerful figure (played by Foster) comes in, with motives of her own. Is she connected to the heist in non-obvious ways? What are they really after in the bank anyway?

Because it's Spike Lee, he's interested in more than simple movie mechanics, though the movie seems to have that as well as his usual political commentary. Delving into racial relations (de rigueur for Spike) and post 9/11 paranoia, Inside Man is gaining huge amounts of critical praise as a superlative thriller. This is the kind of genre that Washington succeeds in most often, securing $20 million openings even for films like John Q. Foster herself had a hit in this rough genre just last year with FlightPlan, while Owen is a rising star and credible supporting player. All of this adds up to a win of the weekend with about $26 million.

Stay Alive is this week's entry in the cheapo horror genre, though it doesn't appear to have the appeal of some of the winners of late. In the film, a group of friends discover a video game after the death of a friend who may be somehow related to it. And how; when they start to play it, they start to die, realizing that when they die in the game, it really is game over.

It owes a little to The Ring in spirit, with the temptation of the forbidden fruit and its deadly consequences. The concept seems clever until you really think about it, since not playing a game seems easy. But then there wouldn't be a movie, would there? Young actors to the slaughter include Samaire Armstrong, of The O.C. and Entourage, Sophia Bush of One Tree Hill and Frankie Muniz, so it may have some pull on the PG-13 set, but ads for the film have looked anything but special. Screen counts are also low, just over 2,000, indicating only moderate support from Buena Vista. I look for only $9 million from this film this weekend.

I'm not sure it really qualifies as a movie, but Larry the Cable Guy: Health Inspector waddles into about 1,700 movie theaters this weekend, unwieldy title and all. A tremendously popular stand-up comic from the Blue Collar Comedy Tour, Larry the Cable Guy (real name: Dan Whitney) specializes in redneck anecdotal comedy – a sort of hillbilly Garrison Keillor with fart jokes. This film attempts to be his Ace Ventura breakout film, based on the unlikely premise that some kind of wide-ranging conspiracy could involve health inspectors, as if they were detective.
In reality, it's a flimsy framework for a series of crude jokes involving exposed butt cracks and bodily functions and looks more like a vanity project than a real film. Though Larry is a popular guy, getting people into a movie theater is a different challenge than getting them to a stand up comedy show. One might compare it to Andrew Dice Clay's ill-advised The Adventures of Ford Fairlane, which bombed unceremoniously at the height of his career. Look for this to come in with a thud at around $5 million.

What was supposed to be the year's first breakout film, V For Vendetta, still won its weekend, but with a disappointing $25.6 million opening weekend. Though this compares favorably with the opening of the Wachowski Brothers' The Matrix in 1999, there's no taking people by surprise here. Indeed, it seemed to lose some steam as it approached release, and the general oddity of the film isn't likely to inspire legs. That said, a second weekend of around $15 million should keep this afloat for a little while.

Failure to Launch hung in its second weekend for $15 million itself, moving its two weekend total to $48 million. It seems sort of official now that Matthew McConaughey is the new heartthrob of Hollywood. Give this another $10 million or so this frame.

Hanging around as well is The Shaggy Dog, with an impressive 18% drop in its second weekend. Again the top family film of the weekend, it should also bring in around $10 million, pushing the Tim Allen film above or near the $50 million mark.