Weekend Forecast for March 10-12, 2006
By Reagen Sulewski
March 10, 2006
BoxOfficeProphets.com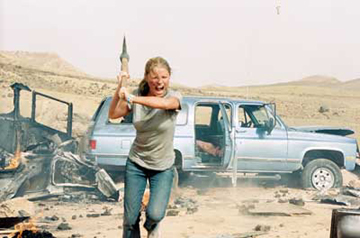 ---
A singularly unimpressive weekend last frame opens the door for four new films to dominate the box office, with four different genres represented. The post-Oscar fallout should also show its head this weekend.

Leading the way, at least in terms of screen count, is The Shaggy Dog, the latest remake from Disney's vault. Somewhere a digital animator has a lot to answer for with this. Getting the call for this movie, he answered, "Sure, we can totally make Tim Allen look like a sheepdog! I'll get my team right on that!" While they were busy finding out if they could do that, they never stopped to think if they should. There are things Man was not meant to know.

This is the kind of film that Tim Allen has been able to carry well of late, becoming this generation's Dean Jones, especially in the Santa Clause films, which are still inexplicably popular. Though ads for this have been fairly terrible, it has the full backing of Disney's marketing machine, a ready-made-for-kids premise and a massive screencount of 3,501. These factors point it towards an opening weekend of around $16 million.

You may roll your eyes at yet another horror movie hitting screens this weekend, but in the case of The Hills Have Eyes, it may actually be, you know, good. A remake of one of Wes Craven's early films, this version follows a family of tourists that wanders off the beaten path into a former nuclear test zone. Suffice it to say that AAA approved accommodations are tough to come by here. In fact, we're actually dealing with a family of mutants, and before you can say C.H.U.Ds., we've got ourselves a family in peril.

The cast is light on stars, or even what might pass for stars on the WB, which could limit it from being the success that other recent horror films like Final Destination 3 and When a Stranger Calls. Ted Levine, famous as Buffalo Bill in The Silence of the Lambs, and Kathleen Quinlan, and Oscar nominee from Apollo 13, are the most recognizable names here. However, a better than normal (although still not great) set of reviews, along with a dynamite ad campaign, could still propel this film somewhat. Opening on a respectable 2,620 screens, give this one $15 million for the weekend.

The third new film is Failure to Launch, a romantic comedy with Matthew McConaughey and Sarah Jessica Parker. He stars as a slacker who still lives in his parents's house at a highly advanced age, and she is the professional heartbreaker who will try to get him to leave. Will hilarity ensue? Will a single unpredictable thing happen throughout the course of the movie? The answer to these and many other questions are yours if you shell out your eight bucks.

This film bears a spiritual and thematic resemblance to How to Lose a Guy in 10 Days, which was basically an instruction manual to women about how to be evil. We trade Kate Hudson for Parker along with what seems to be the genetically impossible combo of Terry Bradshaw and Kathy Bates as McConaughey's parents. Although it's the top romantic comedy of the weekend by far, there seems to be something slightly lacking in this film. Perhaps it's the extra-boorishness on Matt's part; that could turn off a big chunk of the audience of the film. Or maybe that Parker's got something unlikable about her. Anyhow, this one should come in with around $12 million in its opening weekend.

Our last new wide release of the weekend, The Libertine, might be described as the ugly side of Casanova. Johnny Depp stars as the Earl of Rochester, a hedonist and lothario in the 17th century. Based on a stage play, the film has sat on the shelf for over a year, while its producers fought with the Weinstein Company about when it might see the light of day, never a good sign. While Depp has received his usual praise (the debauched character is right up his alley), the film has received a merciless beating, called unfocused, repellant and torturous. Clearly, this film is damaged goods at this point. Opening on just over 800 screens, it's good for only about $3 million this weekend, and will have to find its audience latter.

Two significant Oscar films are within spitting distance of the top ten, but notably, not the Best Picture winner (which has been on DVD for some time). Brokeback Mountain briefly popped into the top ten on Tuesday, courtesy of its three Oscars, but without the big prize or a nod for its actors, seems unlikely to truly capitalize on its awards. Look for it to hold steady at $2.5 million this weekend. Dreams of $100 million go out the window here. Capote captured the Best Actor prize and sat in 14th place after last weekend; it should grab another million or so from this frame before slowly fading out to DVD.

Returning films are a sorry bunch, and should be led by last week's third place finisher, Eight Below. The family film, though facing a direct challenge from another Disney property, has held up decently, earning over $60 million so far. The key to making a tolerable Paul Walker film is apparently to give him animal co-stars. Give this one another $7 million for the weekend, where it'll slide into fourth spot. The high-concept 16 Blocks should be next, although the under $12 million opening is certainly a disappointment for Bruce Willis. Perhaps he could get himself a role in a low-budget horror flick. Give it about $7 million as well on the weekend. The steam ran out quickly on Madea's Family Reunion, dropping almost 60% in its second weekend, matching the performance of its predecessor, Diary of a Mad Black Woman. Watch for it come in with around $6 million this frame.

The other trio of new openers from last weekend, Ultraviolet, Aquamarine and Dave Chapelle's Block Party, all arrived without much fanfare, each earning less than $10 million. Of the trio, only Block Party has a real shot at shelf life, though this is a relative concept at this point. None of the three should make much noise this weekend.