Friday Box Office Analysis
By Tim Briody
March 4, 2006
BoxOfficeProphets.com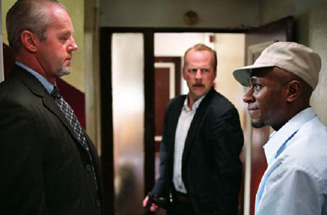 ---
Four new wide releases are thrown to the wolves on Academy Awards weekend, and Madea's Family Reunion falls hard, but should remain on top with all the lackluster openings.

16 Blocks

The Bruce Willis/Mos Def actioner leads the pack with $3.8 million Friday. To say this is underwhelming is a little bit of an understatement. Things won't improve all that much as Academy Awards Sunday is a notoriously bad day for box office. That would bring what would probably be a decent weekend multiplier down to somewhere around a 2.8, giving 16 Blocks a weekend total of $10.6 million.

Ultraviolet

Sporting an awesome 4% Fresh rating at Rotten Tomatoes, the ultraviolent Ultraviolet opened to $3.4 million. Look for the Milla Jovovich film to fall hard and fast, with a weekend multiplier of 2.6, which would give Ultraviolet $8.8 million for the weekend.

Dave Chappelle's Block Party

The concert film some were expecting to break out huge did not do so, earning $2.7 million Friday on 1,200 screens. The last big performance film, 2000's The Original Kings of Comedy, managed a 2.74 multiplier, and I wouldn't be surprised with something similar here. Give it a weekend total of $7.4 million.

Aquamarine

The weekend's last opener, the tween-targeted Aquamarine, took in $2 million Friday. Aquamarine should have the best multiplier of the weekend among the four new releases, giving it a weekend tally of $6.8 million.

Notable Holdovers

Madea's Family Reunion drops an unsurprising 65.5% from last Friday, but should actually still come out on top for the weekend. Diary of a Mad Black Woman dropped 55.5% in its second frame, so this is a textbook example of the sequel effect. Figure a weekend total of about $11.6 million.