Friday Box Office Analysis
Teens Pick Up When A Stranger Calls
By John Hamann
February 4, 2006
BoxOfficeProphets.com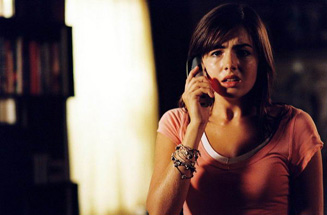 ---
With the Super Bowl (and a Seattle victory) now less than 48 hours away, movies don't really matter, and North American audiences let that fact be known on Friday night.

When A Stranger Calls

The new genre of Cheap Teen Horror produced another pale, sickly child this weekend in When A Stranger Calls, but as usual, teens ate it up. The horror flick grossed $9.4 million on Friday night, a strong showing in comparison to last year's CTH in Boogeyman, which had a first Friday gross of $8.3 million before going on to a $19 million opening weekend. Yes, scarier than The Stranger or The Boogeyman for Screen Gems and Sony is The Super Bowl, which tends to cut films off at the knees. Look for When A Stranger Calls to have a weekend multiplier of 2.3, and a weekend gross of about $21.6 million. Oh, and look for When A Stranger Calls Back in 2007, because you know it's coming.

Something New

Something New could also be called Something Different over this Super Bowl weekend. It's something different because it actually got some decent reviews. Audiences didn't look at it quite as kindly as critics, as it had a not-very-good first Friday gross of $1.8 million. Although this one is targeted to older females (like last Super Bowl's The Wedding Date. Remember that one? I didn't think so), the Super Bowl will still crush its multiplier. Look for a weekend total of $4.9 million, taken from a weekend multiplier of 2.7.

Holdovers

Let the party begin. Big Momma's House 2 is moving out after its second Friday, as it dropped 52% to $4 million. After opening last Friday with a gross of $8.4 million, moviegoers got off the bus this weekend, and ran to When A Stranger Calls. Look for Big Momma to finish the weekend with a 2.9 multiplier and about $11.6 million. Nanny McPhee earned $2.4 million over its second Friday in North America (down 33% from last Friday). It should have the most solid multiplier of the weekend and finish with a solid second weekend gross of about $9.4 million. Annapolis, after finishing fourth overall last weekend, slid to seventh on Friday, a drop of 51% compared to its first day of release.

Oscars

Brokeback Mountain cashed in on its nominations, earning $2 million on Friday. That's up about 11% from last Friday's gross. Walk the Line was able to garner a top ten spot on Friday, earning about $1 million and an increase of about 28%.