Weekend Forecast for February 3-5, 2006
By Kim Hollis and David Mumpower
February 2, 2006
BoxOfficeProphets.com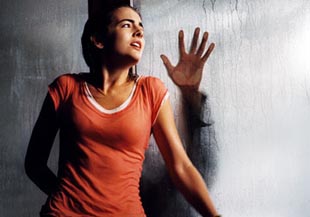 ---
It's out with the old, and in with the new. No, wait a minute. That's not exactly right. The new isn't particularly inspiring, and the old seems to be worthy of recapturing attention thanks to the magic of Oscar. Also, there's a little something known as the Superbowl, which is destined to wipe out Sunday box office.

The biggest new release of the weekend is When a Stranger Calls, a remake of a 1979 film that starred Carol Kane. Although the premise is probably outdated - a babysitter receives a creepy phone call from someone who warns her to check on the children - people are still going to turn out to see pretty teenagers get carved up. If the concept seems familiar, that's because the first five minutes of Scream where Drew Barrymore gets eviscerated by an anonymous caller is an homage.

Of course, in a society where the cell phone is currently ubiquitous, getting a phone call from within the house now simply means that you are perhaps a bit eccentric and have a great cell phone minutes plan. The only terror would be if the ring tone were to the tune of Safety Dance. We keep waiting for audiences to tire of horror films - after all, there were 27 released in 2005, which is one every two weeks - but we said the same thing about Celine Dion. Someone keeps buying her stuff and messing it up for the rest of us. Cheap teen horror is much the same. Very few of the releases are memorable, but fewer still wind up unprofitable. We expect When a Stranger Calls to be a hit, bringing in $18.2 million for the weekend from 2,999 venues.

The weekend's other new release, Something New, is the first of an expected trilogy, to be followed by Something Borrowed and Something Blue. Okay, we made that up, but stranger things have happened (see: Evan Almighty). The original title of the film was 42.4 Percent, and was based on a Newsweek study which demonstrated that precisely this percentage of educated, successful black women never marry. This romantic comedy, then, features Sanaa Lathan (Love & Basketball, Brown Sugar) as a businesswoman who has been so busy striving for success that she has forgotten to take time out to date. She even creates a mental checklist of what she's looking for (her IBM - Ideal Black Man), she's simply too absorbed in her work to follow through on finding him. Why she never uses Friendster escapes us. But we digress.

After spending a Valentine's Day working late, she finally agrees to a blind date, and though he's the core opposite of what she's looking for (i.e. he's white), he is a landscape architect, and she's watched enough episodes of Desperate Housewives to see the potential. When she does meet her ideal man (Blair Underwood), she's thrown into conflict as she struggles to reconcile what she thought she wanted versus what she has discovered she suprisingly enjoys. It's another understated release that fills a niche, just as was the case with Lathan's best work to date, Brown Sugar. Opening in 1,266 venues, look for Something New to take in $8.7 million.

The other big story this week is the annual Oscar bump. All four Best Picture nominees still in theaters will see a moderate boost in box office as consumers rush to see the films perceived to be the best of the year. All of the films that received nominations in the various categories should see some sort of spike. The biggest winners, though, will be frontrunner Brokeback Mountain and Capote. Brokeback Mountain, which leads the pack with eight nominations, should bump up to $8.5 million. Munich, which is still a dreary three-hour movie even with its Best Picture nomination, will see a slight increase to $2.1 million. Good Night, and Good Luck will also have a small increase in screens, but probably not enough to make a big difference. Walk the Line, which is getting plenty of mention for its surprising omission from the Best Picture nominations and its acting nods, will also likely be the beneficiary of increased buzz. For those of you looking for the fifth nominee, you can find Crash at your local video store. Its DVD sales will go up a large amount, but that's not an important discussion from our limited perspective of the financial pie.

As for other returning pictures, the biggest holdover from last frame, Big Momma's House, looks to have decent carryover appeal (for some reason). We expect it to make an additional $13.8 million. Last weekend's second place performer, Nanny McPhee, should have much better staying power. A weekend of $10.8 million wouldn't be surprising. Annapolis is going to be given a Code Red in weekend two, as a total of just under $4 million will be its last hurrah (hooah?).