Underworld: Evolution Leads Strong Box Office Ahead of Last Year
Weekend Box Office Wrap-Up for January 20-22, 2006
By John Hamann
January 22, 2006
BoxOfficeProphets.com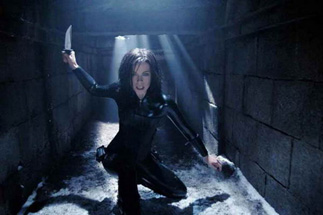 ---
Leave it to the geeks and goths to lead us out of box office oblivion. Underworld: Evolution, the sequel to 2003's Underworld, rocked the box office this weekend, keeping the overall numbers ahead of last year, at least for a weekend. The rest of the new releases didn't fare as well. New openers End of Spear and The New World debuted softly due to their low venue counts, but holdovers Glory Road, Hoodwinked and Last Holiday all held unexpectedly well in their second outings. It was all about Underworld this weekend, as we see the power of a 'freaks and geeks' built-in audience.

The number one film of the weekend, and this week's box office savior, is Kate Beckinsale and the Underworld: Evolution gang. The Screen Gems release rocked theatres, earning a huge $27.6 million from 3,207 venues. Underworld: Evolution carried an excellent venue average of $8,606. The opening is a decent step up from the original's opening gross of $21.8 million. The original was released in September of 2003, earning $52 million domestically and almost $100 million worldwide against a production budget of only $22 million. Additionally, with films like Underworld, the majority of the box office comes in the first two weekends, when the studio's cut of the box office is the highest. The original Underworld made almost half of its domestic gross in its first weekend, and almost 70% of that total after two weekends, leaving the studio with a high percentage of the domestic gross. I have no doubt the sequel will behave like the original, as reviews for this one were even worse than that of the original, which was tough to do. The first film received a 30% rotten rating at RottenTomatoes, and the sequel came in at an even worse 19% fresh (review numbers were low as Screen Gems held it back from critics). Like any of that matters, as the fanbase has obviously ignored the reviews or the lack thereof. With the sequel, there was more on the line this time for Sony and Screen Gems. The first Underworld carried a small budget of only $22 million. This time the stakes are higher (excuse the pun), as the sequel had a production budget of $48 million. Look for some big 50% plus drops in the weekends to come, followed by some decent international numbers, then some huge home video revenues, as Sony will now have a box set to shill after the original DVD release.

Second spot, after receiving an additional 600 screens, is Hoodwinked, the animated CG movie being distributed by The Weinstein Company. Hoodwinked grossed a very impressive $11.1 million in its second weekend, down a fantastic 11%. That percentage drop should be higher due to the long weekend in the last frame, where a holiday Monday increases Sunday grosses. Now out to 3,002 venues, Hoodwinked garnered a venue average of $3,690. Currently, Hoodwinked sits with a slight $29.3 million so far in the domestic kitty; however, this is an animated feature with a budget of only $15 million, a figure easily earned from home video revenue. In fact, just as a library title Hoodwinked is worth its weight in gold, as this was an excellent acquisition for the start up Weinstein Co. In fact, The Weinstein Co. had a huge weekend. After the Golden Globes, the start-up distributors had some excellent numbers in limited release as well. The Matador, with Pierce Brosnan, earned a venue average of $6,181 from 66 venues. Transamerica, starring GG winner Felicity Huffman, earned a venue average of $8,157 from 38 screens. Finally, Mrs. Henderson Presents earned an average of $6,722 from 54 venues. If some of these limited releases catch fire, it could be a very good start to the year for The Weinstein Co., and I'm sure they are snickering about Hoodwinked being ahead of Disney's Glory Road in the top ten.

Speaking of Glory Road, the Jerry Bruckheimer film finishes third, and also had a fairly leggy weekend, but not to the degree of Hoodwinked. Glory Road grossed $9.1 million from 2,396 venues, which equals a drop from last weekend (compared to the three-day portion of the MLK long weekend) of 33%. The good news about the drop for Glory Road is that Coach Carter, a similar film released over the same weekend last year, dropped 56% in its second weekend grossing $10.5 million. Coach Carter went on to earn $67.3 million domestically, and there's no reason why Glory Road won't see similar business. I'm looking for a smaller drop next weekend, as it adds to its current domestic total of $28.1 million, about $1 million behind Hoodwinked.

Fourth this weekend is Queen Latifah's Last Holiday, another film that opened last weekend and performed solidly in its second frame. Last Holiday grossed $9.1 million this weekend, down 29% compared to the three-day frame last weekend. Last Holiday is from Paramount, which hasn't had much luck with last few releases. At least Last Holiday will finish ahead of Aeon Flux ($29.2 million) and Get Rich or Die Trying ($30.9 million), and could be equal to the truly awful Yours, Mine and Ours ($52.4 million). Currently, Last Holiday has earned $26.4 million.

What may be the best news at the box office this weekend is that Brokeback Mountain is finding a big audience, now in wide release. Focus Features added 513 venues to Brokeback's run this weekend, bringing its count up to a still relatively small 1,196. From those venues, though, the Golden Globe winner earned $7.8 million this weekend, its highest total so far. Brokeback garnered a venue average of $6,548, and has now earned an exciting $42.1 million. This one cost Focus Features only $14 million to make, so not only is Brokeback Mountain a critical success and a credit to society, it also was an excellent business decision. Hopefully, we see more of these kind of decisions at theaters this year.

Sixth spot goes to Fun With Dick and Jane, which is still surviving as King Kong and Chronicles of Narnia begin to wilt a little. The Jim Carrey/Tea Leoni laugher earned $6.1 million in its fifth weekend, bringing its total above $100 million. Fun With and Dick and Jane dropped 30% and had a venue average of $2,158. For Jim Carrey, this is his tenth $100 million plus film, one behind Mel Gibson, Harrison Ford and Eddie Murphy, who all have 11. For Sony, the good news is that Dick and Jane have surpassed their $100 million production budget, as the total now sits at $101.7 million.

The Chronicles of Narnia finishes seventh, as its chances of crossing the $300 million mark grow bleaker and bleaker each weekend. Narnia grossed $6.1 million in its seventh weekend, down 40% from the previous frame, as Hoodwinked gains screens that Narnia loses. Its total now sits at $271.7 million domestically, and has an international tally approaching $600 million.

Eighth place goes to a religious title, End of the Spear, from a company called Every Tribe Entertainment. I admittedly know little about this title, except to tell you that this film, made for $10 million, earned $4.7 million in its first weekend of release. Out to only 1,163 venues, End of the Spear had a decent, but not god-like venue average of $4,051, the fourth best in the top ten. Critics were not kind. At RottenTomatoes, End of the Spear garnered only 34 reviews (I think reviewers took the weekend off), and of those, only 15 were positive, leading to a not very fresh rating of 44%.

Ninth this weekend is Hostel, as the gory horror flick loses some serious steam. Hostel grossed $4.3 million in its 3rd weekend, down a large 57% from last weekend. Still, the ultra-cheap flick from Lionsgate has now grossed $42.7 million, against a budget of only $5 million.

Tenth spot goes to Terrence Malick's The New World, which struggled to find a decent sized audience this weekend. Out to only 811 venues, The New World earned $4.3 million this weekend, well behind opening grosses for Malick's 1999 film, The Thin Red Line. It was enough for an average of $5,240, but this is a disappointing miss for New Line, as they obviously spent quite a bit on advertising.

Overall, this weekend is a big, big win. The top ten this weekend grossed about $90 million, a figure exhibitors can be excited about. Last year, the top ten could only manage about $78.5 million, leaving this year well ahead. Maybe the best news is that 2004 figures were also below the $80 million mark, which may provide even more relief to studios and exhibitors.