Trailer Hitch
By Kim Hollis and David Mumpower
January 9, 2006
BoxOfficeProphets.com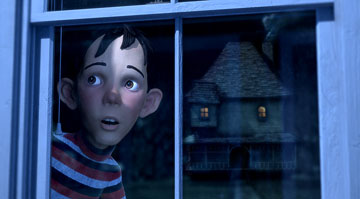 ---
Welcome back to Trailer Hitch, where Box Office Prophets takes a look at the latest movie previews to hit the Internet. This week, we've got a solid crop of upcoming major movie releases, from a horror remake to a franchise sequel to a comic book adaptation.

The Hills Have Eyes

"The lucky ones die first."

This quote must be referring to director Alexandre Aja's last film, High Tension. That film's nonsensical twist ending left audiences across the world scratching their heads, all the while wondering what all the fuss was about. All that matters, though, is that Wes Craven was impressed enough to give him the keys to the remake of his 1977 The Hills Have Eyes. What most people remember from that early Craven horror masterpiece is Michael Berryman's chilling performance as Pluto. This time around, he's portrayed by Michael Bailey Smith, a guy whose name you don't know, but you may have seen in shows like Charmed or in the Roger Corman version of The Fantastic Four, where he most appropriately played The Thing. Along with Smith, the cast includes requisite Lost star Emilie de Ravin, indie breakout star Aaron Stanford (who knows a thing or two about mutants already thanks to his work in X2), Go's Desmond Askew (who might have been left in the New Mexico desert after Roswell) and Billy Drago, the bad guy from The Adventures of Brisco County, Jr.

The trailer itself is another clone of the preview for the recent Texas Chainsaw Massacre, with lots of quick edits, creepy music, and ugly locals, offering soon-to-be-ignored words of wisdom. The clip does a nice job of introducing what makes the movie intriguing – mutant cloning gone wrong. It's a little bit Roswell and a little bit Futurama, but really, really scary. Despite the fact that we've seen High Tension (in its original French form!), we're willing to ignore the past and go see The Hills Have Eyes when it is released in theaters.

Mission: Impossible 3

For all the criticism that Mission: Impossible 2 received, Paramount Pictures did an absolutely masterful job of marketing that film. Recognizing that there is no way to quite match that incredible teaser and subsequent trailer, the people who put this preview together went a different direction altogether. They start the trailer with an intense sequence focused on the third film's villain, Philip Seymour Hoffman (who you might mistake for Joe Don Baker, but we don't necessarily mean that in a bad way). The current front-runner for this year's Best Actor Academy Award offers the kind of everyman menace oftentimes absent in major studio titles. He's not pretty Eurotrash with an awesome British accent, but rather a pudgy, balding grey-market businessman with a grudge. This approach is in stark contrast to the over-the-top chimera approach to Mission: Impossible 2. After Hoffman threatens both Tom Cruise and his lover, the preview cuts to the expected action-heavy sequences set to the infamous soundtrack music. It's an effective trailer and one that does put one in mind of the fact that J.J. Abrams (of Alias and Lost) is the man in the driver's seat. And it's not like they had to do a lot. Everyone's going to show up for Mission: Impossible 3, anyway.

Lady in the Water

"Once upon a time, there was a man named Cleveland Heep, whose life would change forever." What else could we expect from "A Bedtime Story Written and Directed by M. Night Shyamalan"? The trailer gives a distinct fairy tale vibe, too – especially if one keeps in mind that traditional fairly tales are creepy, dark stories that were often meant to scare as much as entertain. Rather than be set in the past as a period piece, this parable takes place in the modern day (at least, we assume it does). Like Mission Impossible: 3, the trailer centers on an accomplished actor who is not TV pretty – Paul Giamatti. He portrays the superintendent of an apartment building who discovers something finnish in the swimming pool (and no, we don't mean Teemu Selaenne). It's a solid, eerie trailer that will get people talking simply by virtue of the M. Night name at the end.

V for Vendetta

While we realize that Alan Moore is once again displeased with this adaptation of one of his graphic novels, this trailer certainly gives the appearance that the film is on the right track. The movie was pushed back from its original November 2005 release date, which caused a lot of people to worry that it might suck (though there was also speculation that the move was made out of sensitivity to the recent terrorist attacks in London). With this preview, those concerns have been allayed. The trailer gives a distinct "1984" feel, which is particularly interesting given that the key villain is portrayed by John Hurt. He strikes a Hitler-esque pose here, but it's really V, the ultimate anarchist, who makes it work. Portrayed by Hugo Weaving, whose voice is only occasionally recognizable as he is hidden beneath a Guy Fawkes mask (the film was originally scheduled for release on the British Guy Fawkes Day holiday weekend), V is a menacing presence with a distinct mission. The preview paints him as an explosives expert and weapons master whose only agenda seems to be chaos. Along with V, we also get a glimpse of Natalie Portman sporting a GI Jane look and a Kevin Costner-flavored English accent. Also of importance is the tagline "From the creators of The Matrix," which is sure to get a certain audience segment in theaters. V for Vendetta is bound to be an incendiary, controversial film due to its treatment of a terrorist as a hero.

Monster House

Wait a minute! This isn't a movie adaptation of the Steve Watson-hosted show from The Discovery Channel! And that's really too bad, because the trailer for this animated film is disappointing. The animation, which is based on the same techniques used in The Polar Express, is ugly and a strident reminder that CGI animation still just doesn't have ability to represent human beings well. While it's fine that Robert Zemeckis and Steven Spielberg are the producers behind the project, it feels a lot more like something that should come from the mind of Tim Burton. Even though the animation of the human characters is disturbing, the Monster House itself looks pretty terrific. And the jokes in the preview are funny. The preview does alarmingly little to set itself apart from an upcoming crowded CGI market.